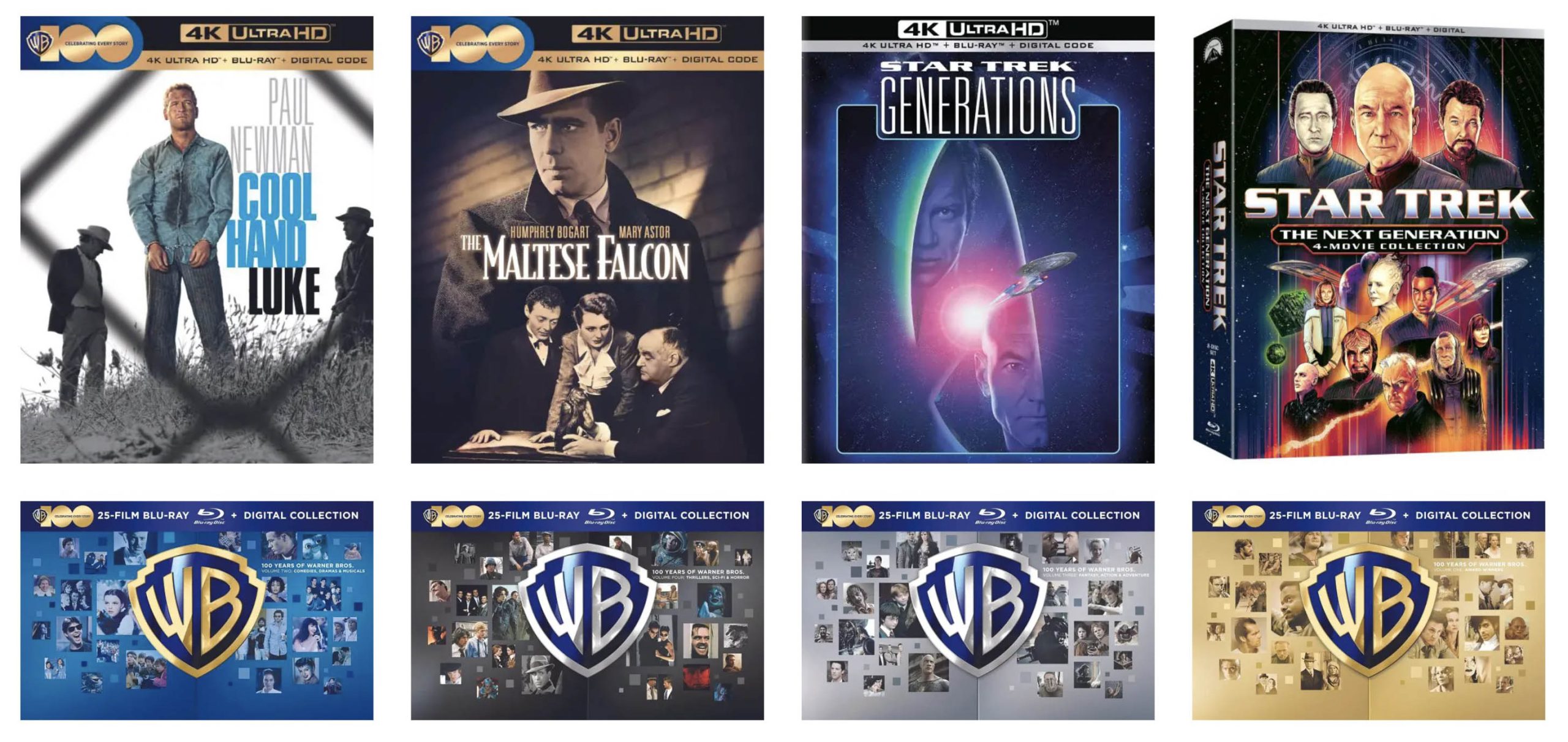 Here's what's new on Blu-ray this week! To celebrate its 100th Anniversary, Warner Bros. has put together 4 boxed collections of movies including Volume 1: Award Winners, Volume 2: Comedies, Dramas & Musicals, Volume 3: Fantasy, Action & Adventure, and Volume 4: Thrillers, Sci-Fi & Horror. Each volume contains 25 recognized films in collectible packaging with a WB shield pin and a 28-page booklet featuring original posters, production notes, and behind-the-scenes photos.
Also celebrating Warner Bros. 100 are two classic titles remastered in 4k including Cool Hand Luke (1967) and The Maltese Falcon (141) in 4k Blu-ray combo editions. The movies follow the first 4k title under the WB100 label which was the Oscar-winning drama Training Day released last February.
From Paramount Home Media, all four Star Trek: The Next Generation movies have been remastered in 4k with Dolby Vision/HDR10 and Dolby TrueHD with 7.1 channels. The films are available in Star Trek: The Next Generation 4-Movie Collection as well as single-movie editions. (Read a review of Star Trek: Generations on 4k Blu-ray.)
See a list of new discs this week below. Keep in mind, most 4k Blu-ray releases also include newly-remastered 2k Blu-ray copies. Use the links to purchase from Amazon.
New on Blu-ray & 4k Blu-ray, April 4, 2023
4k Blu-ray
Blu-ray
In case you missed it, here are last week's new Blu-ray and 4k Blu-ray releases.