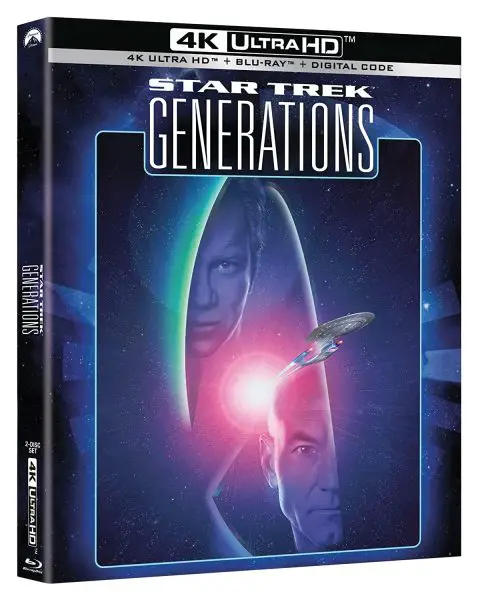 Paramount has restored the four Star Trek 'Next Generation' movies in 4K for release on Ultra HD Blu-ray, Blu-ray, and Digital 4K. The films arrive in a 4-Movie Collection as well as single-movie editions on April 4, 2023. Each combo edition from Paramount Home Media includes a 4k disc, a 2k (1080p) disc, and a code to redeem a Digital Copy with either Apple iTunes or Vudu. 
As expected from a 4k disc, the 4k/24p video in Star Trek VII: Generations played at high bitrates with a low average of around 40 Mbps to 50 Mbps and higher averages between 50 Mbps to 60 Mbps depending on the scene. The highest peak noticed from the 4k Blu-ray playback was 66.8Mbps (not determined by any scientific method).
You can get an idea of the quality of the restoration of Star Trek VII: Generations just from the opening scene with the celebratory bottle of champagne floating through space and breaking against the USS Enterprise-B.
The colors are what stand out most when you watch this upgraded version of Generations. The crew's bright red uniforms are vibrant and rich in color with Dolby Vision HDR (noticeably better in Dolby Vision because of the spec's dynamic nature).
The soundtrack to 'Generations' is offered in Dolby TrueHD 7.1 channels that allow plenty of spatial audio for an immersive experience. The 48kHz audio averaged 2.5 Mbps with some bumps into the 3.2 Mbps – 3.5 Mbps range. This is an improvement over previous Blu-rays that offered Dolby TrueHD 5.1. It's worth noting the new 2k Blu-ray presentations offer the upgraded 7.1-channel tracks.
Like previous Star Trek films, surround effects are not overly done just for the sake of immersive audio. Choice moments utilize side and rear channels effectively, albeit driven by a mainly frontal approach to dialogue that is crisp and easy to translate.
See scores and read a full review of Star Trek VII: Generations on 4k Blu-ray Disc.