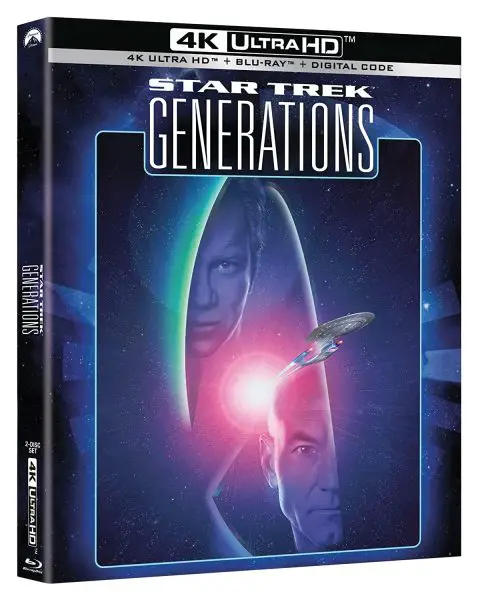 Paramount has restored the four Star Trek 'Next Generation' movies in 4K for release on Ultra HD Blu-ray, Blu-ray, and Digital 4K. The films arrive in a 4-Movie Collection as well as single-movie editions on April 4, 2023. 
Each combo edition from Paramount Home Media includes a 4k disc, a 2k (1080p) disc, and a code to redeem a Digital Copy with either Apple iTunes or Vudu. 
Here's a review of Star Trek VII: Generations, the first of 'The Next Generation' movies and the one that bridges original cast members William Shatner, James Doohan, and Walter Koenig with TNG cast members lead by Patrick Stewart. 
Movie 
'Generations' opens with "living legends" Kirk, Scottie, and Chekov joining the maiden voyage of the USS Enterprise-B. But it doesn't take long before the officers, along with a skeleton crew and unfit starship, are thrust into a distress signal only 3 light years away. The plot of the movie is anchored on the obsession of Dr. Tolian Soran (Malcolm McDowell) to return to the Nexus, an existence in which pure happiness is found and time is irrelevant.
It's great to go back and revisit this film, especially in the highest quality it's ever been. The plot does a great job of linking both generations of Stark Trek by jumping 78 years through the space-time continuum. It's great to see Patrick Stewart, Jonathan Frakes, LeVar Burton, and Brent Spiner among other TNG cast members in their first TNG film. And, let's not forget the appearance of Whoopi Goldberg as Guinan, the mystic character who seems to transcend both time and space.
"They say time is the fire in which we burn."
Video
As expected from a 4k disc the 4k/24p video streamed in high bitrates with a low average of around 40Mbps to 50Mbps and higher averages between 50Mbps to 60Mbps depending on the scene. The highest peak noticed from the 4k Blu-ray playback was 66.8Mbps (not determined by any scientific method).
You can get an idea of the quality of the restoration of Star Trek VII: Generations just from the opening scene with the celebratory bottle of champagne floating through space and breaking against the USS Enterprise-B. This is also a great time to make sure your TV is calibrated so the darkness of space looks like it should.
The colors are what stand out most when you watch this upgraded version of Generations. The crew's bright red uniforms are vibrant and rich in color with Dolby Vision HDR (noticeably better in Dolby Vision because of the spec's dynamic nature).
Some colors seem to be exaggerated beyond what has previously been seen over the last 30 years of home media. For example, in the starship lounge when Dr. Soran meets Captain Picard there is an overwhelming, yellowish cast that I don't remember seeing so prevalent in past presentations. Again, at 36 minutes when Data opens a hidden door (when his emotional chip is out of control), the yellowish-green cast is extremely pronounced.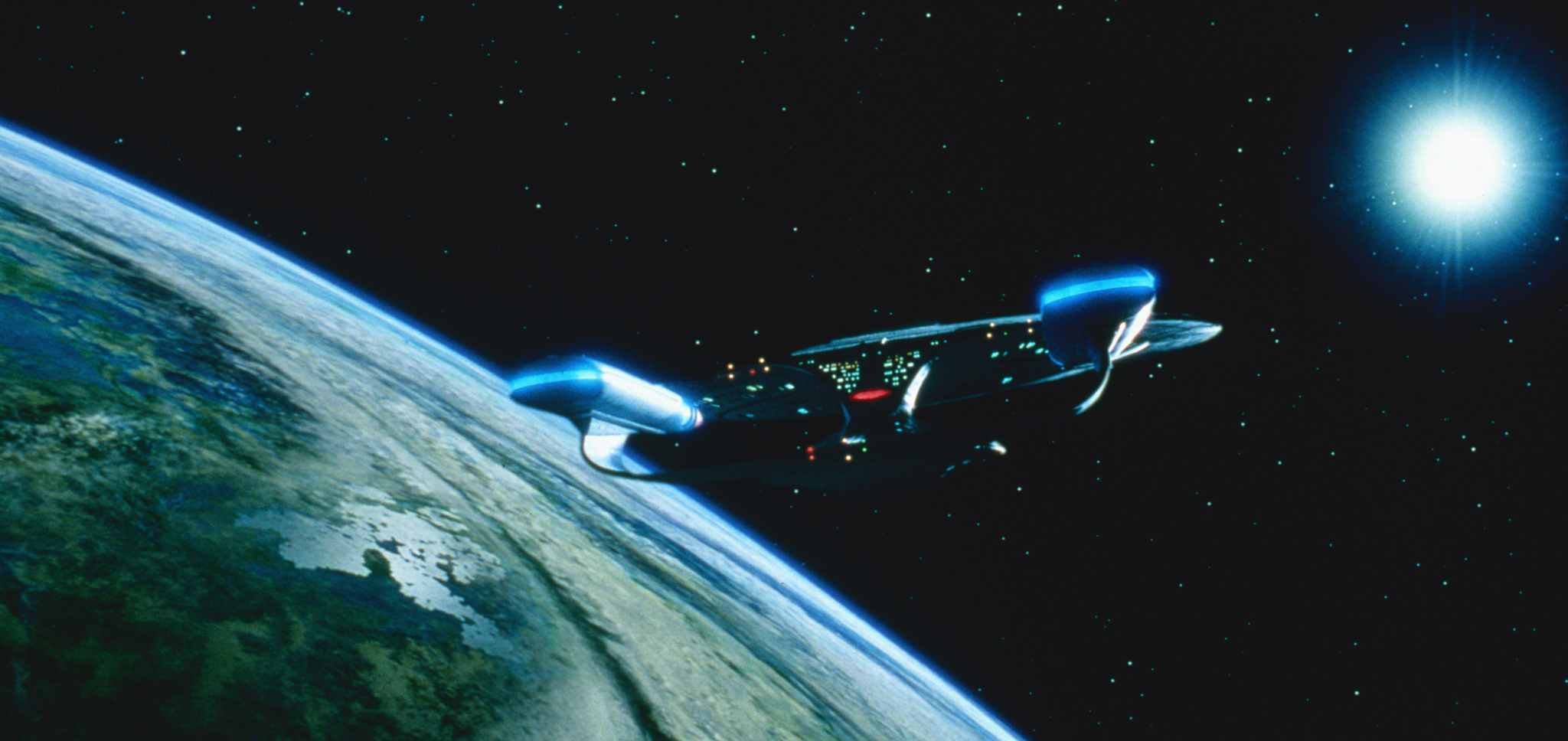 The sharpness is also impressive in this 4K restoration. Kirk's watery eyes at about 11 minutes, the crew's uniform emblems, and the touch panels the crew work on are all enhanced significantly in 4k. The closeup shot of Guinan (Whoopi Goldberg) at 31 minutes is exquisite. The first appearance of the Klingons in this movie at 45 minutes opens eyes with high-quality, makeup and styling that hold up well in the enhanced resolution. 
As much as this remastering could have brought out some additional details and sharpness in shadow areas, the image retains a level of thick black that still retains an analog quality. One example of this can be in found in Picard's quarters at the 40-minute mark. The shadow treatments and brightness enhance the dramatic quality of the scene but is certainly not what we are used to in more contemporary treatments of black levels.
We also tested the film on a 100" projection with pretend HDR. The black levels were noticeably not as detailed when picking up the film at Chapter 13 when Picard meets Kirk at his ranch in the Nexus. Part of this is the lack of true HDR on a projector, but also inherent qualities of a projected image versus a backlit image. 
Audio
The soundtrack to 'Generations' is offered in Dolby TrueHD 7.1 channels that allow plenty of spatial audio for an immersive experience. The 48kHz audio averaged 2.5Mbps with some bumps into the 3.2 – 3.5Mbps range. This is an improvement over previous Blu-rays that offered Dolby TrueHD 5.1. It's worth noting the new 2k Blu-ray presentations offer the upgraded 7.1-channel tracks.
Like previous Star Trek films, surround effects are not overly done just for the sake of immersive audio. Choice moments utilize side and rear channels effectively, albeit driven by a mainly frontal approach to dialogue that is crisp and easy to translate.
The low-end audio treatment is much like other Star Trek films, used sparingly but mostly distortion free. When the Klingon ship attacks the USS Enterprise at about one hour and seven minutes, the explosions provide some of the best subwoofer and low-frequency moments in the film. 
The score by Primetime Emmy Award winner Dennis McCarthy (Deep Space Nine) creates a nice balance of voice, effects, and music composition that give 'Generations' that trademark Star Trek theatrical experience.
Bonus Content
Audio and text commentary is provided on the 4k Blu-ray Disc under the Extras tab. However, any other legacy content is included on the 2k Blu-ray Disc.
Commentary by director David Carson and Manny Coto
Commentary by Brannon Braga and Ronald D. Moore
Text Commentary by Michael and Denise Okuda
Library Computer
Production

Uniting Two Legends
Stellar Cartography: Creating the Illusion
Strange New Worlds: The Valley of Fire
Scoring Trek

Visual Effects

Inside ILM: Models & Miniatures
Crashing the Enterprise

Scene Deconstruction     

Main Title Sequence
The Nexus Ribbon
Saucer Crash Sequence

The Star Trek Universe

A Tribute to Matt Jeffries 
The Enterprise Lineage
Captain Picard's Family Album
Creating 24th Century Weapons
Next Generation Designer Flashback Andrew Probert
Stellar Cartography on Earth
Brent Spiner – Data and Beyond Part 1
Trek Roundtable: Generations
Starfleet Academy SCISEC Brief 007: Trilithium

Deleted Scenes
Archives
Trailers
Scores
Movie
4/5
Video
4/5
Audio
3.5/5
Bonus Material
4/5
Star Trek: The Next Generation 4-Movie Collection
Star Trek VII: Generations is also available in Star Trek: The Next Generation 4-Movie Collection on 4k Ultra HD Blu-ray. The collection includes Star Trek: Generations (1994), Star Trek: First Contact (1996), Star Trek: Insurrection (1998), and Star Trek: Nemesis (2002) on 4k Blu-ray, Blu-ray, and Digital 4k.