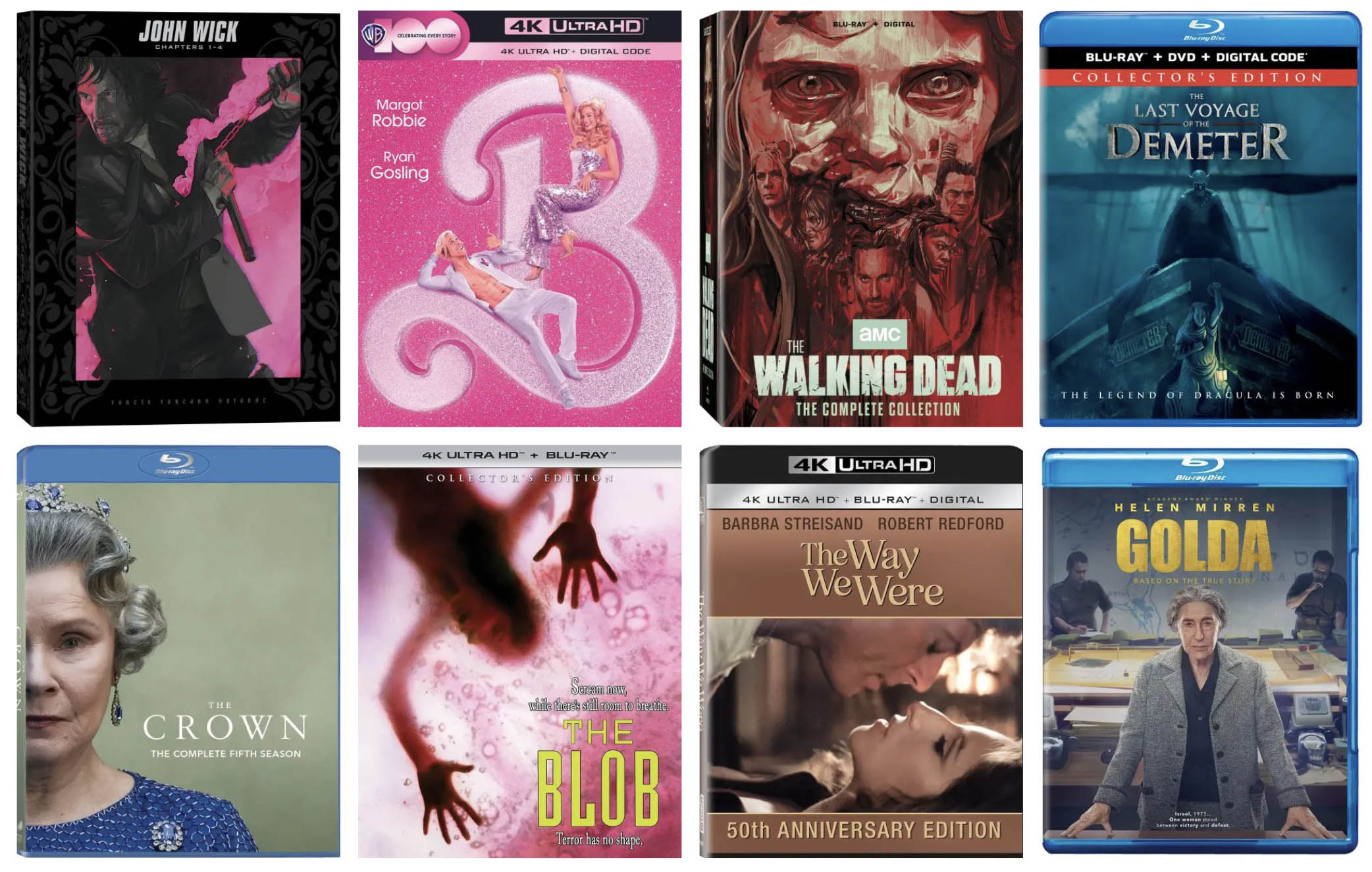 Leading new physical media releases this week is Greta Gerwig's Barbie starring Margot Robbie and Ryan Gosling. The film arrives on 4k Blu-ray and 2k Blu-ray editions from Warner Bros. (celebrating the studio's 100th Anniversary) with a code to redeem a Digital Copy.
On Blu-ray, The Walking Dead Complete Series arrives in a 54-disc collection from Lionsgate Home Entertainment with all 177 episodes, plus a bonus disc featuring a new 42-minute documentary on the making of the eleventh and final season.
Psych: The Complete Collection hits stores in a 31-disc set from Universal Pictures Home Entertainment with all 120 episodes that aired on USA Network from 2006 to 2014. The Crown: The Complete Fifth Season is available in a 4-disc Blu-ray edition from Sony Pictures Home Entertainment.
The Last Voyage of the Demeter releases in a 2k Blu-ray Collector's Edition from with Blu-ray, DVD, and Digital Code. And, all four John Wick films have been packaged in an 8-disc collection titled John Wick: Chapters 1-4 with Blu-ray, DVD, and Digital copies.
On 4k Blu-ray, The Way We Were (1973) starring Barbra Streisand & Robert Redford celebrates its 50th Anniversary with a 2-disc edition from Sony Pictures. The Blob (1988) has been restored for release in a Collector's Edition from Shout! Factory. And, The Wicker Man (1973) celebrates 50 years with a 4k UHD edition from Lionsgate.
See more 4k and Blu-ray editions arriving Tuesday, Oct. 17, 2023, below with links to Amazon.
New 4k Blu-ray and Blu-ray releases, Oct. 17, 2023
4k Blu-ray
2k Blu-ray
Here's a link to all Blu-ray releases available at Amazon. In case you missed it, here are last week's new Blu-ray and 4k Blu-ray releases.