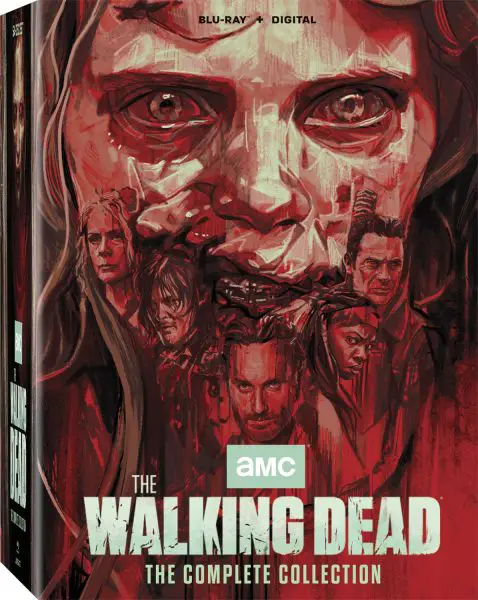 The Walking Dead: Complete Collection is releasing in a Blu-ray boxed set on October 17, 2023. The 54-disc collection from Lionsgate Home Entertainment includes all 177 episodes of the AMC show that aired from 2010 – 2022, along with a bonus disc featuring a new 42-minute documentary on the making of the eleventh and final season. 
A code to redeem Digital Copies of all 11 seasons is also included with the box set.
On Blu-ray Disc, episodes of The Walking Dead are presented in 1080p (Full HD) at 1.78:1 aspect ratio. Audio is provided in either Dolby TrueHD 5.1 or Dolby TrueHD 7.1, depending on the season. Subtitles are provided in English SDH, French, and Spanish.
The Walking Dead: The Complete Collection is priced $138.38 (MSRP: $209.97) on Amazon.
Special Features
NEW Behind-the-scenes documentary "The Walking Dead: Making of the Final Season"
Still Gallery
Never-before-seen original packaging and disc artwork by Clio Award-winning artist Oliver Barrett.
Additional bonus features from all previous single-season releases
Technical Specs
Audio: English 5.1 Dolby TrueHD (Season 1), English 7.1 Dolby TrueHD (Seasons 2-11), French 2.0 Dolby Surround (Seasons 2-7 and 9-11), French 5.1 Dolby Surround (Season 8), Spanish 2.0 Dolby Surround (Seasons 9-11)
Subtitles: English SDH, Spanish, French (Seasons 9-11)
Synopsis: After police officer Rick Grimes awakens from a coma in an abandoned hospital in the pilot episode of "The Walking Dead," he's immediately thrust into a life-or-death struggle in an apocalyptic, walker-ravaged world. This complete collection of the Primetime Emmy® Award-winning series follows Rick and his band of survivors – Daryl, Morgan, Maggie, Carol, Michonne, Glenn, and more – as they struggle to survive their bleak new reality where the living pose as much of a threat as the hungry, roaming undead.