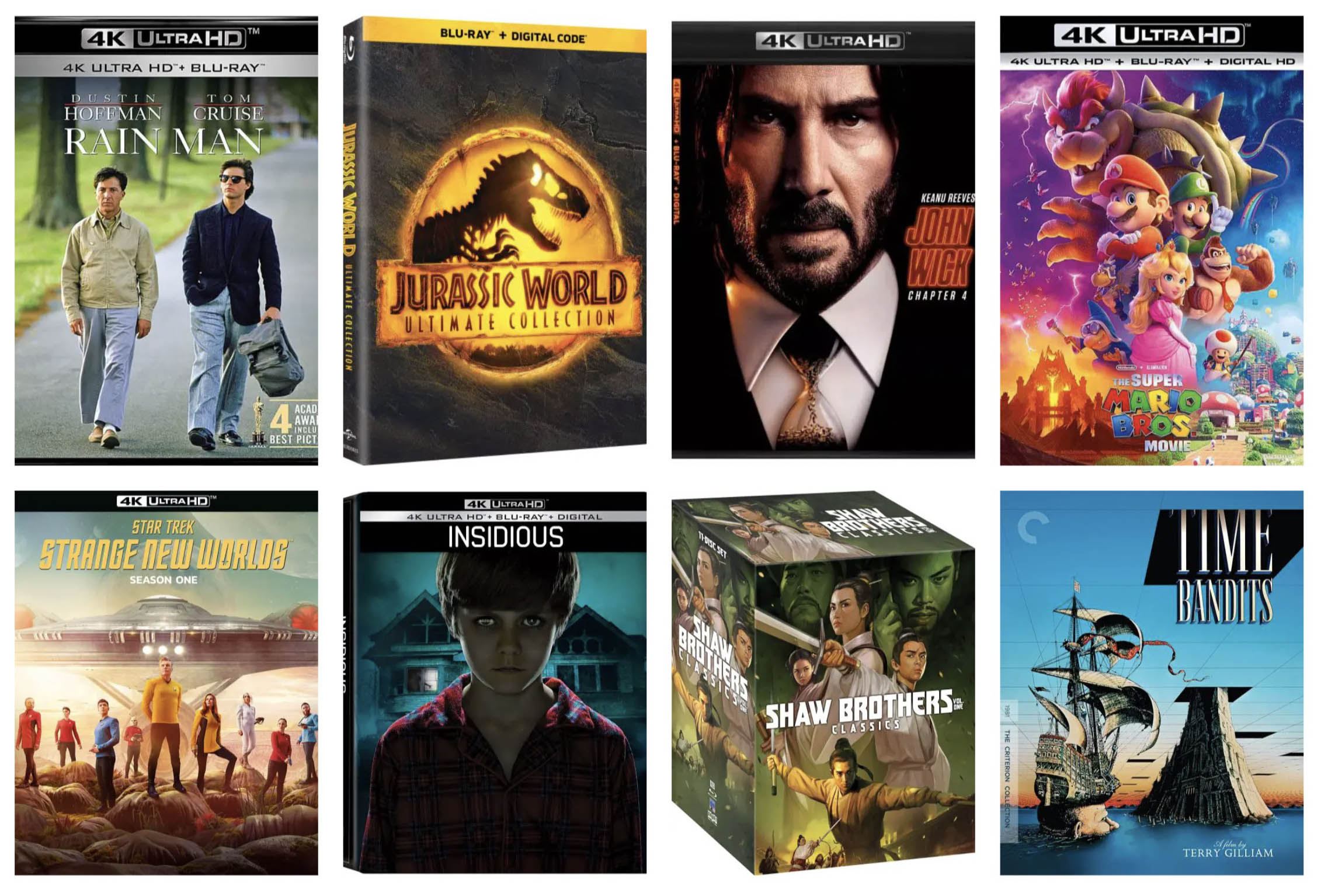 Here is our report on new Blu-ray and 4k Blu-ray release for the week of June 11, 2023. First off, we should mention the goofed-up release dates for both John Wick: Chapter 4 (Lionsgate) and The Super Mario Bros. Movie (Universal). John Wick: Chapter 4 was originally scheduled for June 13 but copies were shipped out and found on shelves a week earlier. The title is now dated as having been released on June 9th (at least on Amazon). The Super Mario Bros. Movie originally had a release date of June 6 but at the last minute, a shipping date was undetermined by several retailers (except for Target who held true to June 6). However, copies were shipped and stocked on shelves last week. The release date is now June 13 on Amazon.
Regardless, both new movies have been arriving on Blu-ray and 4k Blu-ray in several disc editions including retailer exclusives. Other movies arriving on 4k Blu-ray this week include 4x Oscar-winner Rain Man (1988), Sony Pictures' Insidious (201), Scream (1981) – not the Wes Craven franchise but the Byron Quisenberry film, and the newly restored presentation of Terry Gilliam's Time Bandits (1981) in 4k from Criterion Collection.
We also need to mention the release of Star Trek: Strange New Worlds – Season One on 4k Blu-ray, marking the first of the TV series franchise to be released on Ultra HD Blu-ray, although several Star Trek series are now streaming in 4k on Paramount+.
On Blu-ray you can pick up The Pope's Exorcist starring Russell Crowe, The Great Train Robbery (1978) directed by Michael Crichton, Shaw Brothers Classics, Vol. 1 from Shout! Factory (a 41-disc set!), Jurassic World: Ultimate 6-Movie Collection from Universal, and a special edition of Gorky Park (1983) from KL Studio Classics.
New Blu-ray & 4k Blu-ray, June 6-13, 2023
4k Blu-ray
2k Blu-ray
In case you missed it, here are last week's new Blu-ray & 4k Blu-ray releases.