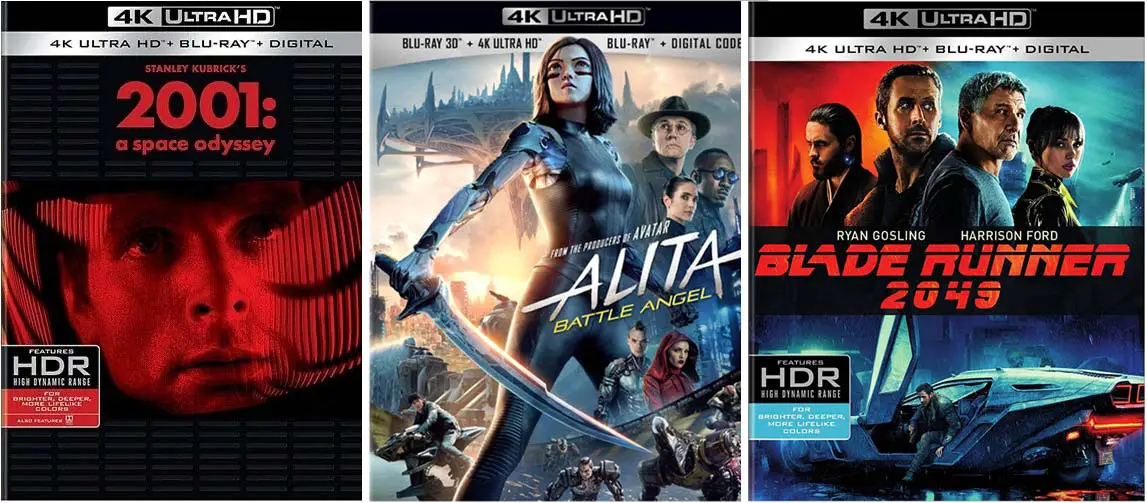 There are approximately 500 individual 4k Blu-ray titles as of October 2020 (not counting retailer exclusives, re-releases, and collections). We've taken a bold step to select our Top 25, knowing some of you may disagree with the selections and wonder why your favorite title isn't included.
What we can tell you is that our top selections are based on these five things: movie quality (Oscar-winners/nominees, etc.), 4k/HDR video quality, audio quality, bonus material, and that immeasurable "wow" factor that's hard to put in words. The titles are not in order (that would have been torture!) but instead just listed alphabetically.
There are so many 4k Blu-ray movies and TV shows to pick from so we've left this to be our Top 25 for now. We've also listed several honorable mentions below which likely would have made it to a Top 50 (which we may extend to in the future)
The Best 4k Blu-ray Movies of All Time
1917

2001: A Space Odyssey

Alien

Alita: Battle Angel

Apocalypse Now

Avengers: Endgame

Black Panther

Blade Runner 2049

Blade Runner: The Final Cut

Braveheart

Casino Royale (2006)

Full Metal Jacket

Ghost in the Shell (1995)

Glory

Guardians of the Galaxy

Jaws

Mission: Impossible – Ghost Protocol

Prometheus

Revenant, The

Saving Private Ryan

Spartacus (1960)

Spider-Man: Into the Spider-Verse

Star Wars: Episode IV – A New Hope

The Matrix

The Shining
Honorable Mentions
Arrival

Batman Begins

Doctor Sleep

Doctor Strange

Dunkirk

Fantastic Beasts and Where to Find Them

Planet Earth II

Ready Player One

Game of Thrones TV Series

Gladiator

Interstellar

Joker

Jurassic World: Fallen Kingdom

Mad Max: Fury Road

Ready Player One

Seven Worlds, One Planet

Star Trek (2009)

Spartacus

Star Wars: Episode V – The Empire Strikes Back

The Hunt for Red October

The Patriot

Unforgiven

Westworld TV Series
Also see our current 4k Blu-ray release dates and a complete list of 4k Ultra HD Blu-rays since 2006.