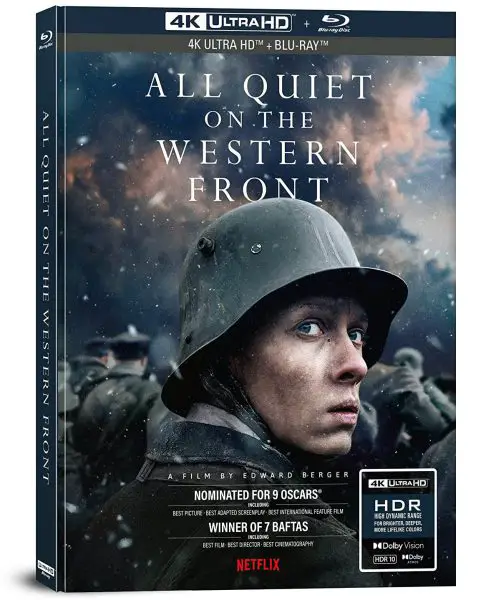 4x Oscar-winning film All Quiet on the Western Front first premiered in limited theaters back in September 2022 and streaming on Netflix in October 2022. But, the film wasn't available on 4K Blu-ray until March 28, 2023, arriving in a 2-disc edition from MPI Home Video with a 4k Blu-ray, Blu-ray, and 24-page booklet.
All Quiet on the Western Front was already exceptional in terms of video and audio quality, but the disc delivers a higher level of presentation with improved bitrates. The 4k video is enhanced with Dolby Vision and HDR10, as well as a Dolby Atmos/Dolby TrueHD 7.1 channel soundtrack. Here's a review of the 4K disc, tested on both a Sony Bravia 4K TV with Dolby Vision and an Epson Epiqvision 4K projector. Audio was reviewed on a 7.1.2 Dolby Atmos surround system and a Sony HT A7000 Dolby Atmos soundbar.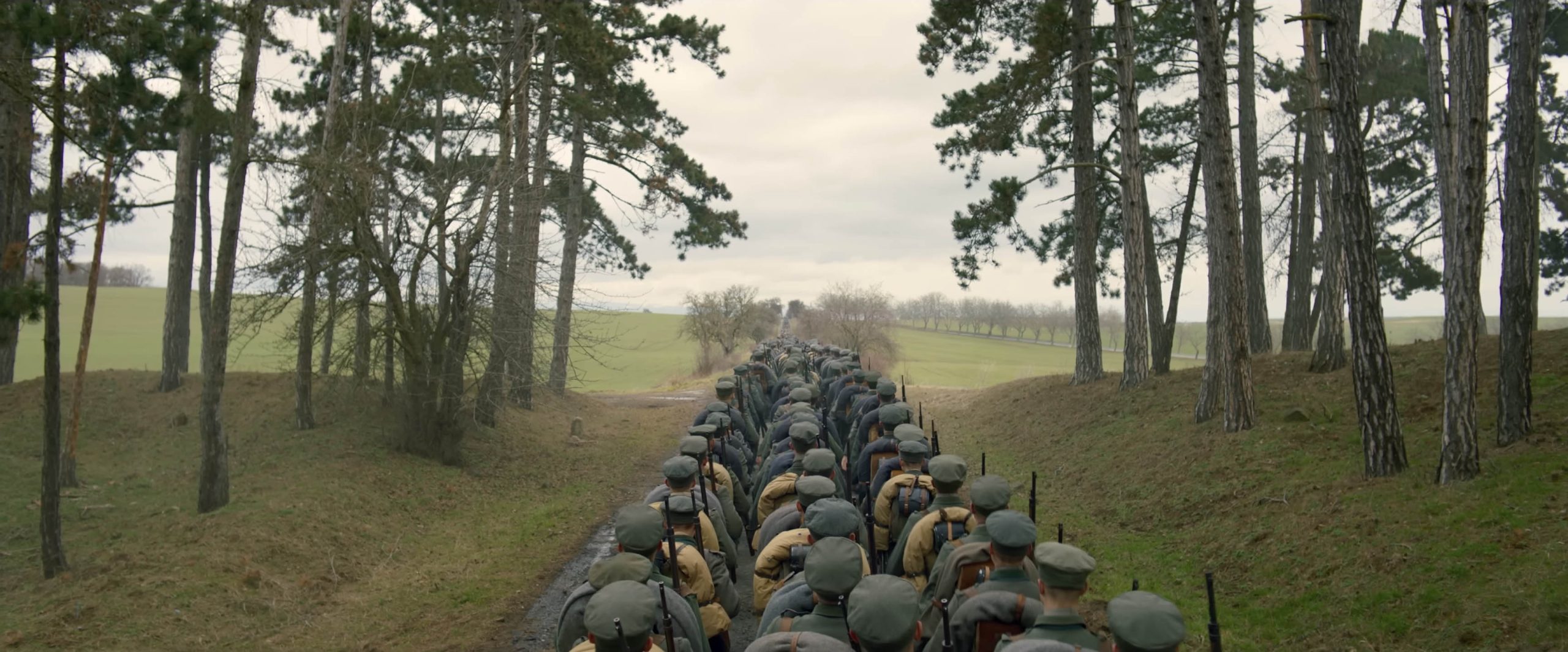 Movie
Based on the 1929 novel by Erich Maria Remarque, All Quiet on the Western Front takes place in Northern France on the front lines towards the end of World War I. The protagonist of the story is a 17-year-old German student who forges his parent's signature in order to serve in the army. When he gets to the front lines, he finds nothing but loss and death while stuck in the trenches fighting the French.
All Quiet on the Western Front was directed by Edward Berger with cinematography by James Friend and music composition by Volker Bertelmann, both of whom won Oscars for their efforts on the film. Two earlier movies were made based on the book, one in 1930 (an anti-war film by Lewis Milestone) and the second in 1979 (a made-for-TV film directed by Delbert Mann). All Quiet on the Western Front is presented in French and German languages with English subtitles.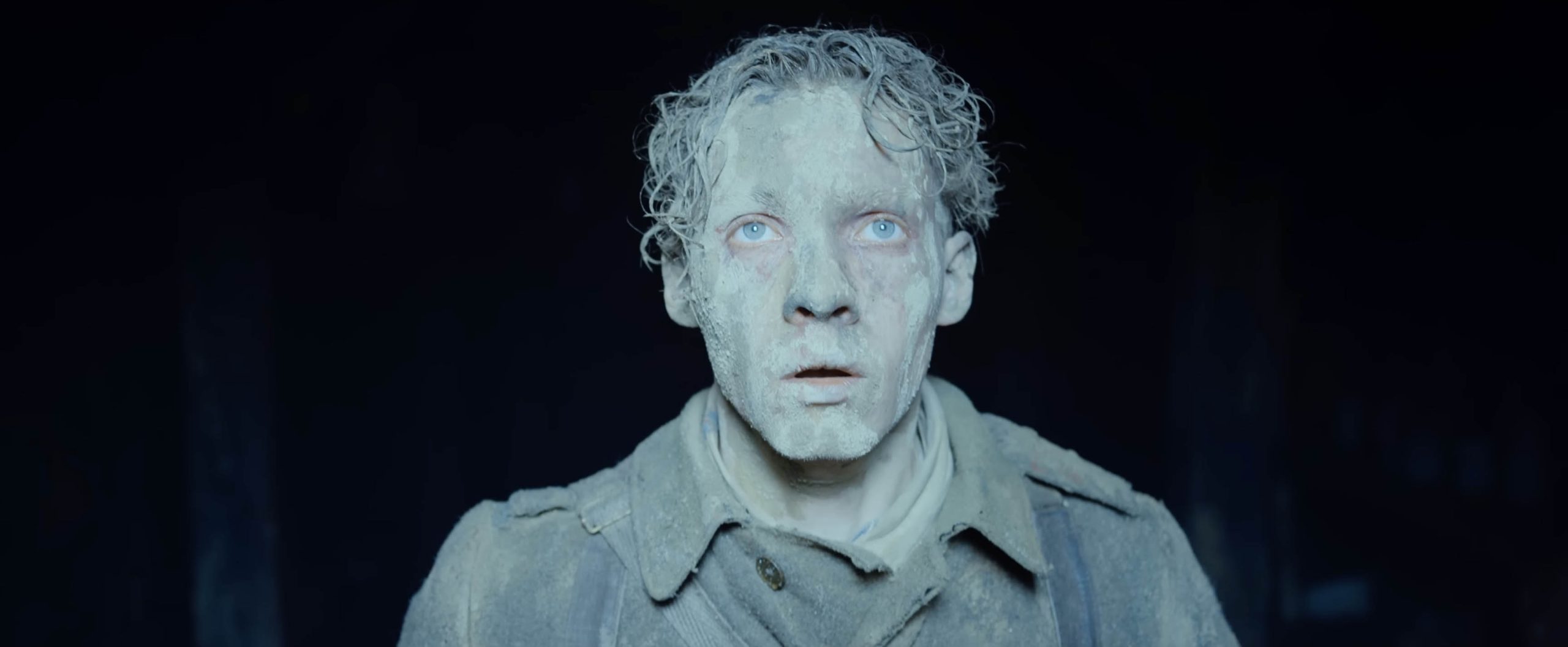 Video
Recognized and hailed for its gorgeous color palette, All Quiet on the Western Front delivers reference quality video on 4K Blu-ray with bitrates averaging in the 60 Mbps to 70 Mbps range, but in some scenes jumping 70 Mbps to 80 Mbps. Peak bitrates hit in the low 90s. In layman's terms, the greater the bitrate the more depth of data is being delivered to the screen.
The 10-bit video (possible with HDR) delivers wide contrast and color depth even on a projected image which tends to be flatter. Color Sharpness holds up extremely well even on a 100-inch projection screen. Compared to the streaming presentation, there is a higher level of detail in the disc image that pops off the screen. Gradients in the shadow areas are expanded and rich with detail. All Quiet on the Western Front is reference-quality video that is better the bigger it gets.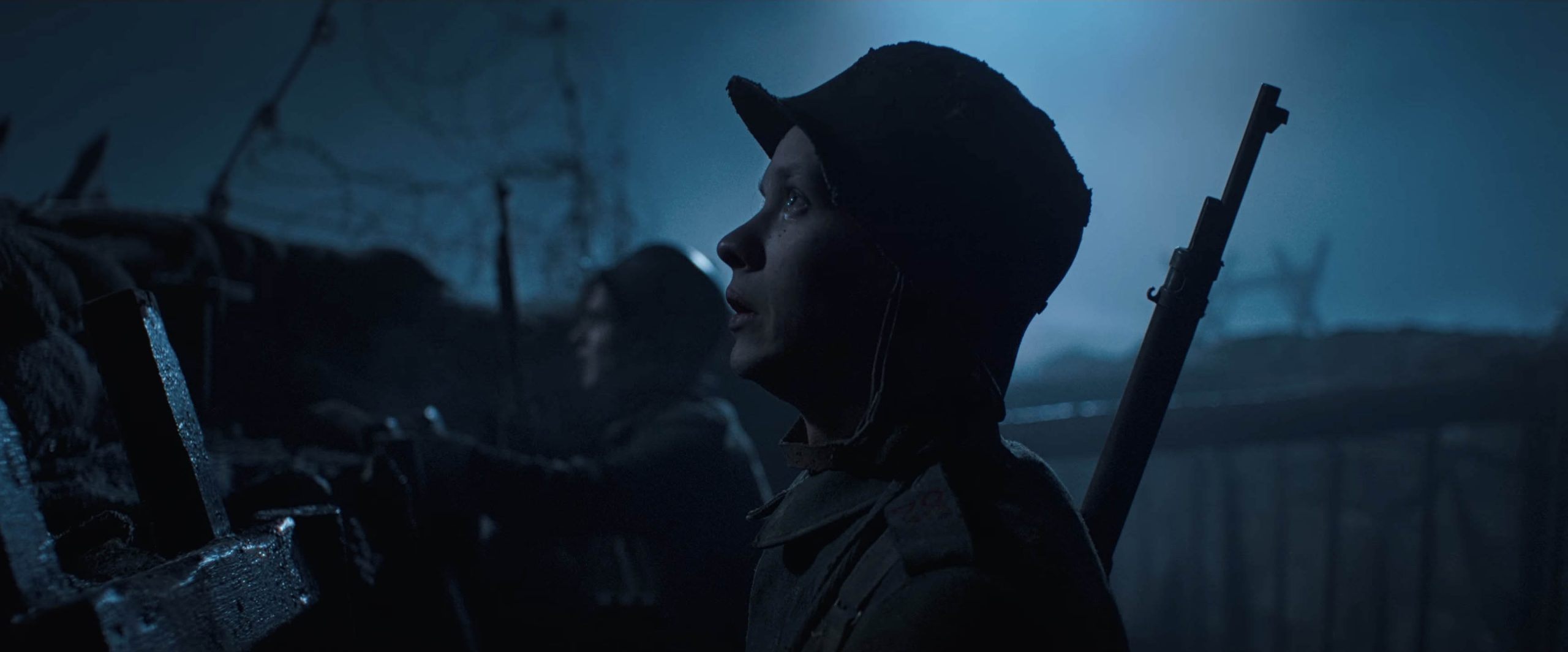 Audio
All Quiet on the Western Front offers a Dolby Atmos/Dolby TrueHD 7.1 soundtrack. The 48kHz audio played at an average of 3 Mbps, fluctuating at times down to 2.5 and upwards of 3.5 Mbps.
The soundtrack is offered in Dolby Atmos which delivers an immersive experience with the right sound setup. Essentially, Atmos adds a height quality to surround sound. If Atmos is not available, the audio will play in Dolby TrueHD 7.1, 5.1, or whatever the best channel mix is available, and distribute the audio as mixed.
Immersive audio is most heard in the battle scenes. In the final battle at two hours and eight minutes, some of the best audio moments are experienced through explosions and gunfire that pass by your head. Likewise, low-frequency audio and sound effects are most evident when there are explosions and tanks rolling. The sounds heard from the dugouts where soldiers waited out attacks from the enemy contribute to some excellent immersive moments.
We previously wrote about how the music composition is one of the most memorable characteristics of this film, and this recognition is confirmed with Volker Bertelmann winning an Oscar for Best Music – Original Score. It's a haunting soundtrack, no doubt, and the audio is inherently reflective of the war and its devastating consequences.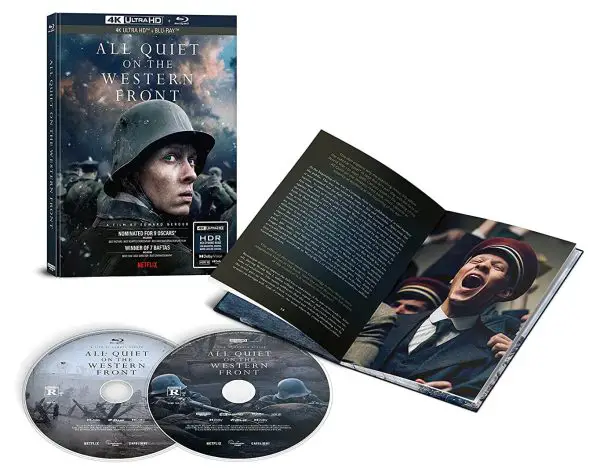 Bonus Materials
The physical 4k Blu-ray edition of All Quiet on the Western Front offers several bonus materials including audio commentary from director Edward Berger, trailer, teaser, and a "making of" featurette that provides insightful footage and interviews with cast and crew. The featurette is a bit hard to follow given its multi-language approach (some in Deutch and some in English). Nevertheless, the extra is a must-see for fans of the film and filmmaking.
In addition to the video and audio content, the edition includes a 24-page booklet featuring " Sharing the German Perspective" – A Conversation With Edward Berger and "A Machine Of Death Unlike Any Experienced Before" – An Interview With Historian And Professor Daniel Schönpflug.
Summary
We're ranking All Quiet on the Western Front among one of the best 4k Blu-rays of all time. Why? The color grading, contrast ratio, and detail sharpness only get better the bigger this film is projected, making it a "go-to" title for an immersive movie experience. The Dolby Atmos surround sound audio also contributes to the immersive effect of this film, backed by an Oscar-winning music score from Volker Bertelmann that pronounces this moving war drama from Director Paul Bäumer.
Scores
Movie
4/5
Video
5/5
Audio
5/5 (Dolby Atmos. Previously reviewed in Dolby 5.1)
Bonus Material
5/5 (it comes with a booklet!)