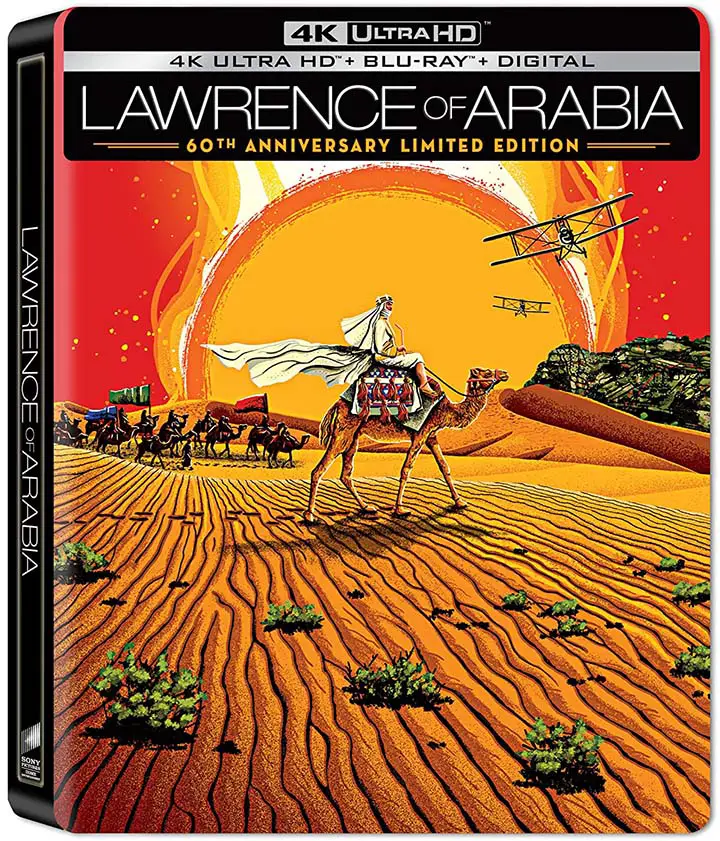 Columbia Pictures' Lawrence of Arabia is considered by most historians to be one of the greatest and most influential films of all time. It was selected to be preserved by the US National Film Registry and at one time named the third-greatest British film of all time by the British Film Institute.
Based on the life of T. E. Lawrence (played by Peter O'Toole) and his 1926 book Seven Pillars of Wisdom, Lawrence of Arabia was nominated for a total of ten Oscars and won seven, including Best Picture and Best Director (David Lean).  
The incredible supporting cast included Alec Guinness as Prince Faisal, Jack Hawkins as General Allenby, Anthony Quinn as Auda abu Tayi, and Omar Sharif as Sherif Ali ibn el Kharish. The music score by Maurice Jarre was awarded an Oscar, as was the cinematography by Freddie Young. 
Sony Pictures Home Entertainment originally released the remastered presentation of Lawrence of Arabia in the Columbia Classics 4k Ultra HD Vol 1. Collection, but two years later released the standalone movie in a 4-disc 4k Blu-ray edition on June 7, 2022.
The Limited Edition from Sony Pictures Home Entertainment includes two 4k Blu-ray discs (Part 1 & 2), a Blu-ray disc with the restored version in 1080p, and a second Blu-ray with bonus material. The combo edition also includes a code to redeem a Digital Copy.
Here's a review of Lawrence of Arabia on 4k Ultra HD Blu-ray. 
Video
Shot in 65mm film with Super Panavision cameras (then later printed to 70mm to leave room for the audio tracks), the original negatives offer a ton of color depth and detail in 4k resolution, much of it never before seen in home media applications. 
There are examples in the bonus features of how each frame was scanned and digitized to remove dust and scratches. After the frames were cleaned, color correction and recovery software was used to give the overall film a consistent palette and contrast ratio. 
Lawrence of Arabia displays excellent sharpness and color depth with Dolby Vision HDR displaying realistic and not overly saturated color tones (with the exception of the "day for night" shot scenes that don't hold up very well to today's standards, but were common practice in other films such as the early James Bond franchise titles). 
The desert, as is its nature, renders some strange optical illusions that translate even through the camera lens. There is a piece in The Making of Lawrence of Arabia that describes making the shot where Omar Sharif is seen from a distance as a mirage, and how David Lean used some lens tricks to enhance the image. And, the sunset shot of Lawrence on camelback at 1-hour and 50-minutes is one of the most beautiful in the film and in film history. The climactic battle at 3-hours and 18-minutes is also one of most visually stunning moments in the film. 
The making of Lawrence of Arabia was epic, not only in scope but in production. The film was originally supposed to be shot on location in five months but it turned out to be almost a year and half before principal photography was completed. But the results from the prolonged shooting schedule still continue to amaze. This was 1960 folks, and there was no such thing as a volume.
Audio
Lawrence of Arabia on 4k Blu-ray offers a Dolby Atmos / TrueHD 7.1 channel soundtrack. The sound levels have an interesting balance between left and right speakers and center-based audio that shifts depending on the moment. Most of the time, you feel as if in the moment. And especially with a good set of headphones, you really get a sense of immersive audio that is different from other mixes up to 7.1 and object-based sound. 
This holds true for some of the ambient sound and dialogue but also for the Oscar-nominated music score by Maurice Jarre that almost sits you in the middle of the orchestra.
Some audio lends well to surround sound. During the train raid in Part 2 of the film (around 21:00 where horses are released), there are gunshots that have a surround sound effect that center between the left and right speakers. 
Bonus Materials
There are lots of bonus materials included on a separate Blu-ray disc. There is an interview with Peter O'Toole shot in 2007 that's about 21 minutes. There is a deleted balcony scene with an introduction. There is a conversation with Steven Spielberg that lasts about nine minutes. And, "Lawrence at 50: A Classic Restored" is a 13-minute bonus feature on the restoration of the film. But, those are just some of the shorter extras. Included on the Blu-ray Disc (and with some digital services) is a documentary created in 2000 on French DVD titled "In Love with the Desert" that takes you to the filming locations. And, there is the 1-hour "The Making of Lawrence Arabia" retrospective from 1989 including interviews with Director David Lean, Peter O'Toole, Omar Sharif, and more. That's enough for any filmmaker, cinephile, or fan of the film to keep you busy for hours.
Summary
There is no doubt that Lawrence of Arabia in 4K is a must-have for your Blu-ray and home theater collection. The newest restoration (originally released in the Columbia Classics 4k Ultra HD Vol. 1) is the best the film has ever looked and will be for a long time. Colors render exceptionally well in Dolby Vision HDR (even on a smartphone with DV the film looks great) and some imagery is so sharp it's hard to believe this is a 60-year-old movie. Audio, even with some of the characteristics of older soundtracks and sound effects, is very sharp and controlled with few distortions. Lawrence of Arabia in 4K is a must-watch and must-have at home.
Scores
Movie
5/5
Video
5/5
Audio
4/5
Bonus Features
5/5
4-Disc Features
Disks 1 & 2 (4k Blu-ray)
PREVIOUSLY RESTORED IN 4K FROM THE ORIGINAL CAMERA NEGATIVE BY SONY PICTURES
DOLBY VISION/HDR PRESENTATION — feature split across two 4K Blu-ray discs
Dolby Atmos + 5.1 audio
Disk 3 (Blu-ray)
4K RESTORATION OF THE FILM
5.1 audio
Secrets of Arabia: Feature-Length Picture-in-Graphics Track
Disc 4 (Blu-ray)
Peter O'Toole Revisits Lawrence of Arabia
Making of Lawrence of Arabia Documentary
Deleted Balcony Scene with Introduction by Anne V. Coates
The Lure of the Desert: Martin Scorsese on Lawrence of Arabia
A Conversation with Steven Spielberg
Wind, Sand and Star: The Making of a Classic (1963 & 1970 Versions)
Maan, Jordan: The Camels Are Cast
In Search of Lawrence
Romance of Arabia
King Hussein Visits Lawrence of Arabia Set
In Love with the Desert Documentary
Lawrence at 50: A Classic Restored
Archival Interviews

Steven Spielberg on Lawrence of Arabia
William Friedkin on Lawrence of Arabia
Sydney Pollack on Lawrence of Arabia

New York Premiere Footage
Advertising Campaigns
Vintage Trailers & TV Spots