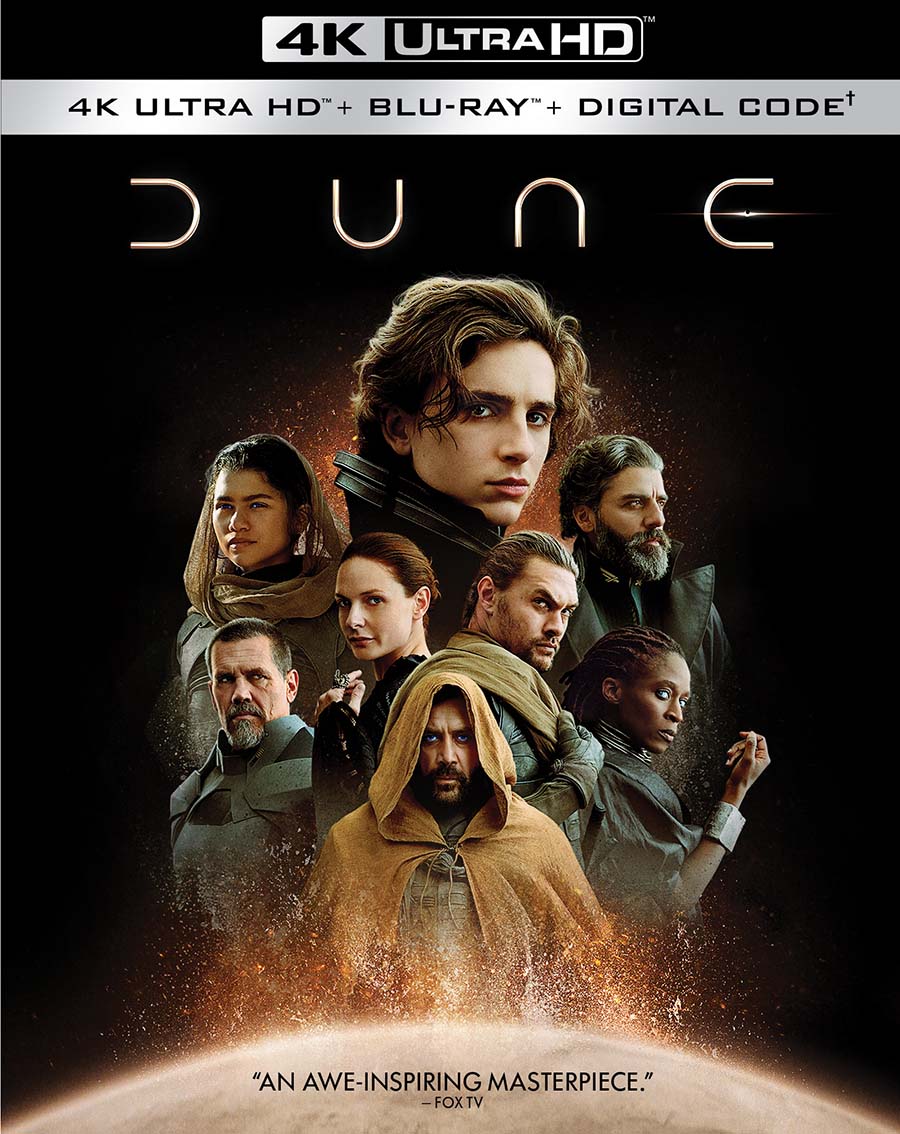 Warner Bros.' Dune (2021) was one of several movies during the Covid-19 pandemic that premiered on HBO Max as well as in theaters. The movie did remarkably well at the box office, earning $41M (US/Canada) over its first weekend and grossed $107M (US/Canada) and $397M (Worldwide). The release of Dune to HBO Max also gave subscribers another reason to hold on to their subscription, which provided exclusive access to other "what would be" blockbusters such as Godzilla vs. Kong and The Suicide Squad. 
Having seen the movie first in theaters and then streaming, the 4k Blu-ray release was something to look forward to. Warner Bros. released Dune to disc formats on Jan. 7, 2022 (in the US) including 4k Blu-ray, 3D Blu-ray, Blu-ray, and DVD. The 2-disc Blu-ray combo editions each include a Blu-ray or DVD and code to redeem a Digital Copy. Here's a review of the 4k Ultra HD Blu-ray presentation of Dune. For related articles see our review of Dune streaming on Apple TV+ via HBO Max and a comparison of Dune streaming and on 4k Blu-ray. 

Video
Dune on 4k Blu-ray Disc plays at much higher bitrates than on HBO Max, averaging in the 50-60Mbps range but jumping to close to 90Mbps at times. The imagery is exceptionally sharp, highlighting the costume and set designs that would be outstanding in any resolution. And, the color is impressive even if the imagery lives in a darker, more earthy palette than other live action films. The color grading is well-thought. You'll notice there is a specific hue to each scene or sequence that taps into the viewer's emotions. 

For example (see image above), when Leto is captured by the Baron the color is a warm sepia tone that transitions to Paul and Jessica in the desert where they can feel the loss their father/husband. Color is used in that instance to connect the family, even if in different locations. By contrast, when Leto is shown in control of his own planet Caladan the hues are cooler and on the opposite sides of the color spectrum (see image above). 
This is one subtle-looking film (unless you've got your TV set to sports mode which could boost color and contrast to unrealistic levels) so we suggest dimming any ambient light and watching it in the evening for optimum level. Dune was really intended for the big screen, so the best thing you can do is make the home viewing experience as close as possible to a movie cinema.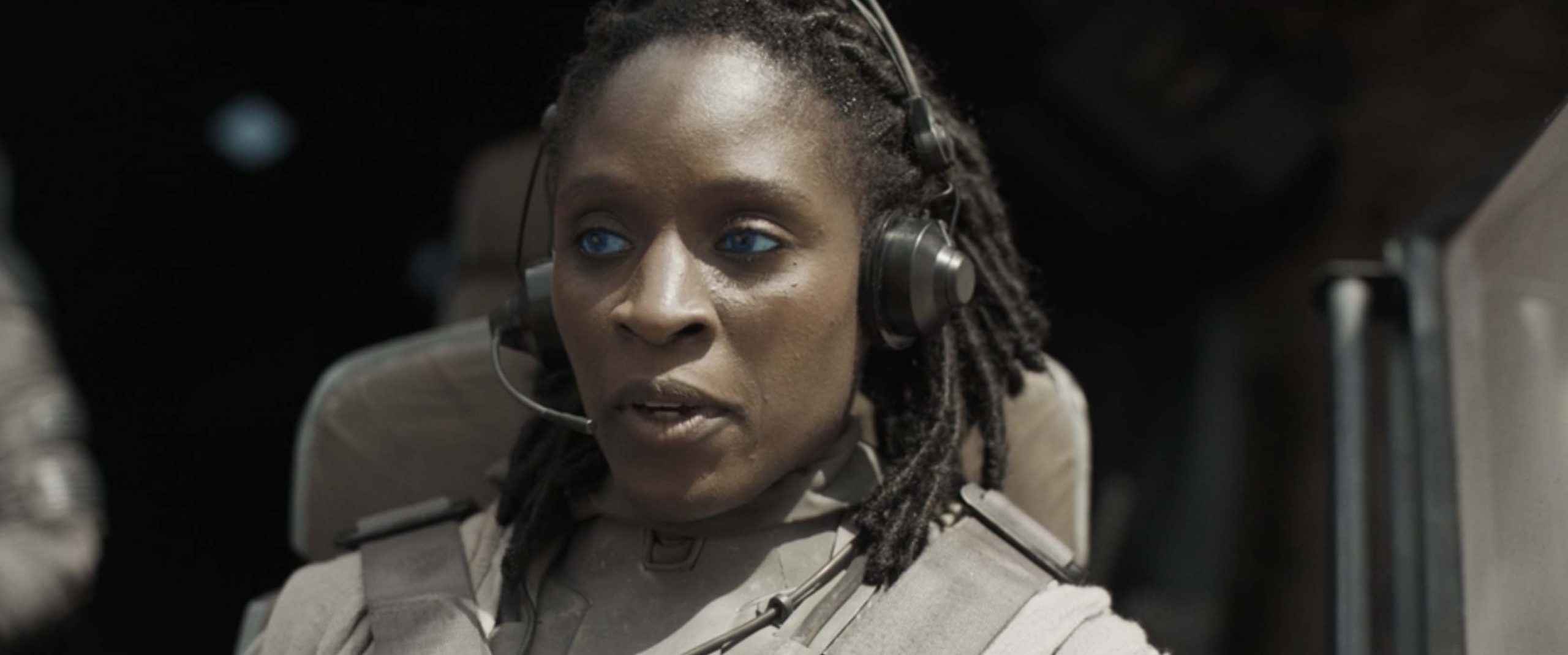 Audio
Dune on 4k Blu-ray (as well as the 1080p Blu-ray) offers Dolby Atmos/TrueHD 7.1 audio providing surround sound and immersive effects on multi-speaker systems with the right setup. Starting with the heartbeats that get faster and faster under narration by Zendaya's character Chani, Dune has moments that will shake your home and maybe even have you looking behind your back. 
What makes each scene so impactful are the transitional underscores. Each break has a slightly different motif that completely changes the mood of the imagery, as well as indicating (by sound) what part of the story is taking place. Just listening to Dune can actually carry you through each moment as the visuals do.

In the music score there are elements of Blade Runner (Vangelis), Blade Runner 2049 (Theo Green) the original Dune (Brian Eno), and of course traces of other Hans Zimmer filmscore compositions (of which there are many). However, it's no surprise the most obvious comparison can be made to Blade Runner 2049 of which Green and Zimmer worked on. 
The battle scene at Arrakeen starting at about 1-hour, 19-minutes has some of the best audio of the movie, filled with the explosions of ships, gun fire, and humming of the solidier's personal shields. The battalions of Harkonnen and Sardaukar troops overwhelm the Atreides and pretty much destroy the city, and the event is underscored by a dramatic and seemingly classically-influenced orchestral movement laced with technology-driven effects. 
Bonus Material
Dune on 4K Blu-ray does not have any extras, so you have to open the tray and put in the Blu-ray disc in order to see any bonus features. But the bonus features are definitely worth checking out. If you like behind-the-scenes footage and making of images there are several choices in the extra section. One of my favorite sections is the exploration of the sound design and music composition for the movie, including interviews with Hans Zimmer and sound design artists.
The first bonus feature "Inside the Royal houses" talks mainly about the different characters and who they are in the film and includes short interview clips with cast members. The second extra "The Spice Milange" reads like a PowerPoint presentation about spice: its properties, harvesting, and value In the galaxy. The next bonus feature "The Sardauker Battle" is about Duncan (played by Jason Momoa) who brings his extensive stunt and fighting experience to the set of Dune. Then, by jumping down from those three thumbnails there are a bunch of other featurettes. It's a bit confusing how these are organized but nevertheless all the extra content adds up to over an hour.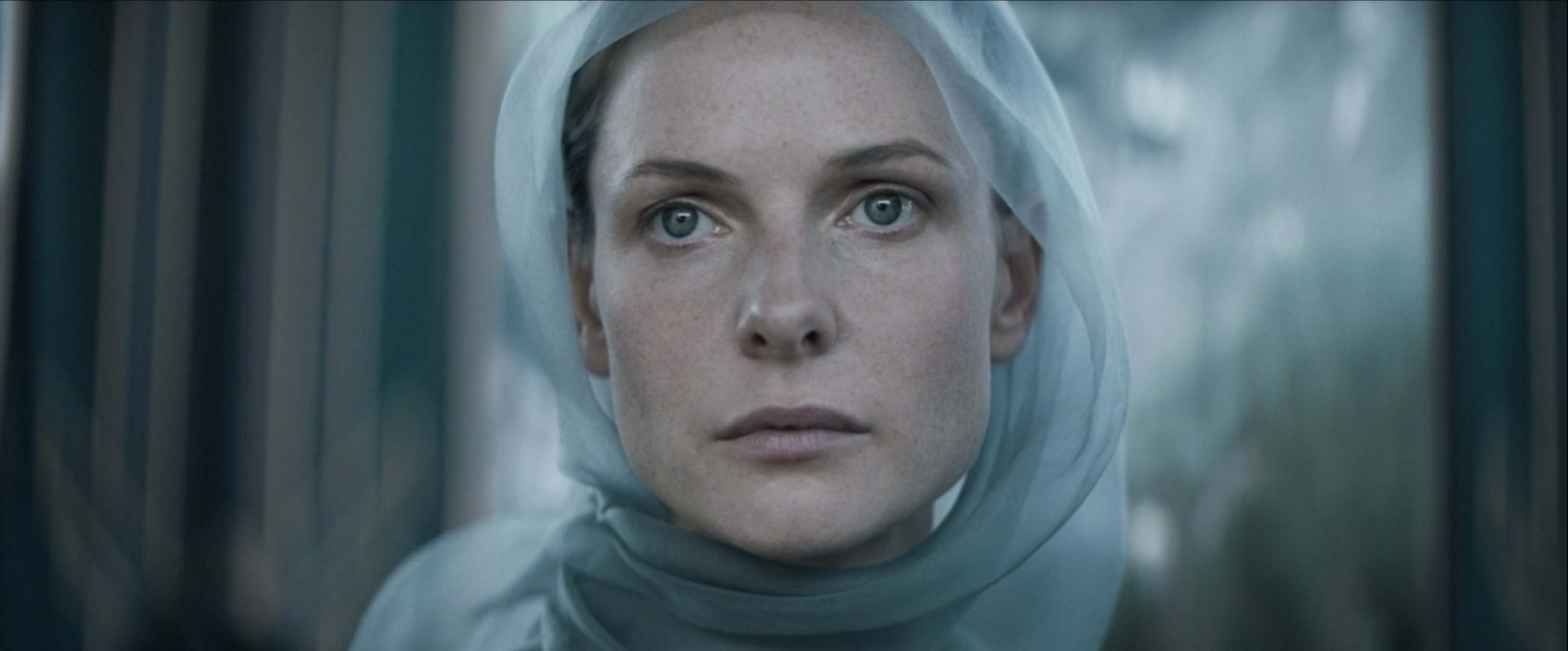 Summary
Dune is a reference-quality 4k Blu-ray release that will most certainly be one of the best of the year. The imagery is subtle with earthy tones and tiny details that stand out in 4k. The combination of Hans Zimmer's music score and Theo Green's sound design provide a great listening experience on any system, but is best heard with a low-frequency speaker combined with multiple speakers for surround sound effects. It's also a good cliffhanger for the second part of Dune, scheduled to release in 2023.
Scores
Movie
4/5
Video
5/5
Audio
5/5
Bonus Material
4/5