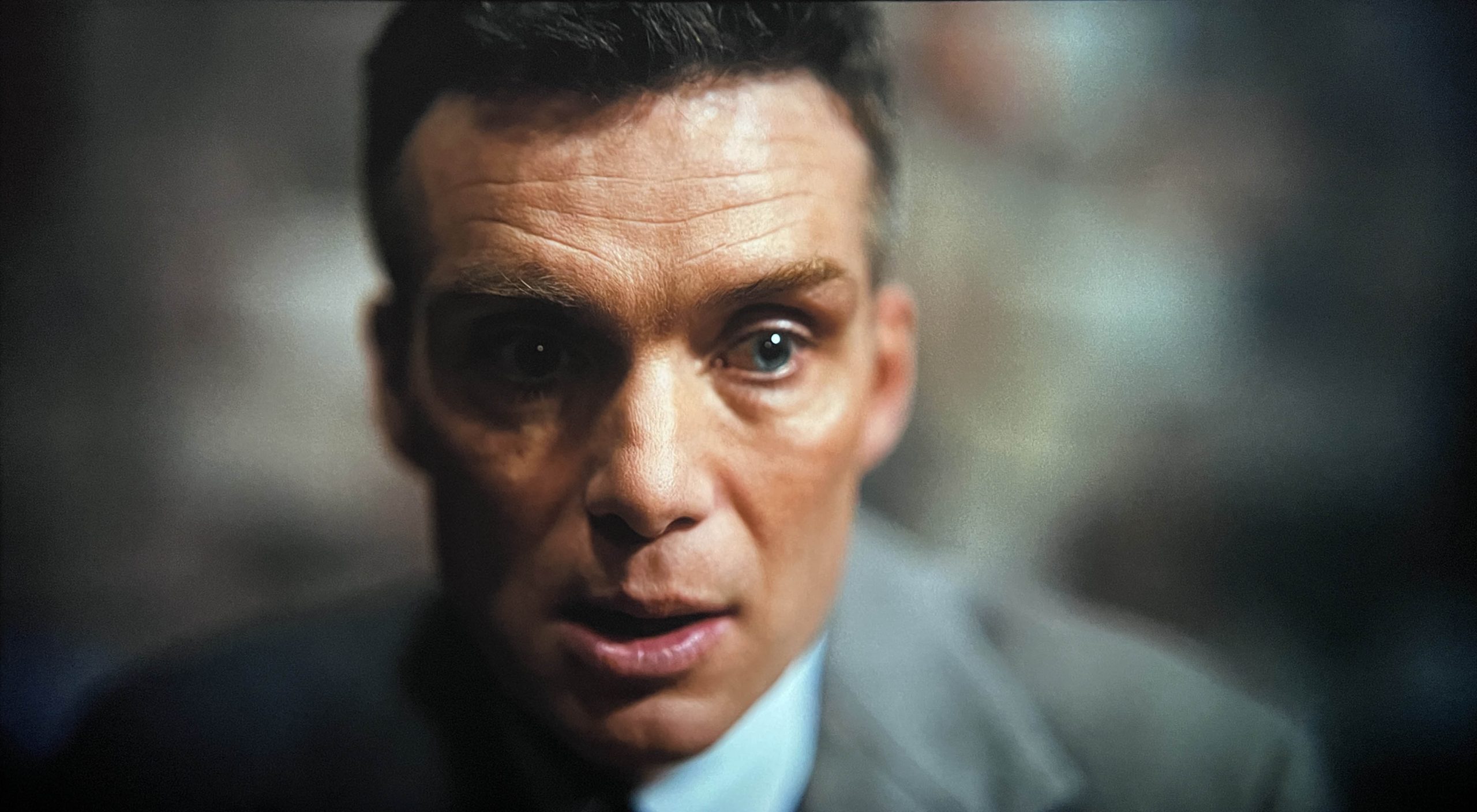 Universal's "Oppenheimer" releases on 4k Blu-ray, Blu-ray, DVD, and Digital on November 21st, 2023. The simultaneous arrival of physical media and digital is atypical for home media, as most newly released titles are separated by roughly a month. In effect, "Oppenheimer" might serve as a case study for future movies and how studios schedule post-theatrical premieres. However, given physical media takes much longer to manufacture for distribution, the "Oppenheimer" home media release is likely just a one-off. 
"Oppenheimer" is presented in 2160p (4k) resolution on Ultra HD Blu-ray. The aspect ratio is variable, switching from 2.20:1 and 1.78:1 just as in the movie theater presentation. (Note: Digital streams & downloads are not variable). The color and contrast are improved to 10-bit with Dolby Vision (digital) and HDR10 high dynamic range specs on screens that support the formats.  
On 4k Blu-ray "Oppenheimer" played at variable bitrates ranging from the mid-50Mbps to 80Mbps. The video image is spectacularly sharp (notably shot in 70mm and 35mm film), boasting sharpness that surpasses previously lauded Nolan films such as Tenet and Inception. The closeups of Cillian Murphy are stunning, rendered in shallow depth of field with 3-dimensional lighting as if each frame is a piece of art. 
The color grading is on-spot, with rich color depth in skin tones and fabrics that look real. Black levels are "Interstellar-black" in the night scenes, and skies reveal just enough detail not to be blown out. If you've already seen "Oppenheimer" you already know much of the footage is presented in black and white (the 65mm film was produced specifically for the film) when the movie time-cuts to the Oppenheimer security hearing in 1954. The black and white images contrast nicely with the color scenes, but given how well it was done the transitions are seamless.  
As with Christoper Nolan's past films, "Oppenheimer" is presented in DTS HD Master Audio 5.1 (not 7.1 or Dolby Atmos), but what Nolan and the sound team did with five discreet channels (plus a low-frequency channel) is wholly impressive in so many ways. The dialogue is positioned mainly front and center, but the music and sound effects reach out to the side and rear channels as well as some of the best Atmos and DTS:X mixes.   
What about low-frequencies? "Oppenheimer" might be a sub-killer (in a good way, not meaning the audio is not properly regulated). The low-frequency effects hit the subwoofer channel(s) with no restraint, encompassing the viewer in a thunderous attack on the senses, apropos of the topic of the movie itself. The foot-stomping at 1 hour and 31 minutes might scramble your brain.   
The original music score from Ludwig Göransson carries the film beautifully, often stretching into the side and rear speakers to immerse the listener in a symphony of violins and the experimental results of vibratos and microtonal glissandos providing an eerie quality to the film.
For interested audiophiles, variable audio bitrates averaged around 3.5Mbps. As far as other languages, French and Spanish soundtracks are provided in DTS Digital Surround 5.1. And, subtitles are offered in English SDH, French, and Spanish.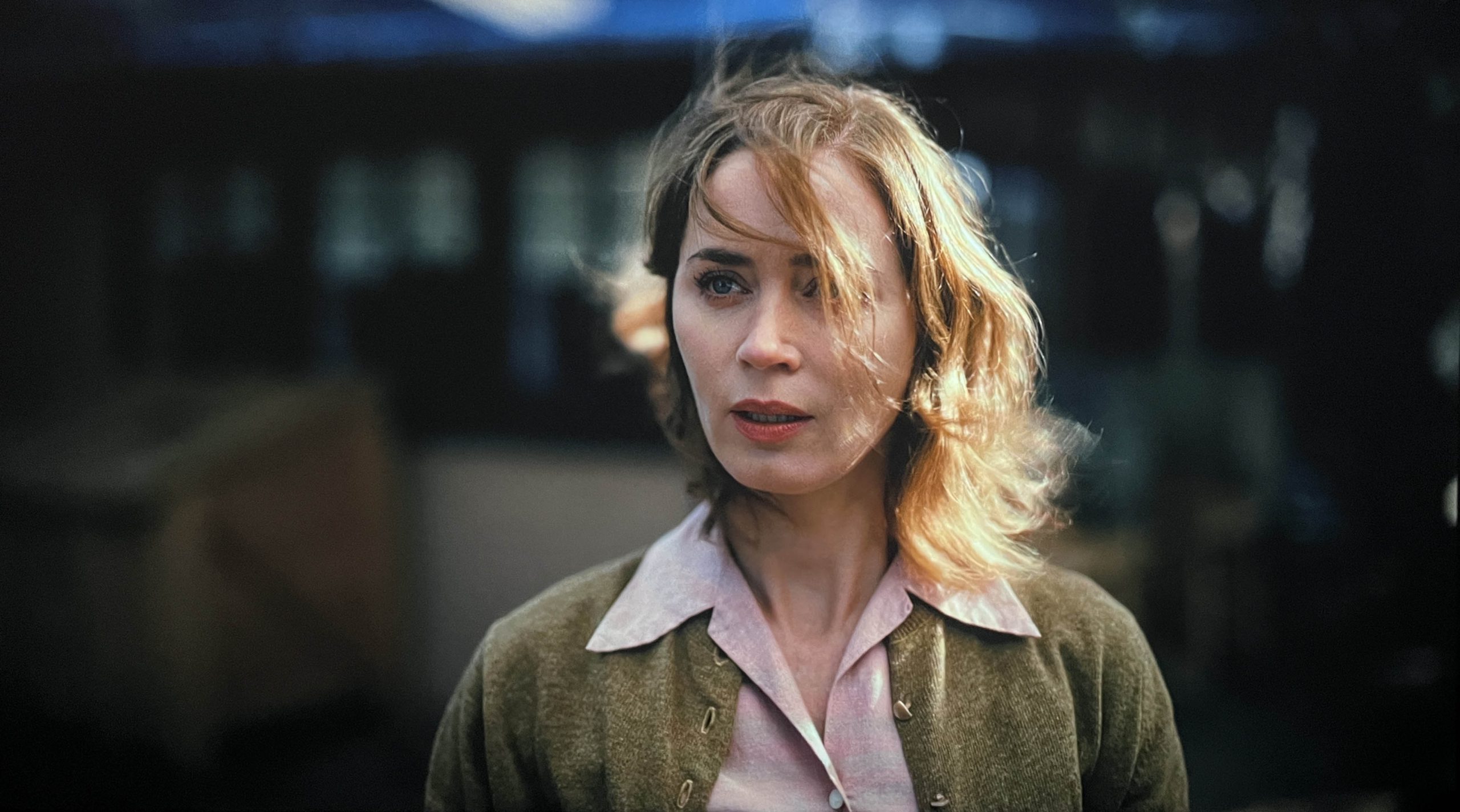 Much has been said about the bonus features amounting to more time than the actual film itself. Under the header "The Story Of Our Time: The Making Of Oppenheimer" there are several featurettes including Now I Am Become Death, The Luminaries, The Manhattan Project, The Devil Of Details, Walking A Mile, Can You Hear Music? and We Can Perform This Miracle. 
Three more in-depth extras include Innovations In Film: 65mm Black-And-White Film In Oppenheimer, Meet The Press Q&A Panel: Oppenheimer, and To End All War: Oppenheimer & The Atomic Bomb.  
We're giving the "Oppenheimer" 4k Blu-ray perfect scores across the board. It's a must-own for your home theater collection. Movie (5/5) Video (5/5) Audio (5/5) Bonus Features (5/5)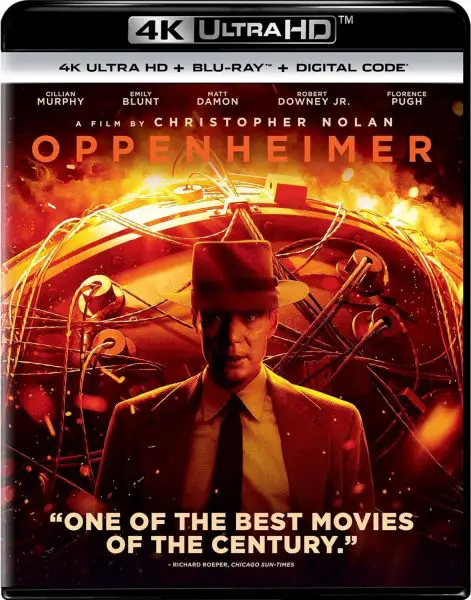 Equipment: Video: Epson LS800 laser projector on 100″ Silverflex screen, Sony 55″ Sony Bravia LED 4k TV, MacBook Pro 16″ XDR Screen. Audio: 7.1 channel audio system (KEF/SVS speakers).