Ridley Scott's Alien is one of those films home theater buffs have been thinking about ever since the dawn of Ultra HD Blu-ray. For fans of science fiction, you can put Alien up there with classics such as 2001: A Space Odyssey, Blade Runner and Close Encounters of the Third Kind, all of which have been re-released to 4k.
How does Alien hold up to today's standards? Actually, really well. The script, film editing, cinematography, audio mixing, set design, and acting are still better than most films that followed it. Even the more recent Alien films: Prometheus and Alien: Covenant, are technically superior but can't match the storytelling and horror of Alien.
With that said, the new 4k transfer of Alien is really a testament to the set designers and effects artists (led by Academy Award winner H. R. Giger). The interior of the Nostromo, for example, was built with such an incredible amount of attention to detail. If it hadn't been, those interior shots would not have held up as well as they do in 4k.
Alien also turns out to be a showcase for the cinematography by Derek Vanlint. The camera movements in the opening scene on Nostromo are ahead of their time, but even with his innovation, you'll find Vanlint paying plenty of homage to 2001: A Space Odyssey. Now in 4k, viewers can see even more detail in the movie that was shot on 35 mm film using Panavision cameras and lenses.
Let's be honest though. Some of the full body shots of the alien look really bad. Scott may have opted to keep the alien in the dark and under strobe lights rather than reveal the full figure. Closeups though, especially of its drooling gums, teeth, and inner jaw still look believable enough to get the chills.
You might also take issue with how fast the ships move in Alien. There is nothing subtle about how quickly the transport ship disengages from the Nostromo, although the landing on the alien planetoid looks much better. In general, there is a little bit of inconsistency in the speed at which ships large move in outer space, and it's a wonder why remastered versions of the film just didn't fix the sequences to look more realistic. But that would have taken retiming, editing, and likely CG, and probably would have upset many film purists.
Regardless, Alien has a lot more to praise than pick apart. Let's take a look at the video and audio qualities of the film, as well as bonus material offered in this 2019 edition.
What's Included
This 40th Anniversary Edition of Alien on UHD BD includes both the Theatrical and Director's Cut versions of the film on Ultra HD Blu-ray as well as on Blu-ray Disc. And, a Digital Copy of the film can be redeemed with Movies Anywhere. You might be surprised to know Apple TV (via iTunes) is presently the only US digital service to offer Alien in 4k, as competitors such as Amazon, Google, FandangoNow and Vudu only have it in SD or HD. [Note: Since this article published that tidbit of info is no longer true.]
The Equipment
Alien was originally reviewed on a 65" 8 Series Samsung SUHD 4k/HDR TV sourced from a Samsung Ultra HD Blu-ray UBD-8500 disc player. Dynamic contrast was set to medium, colors natural, and Picture Mode on "Film" as we always suggest. Audio system is a Samsung HW-K850 3.1.2 sound bar with 11 speakers (2 upward-firing) and wireless subwoofer.
The Picture
First, please consider these suggestions before viewing. For the most cinematic experience be sure to set your TV to Film or Cinema mode which won't unnaturally boost all the colors and contrast like other picture modes such as Sports or Dynamic. You'll want to get as close as possible to what Ridley Scott envisioned for this new 4k transfer, and you can do this by making sure the TV is not enhancing the 4k Blu-ray output in any way.
Also, make sure to turn off any artificial motion smoothing (you know, the "soap opera" effect that may be great for Formula One but not for a motion picture like Alien).
Sharpness
The video in this 4k transfer is extremely sharp at times, although at other times even digital intermediates can't fix film that was shot with imperfect focal range. This film is also very dark, so the filmmakers were working with slower apertures that have a more shallow range of focus. A few of the exterior scenes of the ship don't look as sharp as one would have hoped, but there isn't much that could have been done to fix those imperfections without reshooting the entire scene.
Alien is also a bit grainy, but that's to be expected from film of this age especially given the lighting environments which, as mentioned above, were dark and heavy in shadows.
Nevertheless, this is the best we have even seen Alien at home. The interior cockpit of the Nostromo where Dallas and Ripley interface with Mother (you know, the room with all the little lights) has never looked so sharp. You can actually read the text on those panels which weren't legible in the last 1080p version. And, we hate to say it, but Tom Skerritt's teeth never looked so bad as they did at the dining table during the first get together of the crew after cryosleep.
High Dynamic Range
With the HDR10  high dynamic range spec, Alien can reach 10-bits of color range (as opposed to 8-bit max with Blu-ray) and is actually one of the few new Ultra HD Blu-ray releases that supports HDR10+, the next-gen HDR10 spec that allows more dynamic changing of color space values from scene to scene, rather than a static color spec loaded into the video at the start of playback that never changes. This was the advantage of Dolby Vision over HDR10, which has been diminished a bit with the arrival of HDR10+.
However, it's hard to see the benefits of color luminance with HDR in Alien. Some of the increase in color actually seems to be forced. For example, when flesh tones have more color saturation than one would expect. It's OK when a colored light is reflected onto skin to create an effect, but in normal lighting, skin shouldn't look like an Instagram filter. There are a couple of instances where color luminance seemed over the top.
What HDR does provide is a wider range of white to black. So, bright areas that may have been blown out before now have more detail that can be seen in the 4k transfer. Dark shadow areas that may have been crunched up in previous Blu-ray and DVD transfers now have more detail. You can see a huge improvement in the shots that include bright flood lights (for example, in the ship's landing gear) where previously the image was blown out but now more detail is revealed.
Straight off the disc Alien may be a little bit flat (without any enhancements from the TV), but this is probably a good thing because it allows room to add contrast if desired through the television's picture settings and still maintain some detail in the shadow areas. As a result, look for details you have never seen before behind the subject and in parts of the frame that were just too dark to render previously.
Audio
Unfortunately, we don't get a Dolby Atmos or DTS:X upgrade to this 4k Blu-ray edition. Instead, it's the same DTS-HD Master Audio 5.1 (as well as DTS-HD Master Audio 4.1) soundtracks released several years ago with the last Blu-ray release. But it's still a much better mix than early DVD releases. Note, that the DTS-HD Master Audio 4.1 track is only available on the theatrical versions.
By the way, the movie novelization of Alien by Alan Dean Foster is a great listen (it's on YouTube as an audio book).
Bonus Material
The 4k Blu-ray does have some bonus material including audio commentary from Director Ridley Scott, cast and crew, audio commentary from Ridley Scott alone (on the theatrical version only), the final isolated theatrical score and composer's original isolated score (both by Jerry Goldsmith), and deleted and extended scenes. These aren't new, but it's nice to not have to remove the Ultra HD Blu-ray disc to watch or listen to the extras.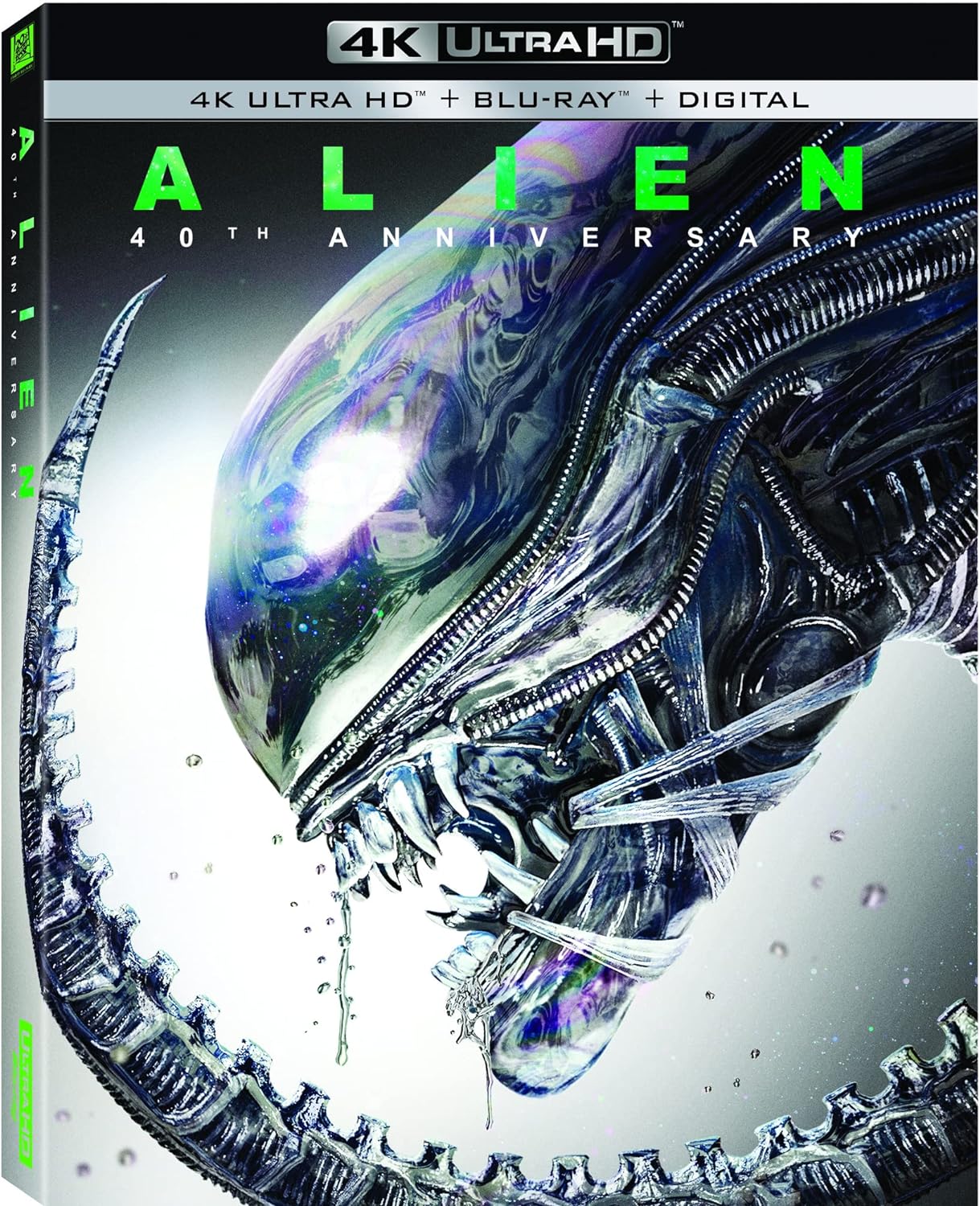 Summary
Alien is a film you can watch over and over again and still find new subtleties. The HDR10+ adds new detail to bright and dark areas, and sharpness is exceptional, making this the best Alien has ever looked. And, after seeing it in 4k you might find yourself yearning to watch the sequel, Aliens, even in 1080p just to take in more of the franchise. [Update: Aliens (1986) is finally coming to 4k Blu-ray on March 12, 2024] Is Alien a must buy on Ultra HD Blu-ray? Absolutely, unless you want to wait for an Alien 4k Anthology, which may be a long time from now. Buy on Amazon
Scores
Movie
5/5
Video
4/5
Audio
3.5/5 (no upgrade, but still great)
Bonus Material
4/5
Trailer