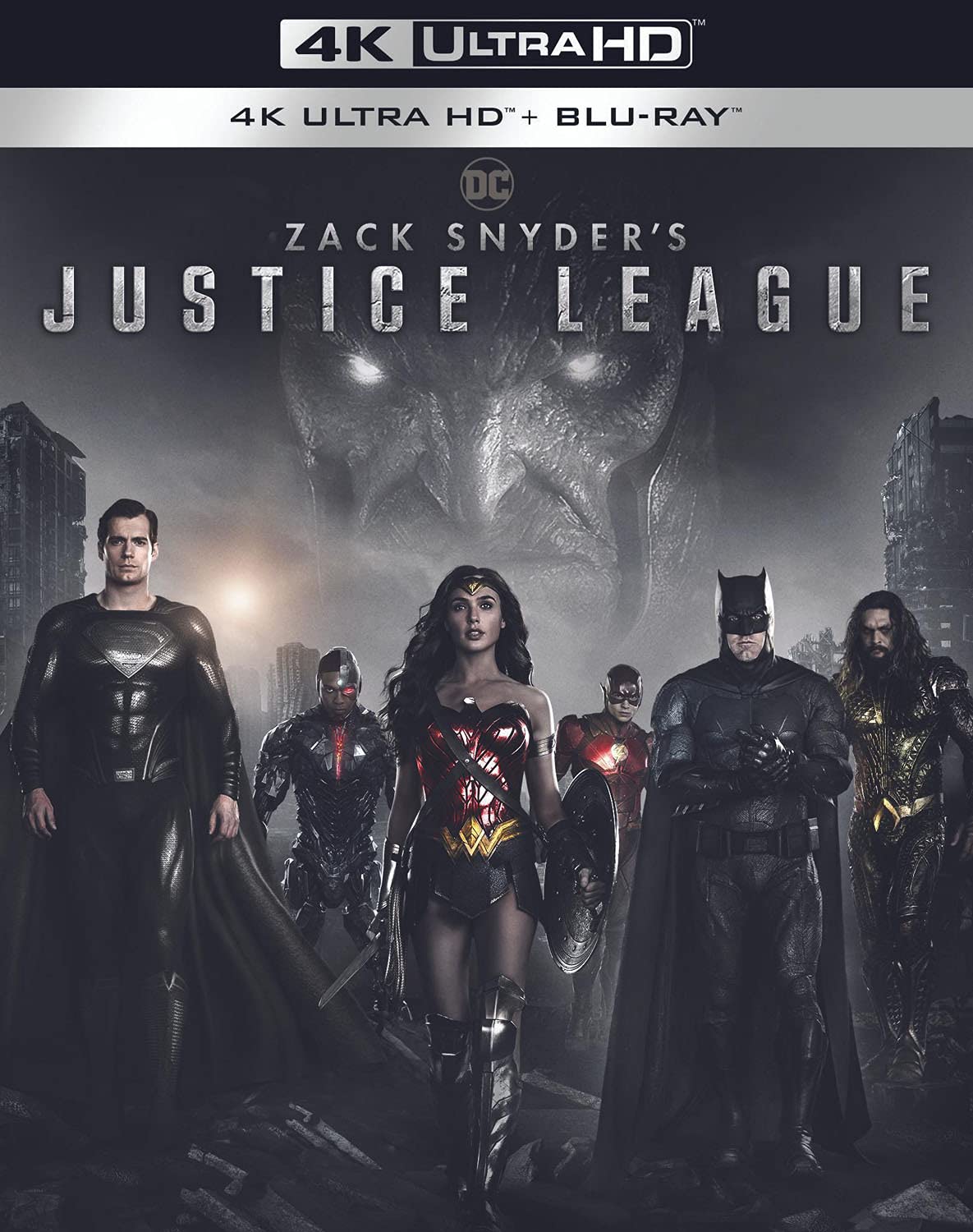 Warner Bros. released Zack Snyder's Justice League (2021) under the new distribution label SDS on Sept. 9, 2021. The 2-disc edition includes an Ultra HD Blu-ray Disc (2160p) and Blu-ray Disc (1080p) presentation of the new cut from Director Zack Synder, which was previously released in 4k, HDR, and Dolby Atmos on the HBO Max streaming service.
Movie
Warner Bros.' Justice League faced a bunch of criticism when released to theaters on November 13, 2017, and subsequently on Blu-ray Disc a few months later. The film was in post-production when Zack Snyder could not finish the movie following the death of his daughter, so Buffy the Vampire Slayer creator Joss Whedon completed the film but in doing so veered away from much of Snyder's original vision.
4 years later and owing much to the #ReleasetheSnyderCut movement, Warner Bros. and Snyder premiered his own cut of the film that more than doubled the length of the original to 242 minutes, adding more character development and new footage, as well as varying the aspect ratio in several scenes. It's a much better, although lengthy and self-indulgent version of the film, that offers a great home theater experience.
The movie was released to HBO Max on March 18, 2021 and to 4k Blu-ray Disc on September 9, 2021 (although an import was available earlier). A black-and-white version of the film titled Justice is Grey premiered on HBO Max simultaneously with the color version, but is unfortunately not included with the 4k Blu-ray release.
Here's a review of the 4k Blu-ray presentation of Zack Snyder's Justice League.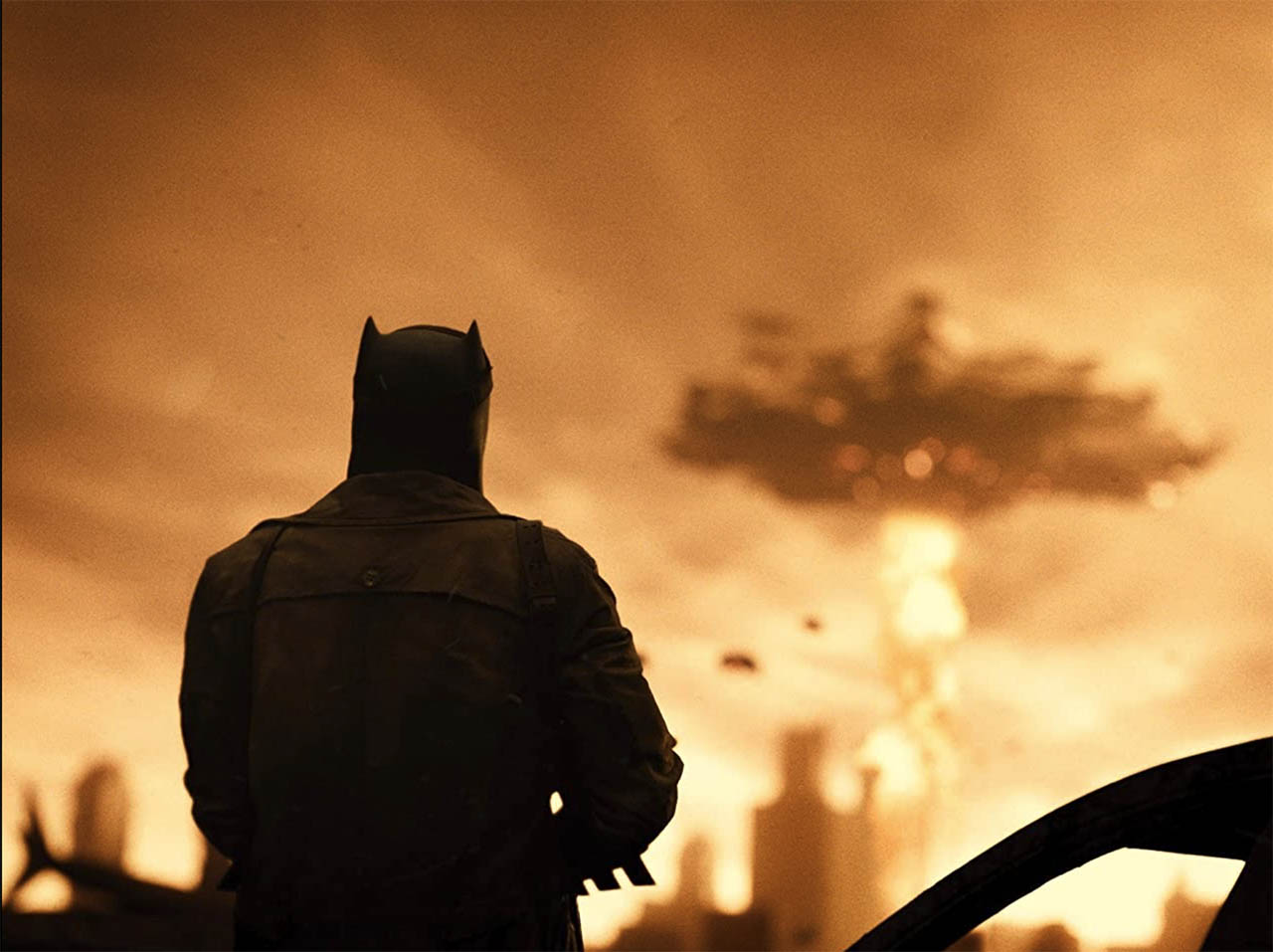 Video
Zack Snyder's Justice League is presented in 2160p (4k) with HDR10 High Dynamic Range. The color depth gained from HDR increases to 10-bit from non-HDR TVs and devices, and this film really takes advantage of that added spectrum in the darker range of hues and color values. Even without HDR though, the coloring on the new version of the film really expands to provide more detail in areas where the image is either blown out or crunched in black areas.
The variable aspect ratios add an interesting to aspect to the film. While not really noticeable when the switch happens, there is the subconscious effect of bringing viewers closer to the characters in the more square shots and taking them further into the fantasy in wide views.
The color palette (even though the film is also striking in black and white in "Justice is Grey") is something that also adds character to the film by changing dynamically depending on the scene and characters. With HDR, that color palette is extended and really boosts details in shadow and bright areas of which might be lost in a lower-quality resolution and color depth. It would have been great to have 'Justice League' in Dolby Vision because of the ability of the spec to change dynamically, but nevertheless, HDR10 is better than no HDR.
Audio
On 4k Blu-ray and with the HBO Max stream, Zack Snyder's Justice League is offered in Dolby Atmos / Dolby TrueHD 7.1 channel sound. These are the same formats as the 2017 Justice League formats but you obviously get so much more audio in Synder's 242-minute version
The music score to Zack Snyder's Justice League adds another layer of controversy. Tom Holkenborg aka. Junkie XL was the original composer but was replaced by Danny Elfman when Josh Whedon took over. When Snyder began working on his original vision again he rehired Holkenborg who decided to make a new score that ended up being 3 hours and 54 minutes long (breaking the record Ben-Hur set in 1969).
The multi-channel audio has much to offer in terms of surround sound. This is a film that can really spread out the audio frequencies with lows and highs that are crystal clear and sharp, adding another level of home theater enjoyment over the visuals.
Summary
You can't beat the high quality of a 4k Blu-ray Disc. There are no buffering issues or lossy black levels and posterized gradients you might find streaming through a service like HBO Max. The audio is reference quality and just about as good as you can expect from any of the movie's contemporaries. The new soundtrack from Tom Holkenborg resonates in this "marathon of a movie" that can, because of its chapter-like progression, be viewed in breaks without losing much momentum with the help of the tone-setting score. You don't get much bonus material (just Zack Synder's thoughts on his DC Trilogy) or the Justice is Grey format, but the extended film more than makes up for the lack of extras. Zack Snyder's Justice League in 4k is one of the year's best 4k releases (Blu-ray and Digital).
Scores
Movie
4/5
Video
5/5
Audio
5/5
Bonus Features
1/5