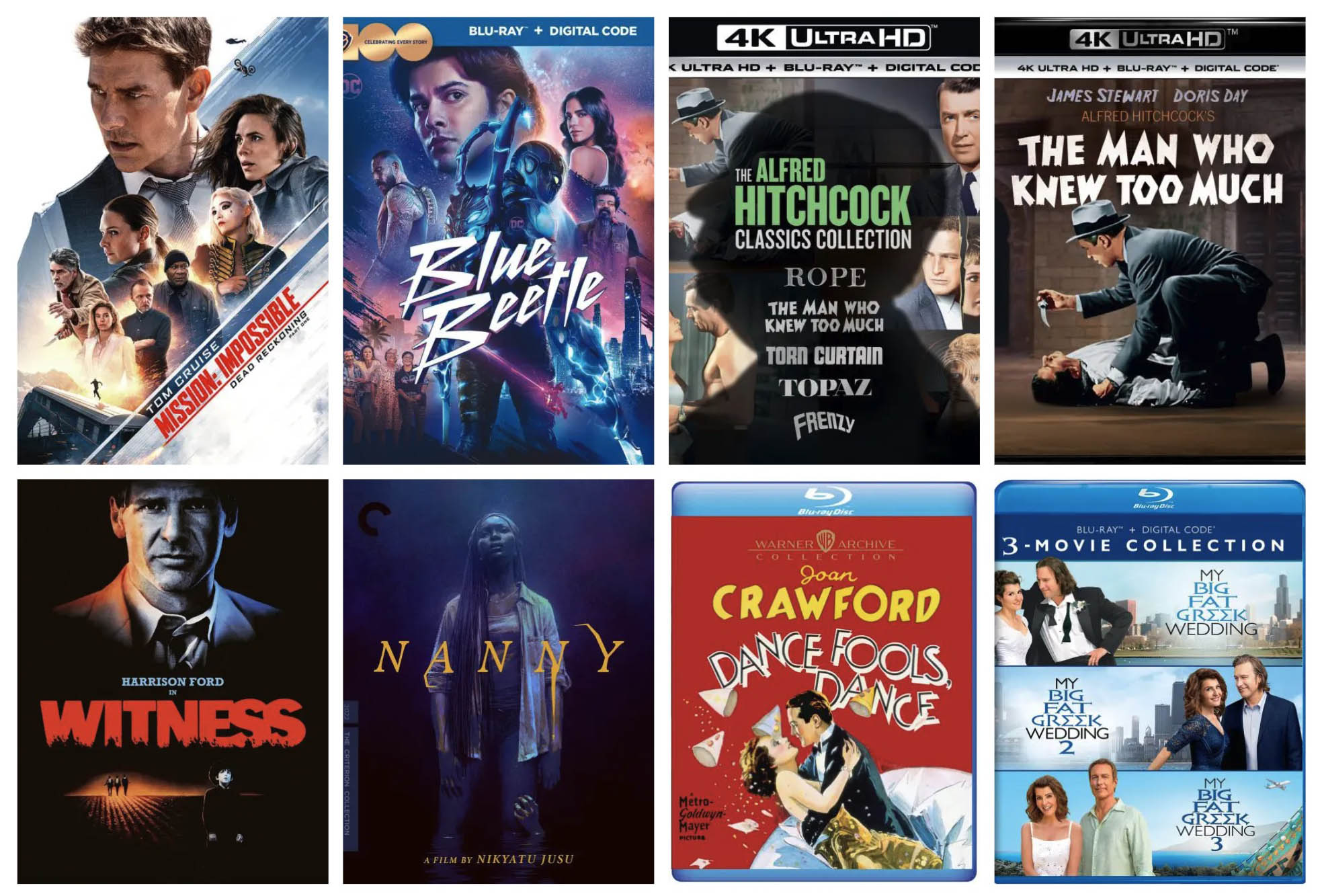 Tuesday, October 31st is not only Halloween but also a huge day for physical media releases on 4k Blu-ray, Blu-ray, and DVD. Let's start with one of last summer's action films Mission: Impossible – Dead Reckoning Part One which arrives on Blu-ray and 4k Blu-ray including a Limited Edition SteelBook, each edition with a code to redeem a Digital Copy through Paramount Movies.
Now available on 4k Blu-ray and Digital 4k are five more classic Hitchcock films from Universal Pictures Home Entertainment. The films, including Rope, The Man Who Knew Too Much, Torn Curtain, Topaz, and Frenzy arrive in single-movie editions as well as The Alfred Hitchcock Classics Collection Vol. 3. (Also see Volume 1 & Volume 2.)
DC Studios' Blue Beetle arrives on Blu-ray and 4k Blu-ray in combo editions from Warner Bros. that include a Digital Copy. And, releasing again on 4k Blu-ray is Schindler's List (1993) but this time in a Universal Essentials Collection that includes a 30-page booklet, film cell replica, on-set photographs, a numbered certificate of authenticity, and more. 
Other 4k Blu-rays to mention include Justice League x RWBY: Super Heroes and Huntsmen Part Two, National Lampoon's Animal House Universal Essentials Collection, and the Jurassic World Ultimate SteelBook Collection available at Best Buy.
More Blu-rays releasing this week include My Big Fat Greek Wedding 3-Film Collection, Nanny (2022) from The Criterion Collection, and Warner Archive titles Dance, Fools, Dance (1931), Double Trouble (1967), and Mad City (1997) all arrive on 1080p Blu-ray.
Worth noting, it looks like Arrow Video's new remaster of Witness (1985) on Blu-ray will actually make it to stores this week, while the 4k UHD edition may be delayed by a week. See more releases below with links to Amazon and Best Buy.
New Blu-ray & 4k Blu-ray, Oct. 31, 2023
4k Blu-ray
1080p Blu-ray
In case you missed it, here are last week's new Blu-ray and 4k Blu-ray releases.