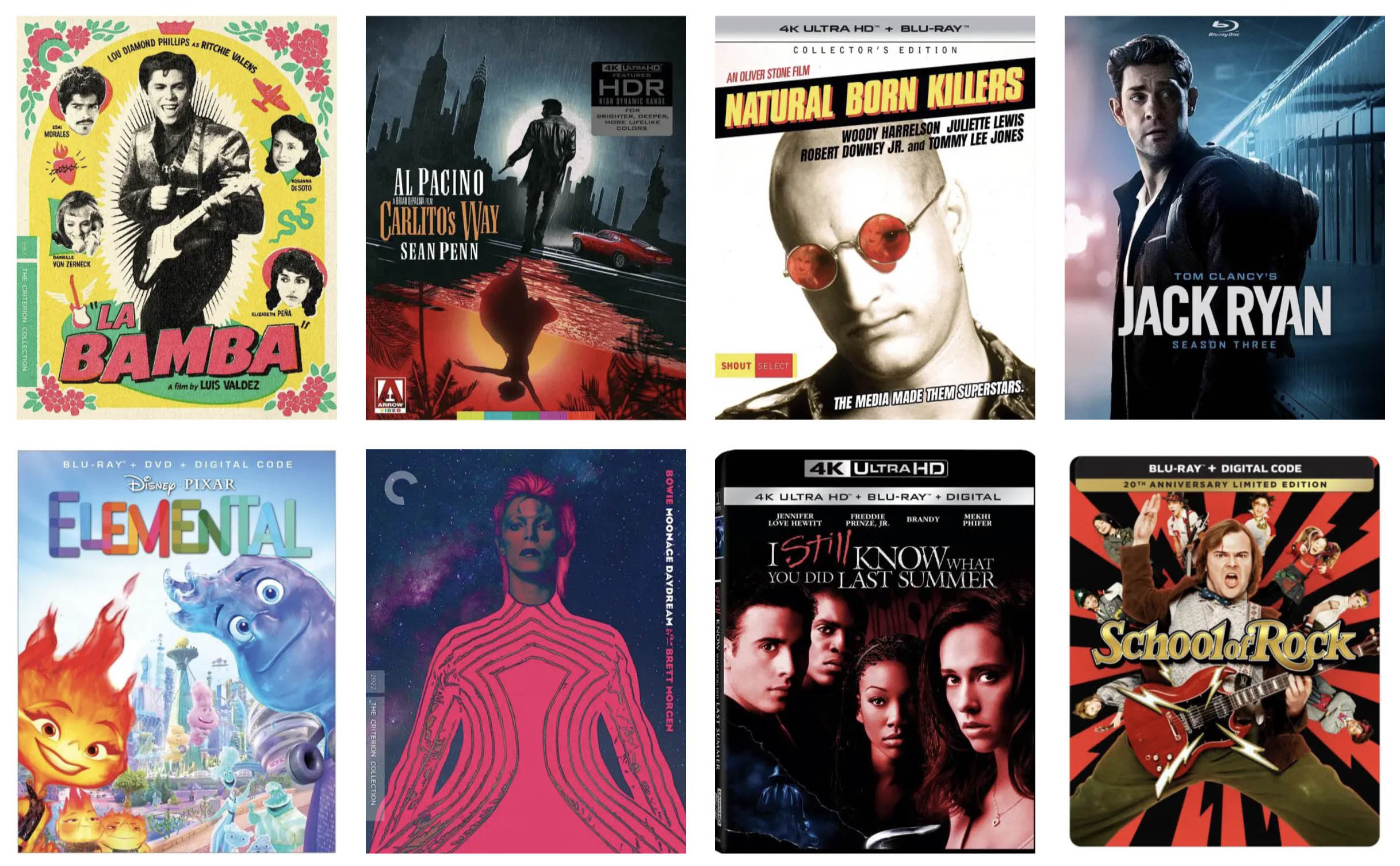 Here are the new Blu-ray and 4k Blu-ray movies for the week of September 26, 2023.
On Blu-ray and 4k Blu-ray, Tom Clancy's Jack Ryan – Season Three hits stores in 2-disc editions from Paramount. Disney/Pixar's Elemental arrives in several editions including retailer exclusives. The final season of Pennyworth releases along with The Complete Series (1-3). School of Rock starring Jack Black celebrates 20 years with a SteelBook. And, La Bamba (1987) has been restored in 2k for a new Blu-ray edition from Criterion.
On 4k Blu-ray you can pick up a new 4k UHD Limited Edition of Brian de Palma's Carlito's Way (1993) with poster, lobby card repros, booklet, and new bonus features. Oliver Stone's Natural Born Killers (1994) arrives in a Collector's Edition from Shout! Factory. I Still Know What You Did Last Summer (1998) has been upgraded from Sony Pictures. And, Moonage Daydream starring David Bowie has been upgraded to 4k from The Criterion Collection.
New Blu-ray & 4k Blu-ray, Sept. 26, 2023
4k Blu-ray
HD Blu-ray
In case you missed it, here are last week's new Blu-ray and 4k Blu-ray releases.
Related Tags: BlurayReleaseDates #4kBlurayReleaseDates #physicalmedia #Bluray #BlurayDisc #4kBluray #UltraHD #UltraHDBlu-ray #UltraHDBluray #UHDBD #4k #HDR #HDR10 #Atmos #DolbyAtmos #DolbyVision #HomeTheater #Audiophile #Videophile #HomeCinema #MoviesOnDVD #BlurayReleaseDates #DVDReleaseDates #MoviesOnDisc #TomClancysJackRyan #TomClancy #JackRyan #Elemental #NaturalBornKillers #LaBamba #MoonageDream #DavidBowie #SchoolOfRock #JackBlack #SteelBook #StarTrek #StarTrekProdigy #DeathWish #Pennyworth #WarnerBros #Disney #Pixar #DisneyPixar #WarnerArchive #Shout!Factory #Arrowvideo #Criterion #TheCriterionCollection #CriterionCollection #SonyPictures #SonyPicturesHomeEntertainment #Universal #UniversalPictures #UniversalPicturesHomeEntertainment #Paramount #ParamountPictures #ParamountPicturesHomeEntertainment #KinoLorber #BlueUnderground