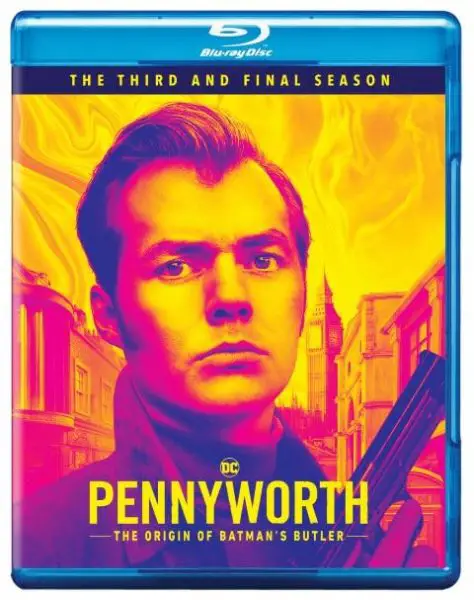 Pennyworth: The Third and Final Season and Pennyworth: The Complete Series are both releasing on Blu-ray Disc and DVD on September 26, 2023, from Warner Bros.
Season 3 is a 2-disc edition with all ten episodes that aired from October to November 2022 on HBO Max. The Complete Series box set contains 7 Blu-ray Discs with a total of 30 episodes that spanned on the streaming service from 2019 to 2022.
Episodes are presented in 1080p at 2.00:1 aspect ratio with DTS-HD Master Audio 5.1. Subtitles are provided in English SDH.
Pennyworth: The Third and Final Season has a list price of $29.99 while Pennyworth: The Complete Series SRP is $79.49.
Description: The DC origin series PENNYWORTH follows Alfred Pennyworth (Jack Bannon – The Imitation Game), a former British SAS soldier in his 20s, who forms a security company in 1960s London and goes to work with young billionaire Thomas Wayne (Ben Aldridge – Our Girl, Reign, Fleabag), who's not yet become Bruce Wayne's father. In addition to Bannon and Aldridge, PENNYWORTH stars Emma Paetz (Gentleman Jack), Hainsley Lloyd Bennett (Eastenders), Ryan Fletcher (Outlander), and Dorothy Atkinson (Hanna, Harlots, Call the Midwife), with Paloma Faith (The Imaginarium of Doctor Parnassus) and Jason Flemyng (The Curious Case of Benjamin Button).