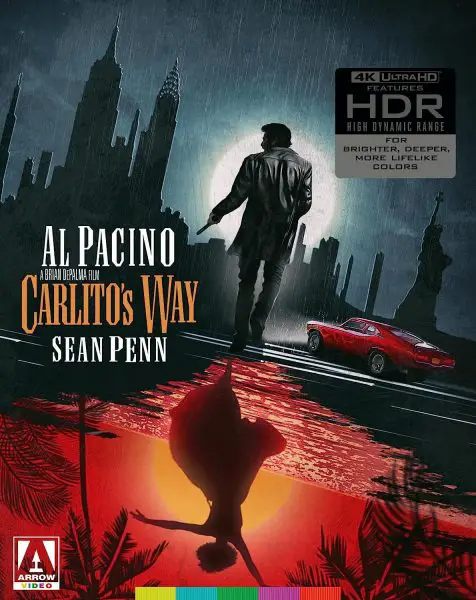 Brian de Palma's Carlito's Way (1993) starring Al Pacino, Sean Penn, and Penelope Ann Miller will celebrate 30 years with a 4k UHD Blu-ray edition releasing on Tuesday, September 26, 2023.
The 2-disc 4k Blu-ray/Blu-ray edition features a double-sided fold-out poster, lobby card reproductions (postcard sized), and illustrated collector's booklet.
Along with legacy extras, new bonus content includes commentaries, interviews, writings, and packaging artwork. The 4k Blu-ray contains audio commentary only as an extra.
On 4k Ultra HD, Carlito's Way is presented in 2160p with HDR10 for increased color depth, and an immersive DTS:X soundtrack. Subtitles are provided in English SDH, French, and Spanish.
The 4k UHD Limited Edition of Carlito's Way is priced $39.99 (List: 59.95) at Amazon.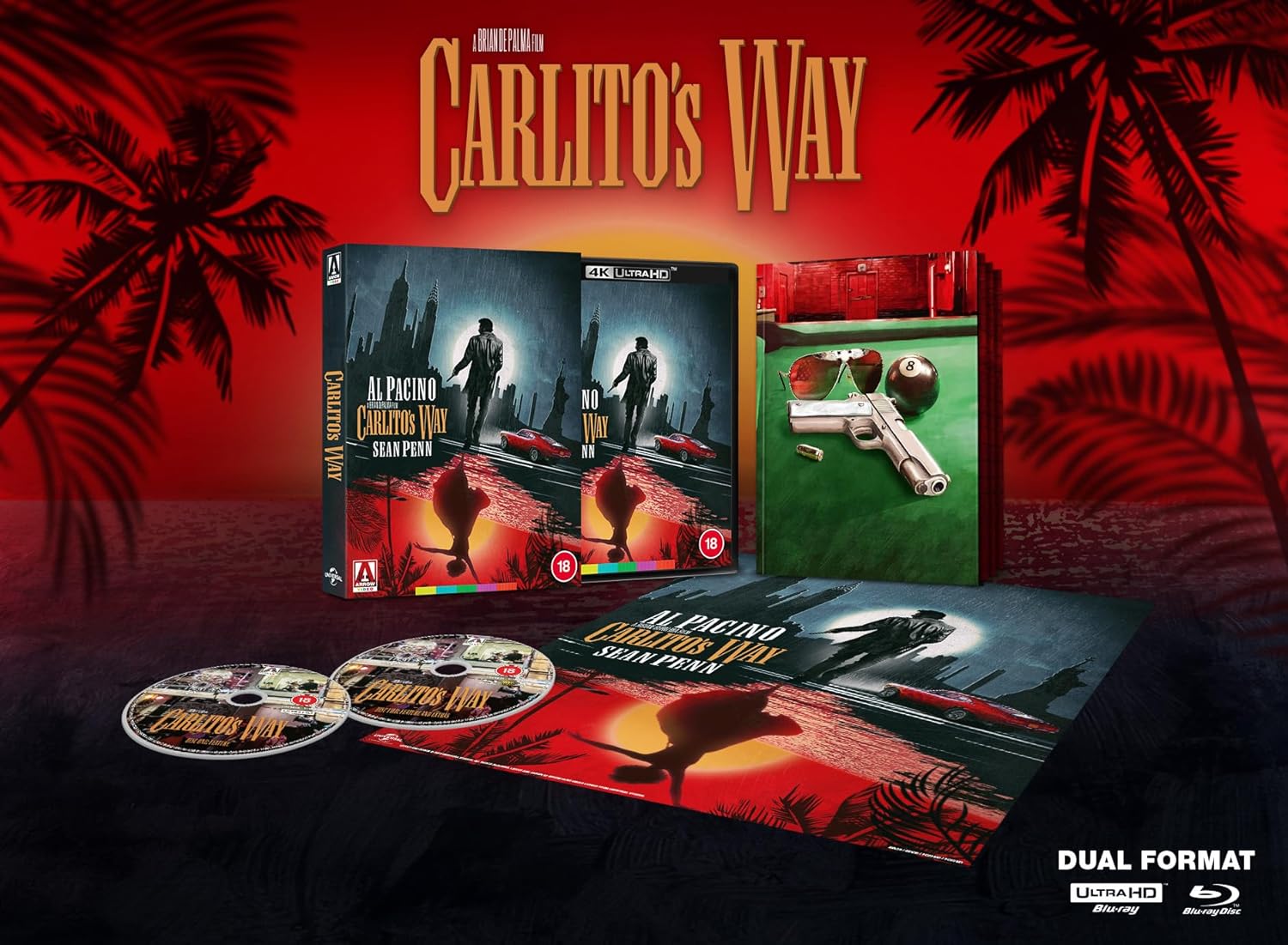 Carlito's Way is also available in an import with Dual Format Blu-ray Disc. See on Amazon
Limited Edition Features
DISC ONE: FEATURE (4K ULTRA HD BLU-RAY)
4K Ultra HD Blu-ray (2160p) presentation in High Dynamic Range
Original stereo, 5.1 DTS-HD Master Audio and DTS-X audio
Optional English subtitles for the deaf and hard of hearing
Brand new audio commentary by Matt Zoller Seitz, author of The Wes Anderson Collection and The Soprano Sessions
Brand new audio commentary by Dr. Douglas Keesey, author of Brian De Palma's Split-Screen: A Life in Film
DISC TWO: FEATURE AND EXTRAS (BLU-RAY)
High Definition Blu-ray (1080p) presentation

Original stereo and 5.1 DTS-HD Master Audio

Optional English subtitles for the deaf and hard of hearing

Brand new audio commentary by Matt Zoller Seitz

Brand new audio commentary by Dr Douglas KeeseyCarlito and the Judge, a brand new interview with Judge Edwin Torres, author of the novels Carlito's Way and After Hours on which the screenplay for Carlito's Way is based

Cutting Carlito's Way, a brand new interview with editors Bill Pankow and Kristina BodenDe Palma's Way, a brand new appreciation by film critic David Edelstein

All the Stitches in the World: The Locations of Carlito's Way, a brand new look at the New York locations of Carlito's Way and how they look today

De Palma on Carlito's Way, an archival interview with director Brian De Palma

The Making of Carlito's Way, an archival documentary on the making of the film, produced for the original DVD release

Original promotional featurette

Theatrical teaser and trailer
4K DUAL FORMAT LIMITED EDITION CONTENTS
Limited edition packaging with reversible sleeve featuring original and newly commissioned artwork by Obviously Creative
Double-sided fold-out poster featuring newly-commissioned artwork by Tom Ralston and Obviously Creative
Seven double-sided, postcard-sized lobby card reproductions
Illustrated collector's booklet featuring new writing on the film by Barry Forshaw and original production notes
Gangster Carlito Brigante (Pacino) gets released early from prison thanks to the work of his lawyer, Kleinfeld (Sean Penn, Milk). Vowing to go straight, Carlito nonetheless finds dangers waiting for him in the outside world. As Carlito works toward redemption, Kleinfeld sinks into cocaine-fueled corruption. When Kleinfeld crosses the mob, Carlito gets caught in the crossfire and has to face a hard choice: remain loyal to the friend who freed him or protect a new life with the woman he loves (Penelope Ann Miller, The Relic). With enemies closing in from all sides, Carlito must find his way before it's too late.
Also starring John Leguizamo (Land of the Dead), Luis Guzmán (Magnolia), and Viggo Mortensen (The Lord of the Rings), Carlito's Way has come to be regarded as among De Palma's most accomplished films. A hard-hitting gangster noir laced with romance and melancholy, powerful performances and nail-biting suspense.
Related Tags: #CarlitosWay #ArrowVideo #physicalmedia #Bluray #BlurayDisc #4kBluray #UltraHD #UltraHDBlu-ray #UltraHDBluray #UHDBD  #4k #HDR #HDR10 #Atmos #DolbyAtmos #DolbyVision #HomeTheater #Audiophile #Videophile #HomeCinema #MoviesOnDVD #BlurayReleaseDates #DVDReleaseDates #MoviesOnDisc