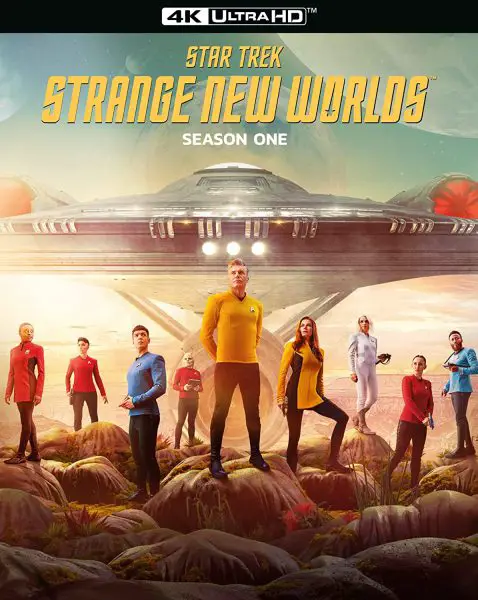 Star Trek: Strange New Worlds Goes Where No Star Trek Franchise Series Has Gone Before – The First To Release On 4k Ultra HD Blu-ray.
Paramount+ original series Star Trek: Strange New Worlds will be the first of the Star Trek TV franchise ever to release on Ultra HD Blu-ray. The first season is set to arrive on 4k Blu-ray in stores on May 16, about eight weeks after the Blu-ray and DVD versions release on March 21, 2023.
Update: A standard plastic case edition of Star Trek: Strange New Worlds – Season One on 4k Blu-ray is slated for release on June 13, 2023.
'New Worlds' won't be the first Star Trek series available in 4k though, as Star Trek: Discovery broke that ground with its fourth season premiering in December 2021. 'New Worlds' followed with its premiere in May 2022, and both series (along with Star Trek: Picard) offer increased color depth with Dolby Vision HDR.
'Picard,' unfortunately, only streams in HD (1080p) at best but we might see a jump in video resolution with the third (and final) season premiering on February 16. After all, it wasn't until the fourth season of 'Discovery' that we finally got 4k.
4k Blu-ray is different than streaming though. Not only do you own a physical copy of the content you also get state-of-the-art video quality from the 4k discs. 4k Blu-rays typically average bitrates of about 50 Mbps to 70 Mbps depending on the scene and color depth. But bitrates can go even higher. The highest peak I've seen was 107Mbps during a House of the Dragon episode playing on 4k Blu-ray.
We've also seen the original Star Trek movies get 4k Blu-ray upgrades in the last couple of years including Star Trek: The Motion Picture – The Director's Edition released at the end of last summer and ended up ranking in our Top 10 Best 4k Blu-rays of 2022. And, Star Trek reboot films in J.J. Abrams' 'Kelvin Timeline' trilogy are available on 4k Blu-ray Disc.
Back to Star Trek: Strange New Worlds. This is a revered new series that in many ways harkens back to the Original Series as well as 'The Next Generation' and 'Deep Space Nine.' The production quality is already excellent (all of the Paramount+ Star Trek series are), so a 4k Blu-ray can only enhance the presentation even more.
We're still waiting on exact specs for the audio formats offered on the 4k Blu-ray edition. Atmos would be wonderful, but we should get at least DTS-HD Master Audio 5.1 as found on Blu-ray editions of 'Discovery' and 'Picard.' We do know the 4k (2160p) video will offer Dolby Vision HDR. And, special features will include bonus featurettes, gag reel, deleted scenes, and audio commentary.
Confirmed: Episodes of 'Strange New Worlds' are presented in 2160p with Dolby Vision HDR. The audio is offered in DTS-HD Master Audio 5.1 as well as French in Dolby Digital 5.1. Subtitles are provided in English SDH and French.
Special features (presented in HD) include featurettes, gag reel, deleted scenes, and audio commentary. Total runtime is approximately 524 minutes.
Star Trek: Strange New Worlds – Season One Limited Edition 4k Blu-ray SteelBook has a list price of $58.99, while the standard case edition is priced $43.99 (List: $50.99) on Amazon.