Star Trek Trilogy: The Kelvin Timeline bundles the latest three Star Trek films into a combo edition that is now available to order on Ultra HD Blu-ray Disc.
A lighter, 3-disc edition of The Kelvin Timeline was just released to 1080p Blu-ray last month, but this new 9-disc edition provides copies of all three films on 4k Blu-ray and Blu-ray, along with three bonus Blu-ray discs and a code to redeem digital versions.
"The Kelvin Timeline" is a reference to the parallel universe created in 2233 that took place during the time the Federation starship USS Kelvin was attacked under the command of Captain Richard Robau. The films in this timeline include Star Trek (2009), Star Trek Into Darkness (2013), and Star Trek Beyond (2016) from producer JJ Abrams.
This collection of Star Trek movies is moderately priced at $59.99 considering the number of discs included as well as digital copies of the films in 4k UHD with Dolby Vision (where available).
The Paramount Home Media edition also includes a mini fold-out panel with a Kelvin Timeline illustration on one side and photos of the main stars: Chris Pine, Zachary Quinto, Karl Urban, Zoe Saldana, Simon Pegg, John Cho, and the late Anton Yelchin on the other side.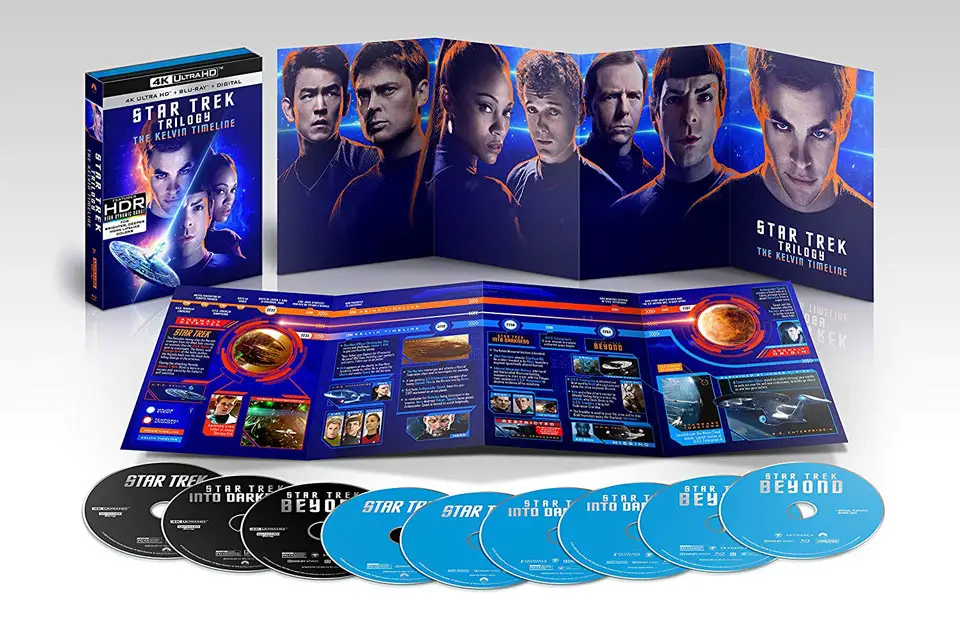 Star Trek Trilogy: The Kelvin Timeline releases to Ultra HD Blu-ray on Monday, July 15, 2019. (Order from Amazon)
UPDATE: There is a 6-disc reissue of this trilogy releasing on May 5, 2020 at Best Buy (May 12 Amazon). The reissue includes 4k Blu-ray, Blu-ray and Digital copies (minus three bonus BDs, although bonus materials are included on the BDs in the new edition). The packaging has also been condensed to a thick plastic case rather than box. The 6-disc reissue of Star Trek Trilogy: The Kelvin Timeline has an MSRP of $59.99 (on sale for $39.99 at Amazon).
Synopsis: When the U.S.S. Kelvin is wrapped up in a temporal anomaly, the path of Starfleet and the future of the universe as we know it takes off in a new direction: the Kelvin Timeline. Up against the Romulans, the superhuman Khan (Benedict Cumberbatch), and the alien warlord Krall (Idris Elba), it's all hands on deck for the U.S.S. Enterprise crew, led by the young and headstrong Kirk (Chris Pine), Spock (Zachary Quinto), Uhura (Zoe Saldana), McCoy (Karl Urban), and Scotty (Simon Pegg). J.J. Abrams's reboot of the classic franchise has received dozens of accolades, including an Academy Award.