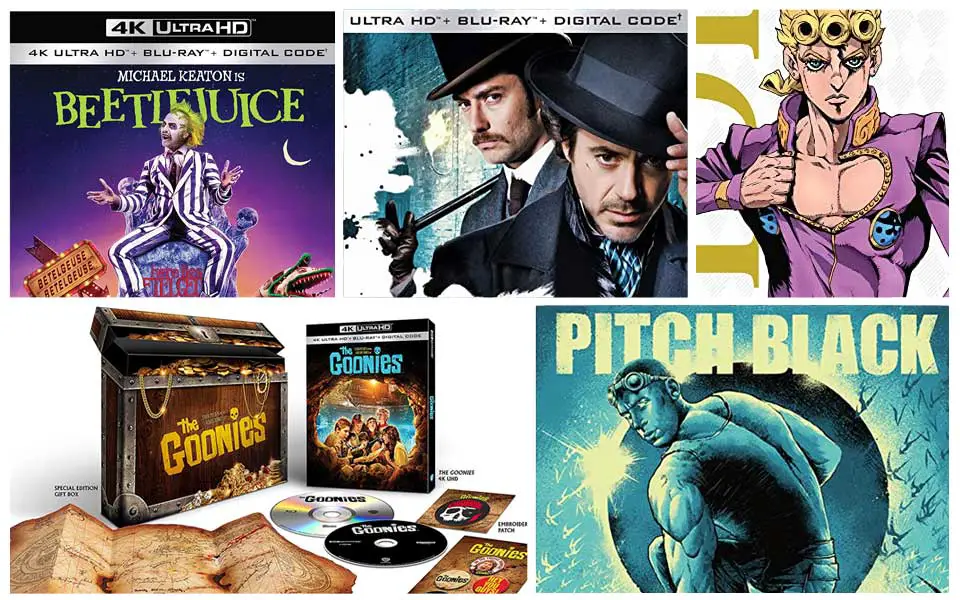 This is a pretty good week for Ultra HD Blu-ray with five new titles arriving on Tuesday, September 1. First up we have Tim Burton's Beetlejuice (1988) releasing to a 4k Blu-ray gift set, standard 4k Blu-ray, and 4k SteelBook edition. Also from the eighties, The Goonies (1985) from director Richard Donner also arrives on 4k Blu-ray in several editions including an exclusive gift set with maps, patch, and special treasure chest packaging.
Arrow Video's restoration of Pitch Black starring Vin Diesel is finally arriving on 4k Blu-ray after getting pushed back several weeks (the newly restored Blu-ray edition is already in stock). And, both Sherlock Holmes movies starring Robert Downey Jr. and Jude Law have been upraded to Ultra HD Blu-ray.
See more Blu-ray releases for the week below and all new Blu-ray & Digital releases available at Amazon this week.
New Blu-ray & 4k Blu-ray Releases, Sept. 1, 2020
Ultra HD Blu-ray
Blu-ray
Z (2020)
Death on the Nile (1978) – Special Edition
Irresistible (2020)
Children of the Sea (2019)
Evil Under the Sun (1982) – Special Edition
Black Gravel (1961)
Baba Yaga: Terror of the Dark Forest
Cut Off
Toy Soldiers (1991)
Perfect Strangers (1986)
The Raging Moon "Long Ago, Tomorrow" (1971)
A Certain Scientific Accelerator: The Complete Series
Arifureta: From Commonplace to World's Strongest – Season One
Nichijou: My Ordinary Life – The Complete Series
The Demon Girl Next Door
Radiant: Season Two – Part One
Digital
Z
Breaking the Chain
Blood Quantum
Pearl in Paradise
The Wind Rises
Nature of Love
William Shatner Presents: Chaos on the Bridge
See all new Blu-ray & Digital releases available at Amazon this week.