Tim Burton's Beetlejuice (1988) has been rescanned from its original negatives and is releasing to 4k Ultra HD Blu-ray in several editions on Sept. 1, 2020. Here's a look at the versions, contents, pricing, and where to order.
Standard 4k Blu-ray Edition
The Beetlejuice 2-disc editions come with a 4k Ultra HD Blu-ray Disc, Blu-ray Disc, and code to redeem a Digital Copy (in 4k UHD where available), as well as several bonus features. List price: $24.99 Order from Best Buy
Exclusive 4k Blu-ray Giftset
Along with the content and movie formats in the standard edition, the Beetlejuice Exclusive Giftset includes a Glow in the Dark Embrorroided Patch, Collectible Chalk, and Beetlejuice Poster packaged in a Special Edition Gift Box. The edition is expected to ship on September 1, 2020 and is available to order from Amazon for $49.99 US.
4k Blu-ray SteelBook
A Limited 4k Blu-ray SteelBook Edition of Beetlejuice features custom artwork on the front, back and inside of the premium aluminum case, as well as all the content in the standard edition. The 4k SteelBook edition of Beetlejuice, shipping on September 1st, is available from Best Buy for $29.99. Order from Best Buy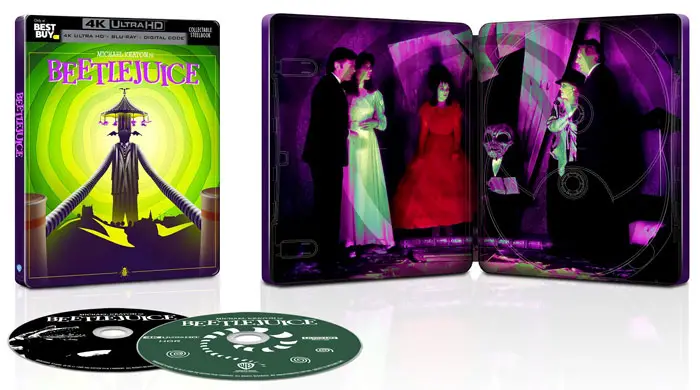 Beetlejuice stars Alec Baldwin, Geena Davis, Winona Ryder, and Michael Keaton. The screenplay was written by Michael McDowell and Warren Skaaren based on the story by Michael McDowell and Larry Wilson. Beetlejuice won the Academy Award for Best Makeup as well as three Saturn Awards.