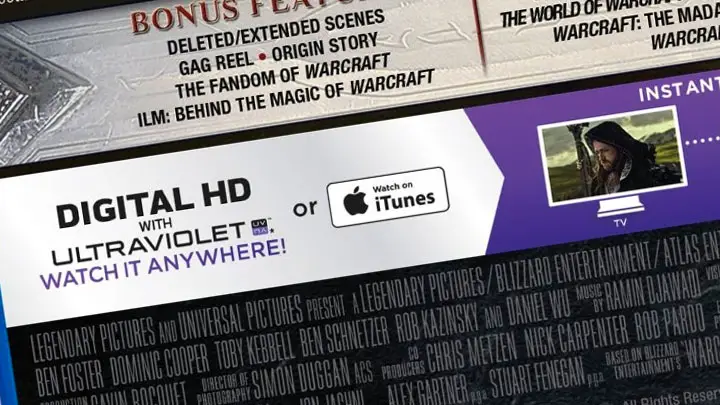 Today is the last chance to save any movies you redeemed with UltraViolet. The "digital locker" was created by the Digital Entertainment Content Ecosystem (DECE) consortium and allowed a central place for consumers to find all their digital movies. However, UV was never fully supported by studios and even lost support from some along the way.
As well as UltraViolet, we've seen shutdowns of other digital services this year including the Sony Pictures Store and Sony ULTRA, as well as ParamountMovies.com no longer selling or streaming movies. The Disney Movies Anywhere service was phased out last year. A previous UV partner, Flixster, closed their doors in 2017.
So what can you do to save all those movies you were instructed to redeem from UltraViolet on the back of Blu-ray packages and some DVDs over the years? Get your email account linked to either FandangoNow or Vudu. Here are more specifics.
How To Save Your UltraViolet Movie Collection
1. You can save your UltraViolet digital library by connecting your UV account's email address to a retailer. In the US, the suggested retailers include FandangoNow, Vudu, and the systems-dependent Kaleidescape (also in the UK and Canada). Log-in at myUV.com and click on Retailer Services to link accounts. You can also see a list of all the movies you own with UV by clicking on My Library. Pro-Tip: Click and select all the thumbnails on the page, then paste into a text-only application like Notepad (Windows) or TextEdit (Mac) to get a list of your movies.
2. DO NOT unlink or close your UltraViolet Library. UV says they will continue to work with retailers to provide continued access to your movie and TV shows library. Nothing is guaranteed though. It is entirely possible customers may lose some titles here and there. But you can minimize the risk by linking to all the retailers.
3. SUGGESTED: After connecting your UV accounts you should also link to Movies Anywhere (using the same email address) which has become the standard for sharing digital purchases over multiple platforms. Movies Anywhere is supported by most studios, and even streams in 4k UHD.
Here are instructions direct from the myUV.com website.
What should you do now?
Login (at myUV.com) and choose Retailer Services to verify the retailers linked to your UltraViolet Library. If your Library is not currently linked to a retailer or if you would like to link to additional participating retailers, select one or more retailers to link to your UltraViolet Library.
Don't unlink or close your UltraViolet Library, as UltraViolet and retailers will be working together to maximize your continued access to movies and TV shows.
Between January 31 and July 31, 2019:
You can continue to access your UltraViolet movies and TV shows through the retailer(s) linked to your UltraViolet Library.
You can also continue to purchase new movies and TV shows and redeem digital codes by following the redemption instructions. Depending on the retailer, these new purchases and redemptions may or may not be added to your UltraViolet Library.
Linking your UltraViolet Library to additional retailers can maximize your access to your Library and help avoid potential disruption.
After the shutdown date:
Your UltraViolet Library will automatically close and, in the majority of cases, your movies and TV shows will remain accessible at previously-linked retailers.
You can continue to make online purchases and redeem codes, but these may only be available through that retailer, and will not be added to your UltraViolet Library.
Also Read: Movies Anywhere Links Titles From Amazon, Disney, Google, iTunes, & Vudu