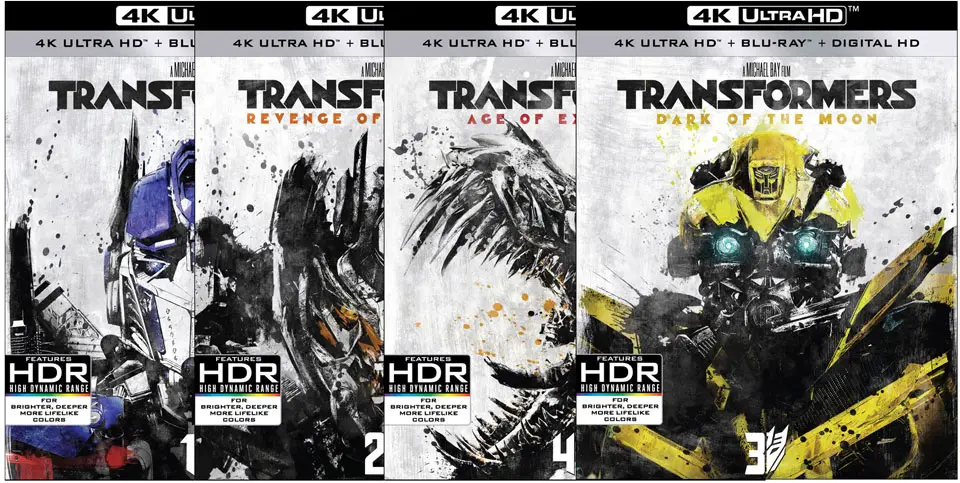 This December there are so many new 4k Blu-ray releases it will be hard to choose which ones to pick up and which to save for another day. That's especially true on the weeks of Dec. 5th and Dec. 19th when almost a dozen new 4k discs will hit shelves including a few Best Buy exclusives. Let's take a look at what's coming soon to Ultra HD Blu-ray. Further details are available via the links provided.
On Dec. 5th American Assassin and Despicable Me 3 will be released simultaneously to Blu-ray and Ultra HD Blu-ray (as well as DVD). The first Jumanji film starring Robin Williams gets the 4k treatment from Sony Pictures, and Best Buy will have their own exclusive edition of the restored film. Best Buy will also release the exclusives Men in Black Trilogy and 2-movie combo edition John Wick and John Wick Chapter 2. And, the first four Transformers films have also been upgraded to 4k Blu-ray, each with HDR color improvements, Dolby Atmos audio, and some super-cool packaging.
On Dec. 12th this year's action film Kingsman: The Golden Circle and 2017 Academy Award "Best Picture" winner Moonlight will be available on Ultra HD Blu-ray.
On Dec. 19th it's another big day for 4k Blu-ray collectors as we've counted eleven new releases. The week is pretty much owned by writer/director Christopher Nolan and you'll see why. The Dark Knight Trilogy from Warner Home Video hits stores with all three of the Nolan-directed films, and, each Batman film will also be available as single titles for those of you who love nice product packaging (and don't care about saving a some money by buying the trilogy).
Other previously-released titles from Christopher Nolan releasing on Dec. 19 include Interstellar, Inception and The Prestige, as well as last summer's epic war film Dunkirk. To save some money on these new 4k releases you might consider the Christopher Nolan 4k Collection with seven films from the acclaimed director. Mother! starring Jennifer Lawrence is also slated for release on Dec. 19 (although we've had trouble seeing the official 4k product on Amazon), as well as The LEGO Ninjago Movie from Warner Home Video.
On Dec. 26th, Terminator 2: Judgment Day, The Mountain Between Us, Mayhem, and Brawl In Cell Block 99 are other 4k Blu-ray titles releasing in December.
Are you still waiting to upgrade to 4k Blu-ray? Check out Amazon's deals on Ultra HD Blu-ray players happening now.