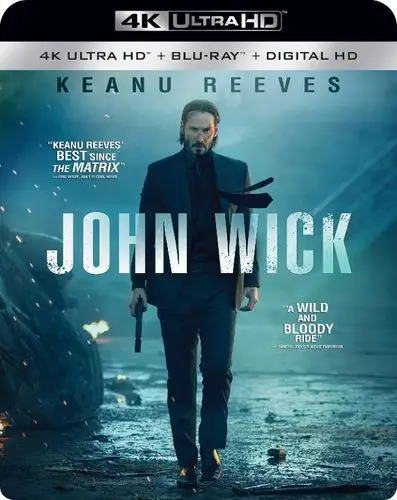 With John Wick: Chapter 2 set to hit theaters on Friday, Feb. 10, Lionsgate is releasing a 4k Ultra HD Blu-ray edition of the prequel, John Wick (2014) on Tuesday. And while most Ultra HD Blu-ray discs are normally priced at $29.99, this new release is available to pre-order for $15.99 at Amazon or $17.99 from Best Buy.
Other Ultra HD Blu-ray titles that sell for around $15 (although not upon initial release) include Expendables 3, Ender's Game, The Hunger Games-franchise films, and Divergent-series films, among a few others.
John Wick (2014) on UHD BD is presented in 2160p at 2.40:1 widescreen aspect ratio, with HDR (High Dynamic Range) enhanced color and contrast. The soundtrack, like the original Blu-ray release, is available in Dolby Atmos or Dolby TrueHD 7.1 (24-bit).
The 2-disc edition comes with Blu-ray and Digital HD copies of the film, as well as several previously-released bonus featurettes (although not upgraded to 4k).
John Wick Bonus Features:
Featurettes:

Don't F^#% with John Wick
Calling In The Calvalry
Destiny Of A Collective
Assassin's Code
Red Circle
NYC Noir