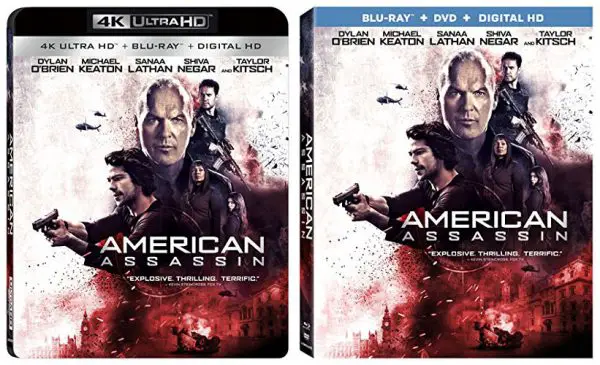 Action/thriller American Assassin has been slated for home media release to Blu-ray, 4k Ultra HD Blu-ray and DVD on December 5, 2017. The film stars Oscar-nominated Michael Keaton as Cold War veteran Stan Hurley who, along with CIA black-ops recruit Mitch Rapp (played Dylan O'Brien), is enlisted to investigate a series of seemingly attacks against both civilians and members of the military.
Video on the Blu-ray edition is presented in 1080p while the 4k Ultra HD Blu-ray edition features 4-times the resolution at 2160p with HDR10 color enhancements. The soundtrack to American Assassin includes English Dolby Atmos and Dolby TrueHD 7.1 in English language, as well as subtitles in English and Spanish.
Extra bonus materials on the Blu-ray editions include several featurettes along with an Alamo Drafthouse Q&A with Lionsgate. Each Blu-ray combo from Lionsgate also includes a predecessor disc (Blu-ray with DVD copy and Ultra HD Blu-ray with Blu-ray copy), as well as a code to redeem a digital copy.
American Assassin is selling for $29.74 (Blu-ray) and $30.94 (4k Blu-ray) on Amazon. Of course, those prices may change before release date. Check the Amazon grid below for most recent prices.
American Assassin Special Features:
Target Acquired: Creating an American Assassin
Finding Mitch Rapp: Dylan O'Brien
Transfer of Power: Hurley and Ghost
Weaponized: Training and Stunts
In the Field: Locations
Alamo Drafthouse Q&A –Lionsgate
[amazon_link asins='B075FDJ8DB,B075FP2Z8W,B075FNZL5T' template='ProductGrid' store='API-user-hdr' marketplace='US' link_id='0238d6f8-be75-11e7-b046-f98152a0e7ac']