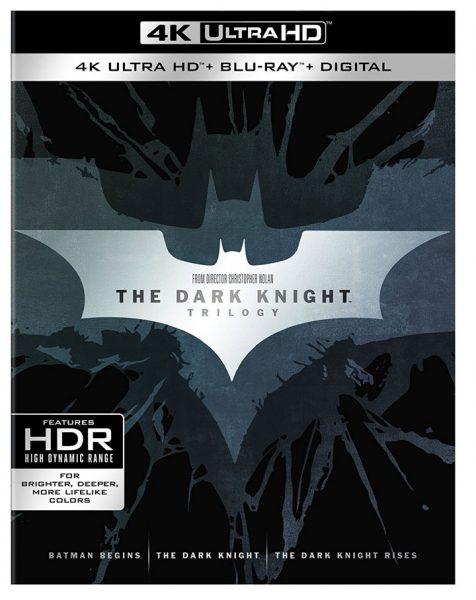 When the first Christopher Nolan Batman film was released to Blu-ray Disc ten years ago, 4k Blu-ray was still just a glimmer in Sony's eye. Now Batman Begins, along with The Dark Knight and The Dark Knight Rises, will be released to Ultra HD Blu-ray in a six-disc collection from Warner Home Video.
The Dark Knight Trilogy collection hits stores on Dec. 19 with a suggested retail price of $99.99. Currently, Warner Video is taking pre-orders for $79.99, while Amazon has the collection priced slightly higher at $84.49 (see below for updated Amazon pricing).
The movies themselves have a total runtime of 458 minutes: The Batman Begins (140 mins.), The Dark Knight (153 mins.) and The Dark Knight Rises (165 mins.) and each disc comes with bonus material (that's likely previously released and not provided in 4k) adding to the overall runtime.
The Complete Collection also includes redemption codes to get Digital Copies of all films, although the codes must be redeemed from an UltraViolet partner by the end of 2018. Unfortunately, the collection does not include iTunes copies.
The 4k Ultra HD Blu-ray editions of the trilogy are formatted in 2160p at 16:9 with HDR (High Dynamic Range). The soundtracks remain the same as the theatrical audio mix, formatted in DTS-HD Master Audio 5.1 surround sound.
The Christopher Nolan films will also be released as single titles, and each is list-priced $41.99 (available to pre-order for $36.11) on WBShop.com.