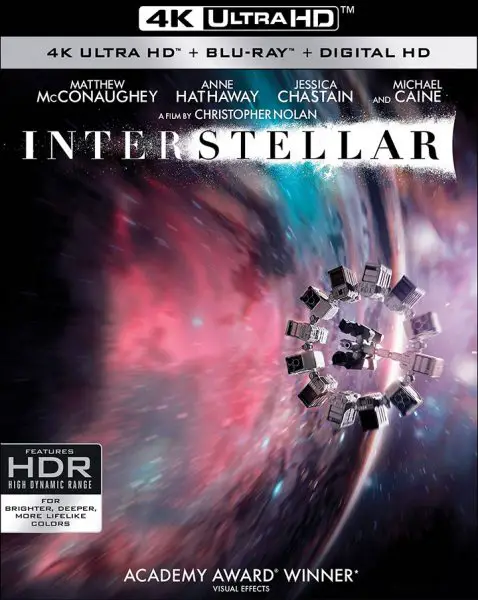 Christopher Nolan's sci-fi masterpiece Interstellar (2014) has been slated for release on 4k Ultra HD Blu-ray. An Oscar-winner for Best Achievement in Visual Effects and 4-time Oscar-nominee, the film stars Matthew McConaughey and Anne Hathaway as part of a team of astronauts that travel through a wormhole to find a future home for mankind.
On Ultra HD Blu-ray Interstellar is presented in 2160p with aspect ratios that vary from 2.39:1 to 1.78:1 depending on the scene. This 4K release also features HDR10 specifications that will surely bring noticeable improvements in color range and contrast.
The audio specs we were given still have the soundtrack only in 5.1 DTS-HD Master Audio, which unfortunately would not be an upgrade to the previously-released 1080p edition.
Interstellar on Ultra HD Blu-ray has a street date of December 19, 2017. Buy on Amazon
Interstellar 4K Blu-ray Features (Disc 2)
The Science of Interstellar
Plotting an Interstellar Journey

Life on Cooper's Farm

The Dust

TARS and CASE

The Cosmic Sounds of Interstellar

The Space Suits

The Endurance

Shooting in Iceland: Miller's Planet / Mann's Planet

The Ranger and the Lander

Miniatures in Space

The Simulation of Zero-G

Celestial Landmarks

Across All Dimensions and Time

Final Thoughts