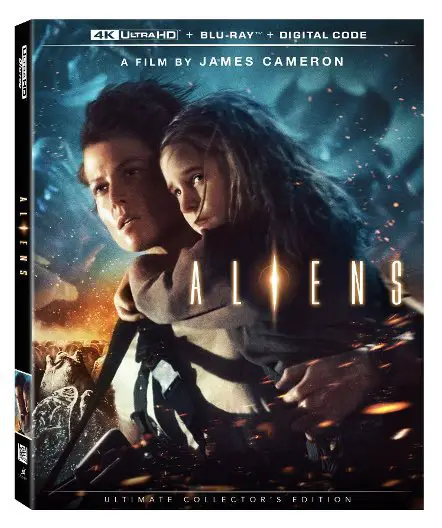 Aliens (1986) has been at the top of my wishlist for new 4k Blu-ray releases ever since I saw how good Alien (1979) looked after being restored and remastered with HDR. Now, 20th Century Studios has revealed the artwork for the Ultimate Collector's Edition of Aliens which includes a 4k Blu-ray, Blu-ray, and Digital Code.
Audio and HDR specs are still pending, but I'm hoping a Dolby Atmos mix of the soundtrack will be included (Alien did not have Dolby Atmos, but rather the same DTS-HD Master Audio 5.1 track as previous Blu-rays). Confirmed: On 4k Blu-ray and in Digital 4k the film will be presented with Dolby Vision HDR and Dolby Atmos audio.
The release date for Aliens in Digital 4k UHD is December 12, 2023, and on 4k Blu-ray March 12, 2024. Pre-orders are still pending.
There is a good chance a separate 1080p Blu-ray will accompany the release of the 2160p Blu-ray, featuring a new presentation of Aliens from the new 4k remaster, although since Titanic is only arriving in a 4k Blu-ray/Blu-ray combo maybe not.
News of the release of James Cameron's Aliens on 4k Blu-ray arrives as we wait for the director's remastered presentation of Titanic on 4k Blu-ray on Dec. 5. We're also anxiously awaiting a release date for The Abyss on 4k UHD, as well as the action comedy film True Lies starring Arnold Schwarzenegger and Jamie Lee Curtis, both arriving on 4k Blu-ray on March 12, 2023.