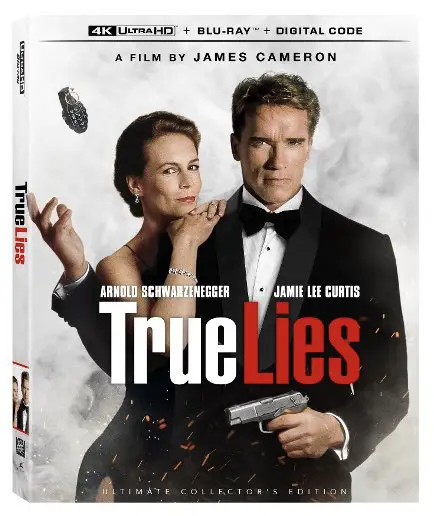 James Cameron's action comedy True Lies (1994) is finally getting released on 4k Ultra HD Blu-ray (and 1080p Blu-ray in the US). The film has long been on the list of most-desired 4k remasters from home theater enthusiasts and fans alike.
The Ultimate Collector's Edition of True Lies from 20th Century Studios includes a 4k Blu-ray, Blu-ray, and Digital Code. There is a chance a standalone Blu-ray/Digital edition will release that includes the newly remastered presentation of True Lies, but this is not confirmed.
On 4k Blu-ray and in Digital 4k the film will be presented with Dolby Vision HDR and Dolby Atmos audio.
The release date for the Ultimate Collector's Edition will arrive in stores on March 12, 2024, following an earlier digital release of the remastered film on Dec. 12, 2023. Pre-orders are pending.
The remastered presentation of True Lies is now one of several Cameron films that have been confirmed release on 4k Blu-ray including Titanic (Dec. 5), Aliens (March 12, 2024), and The Abyss (March 12, 2024).
True Lies was directed and co-written by James Cameron, starring Arnold Schwarzenegger, Tom Arnold, and Jamie Lee Curtis. The film was produced on an estimated $115M budget and earned $379M at the worldwide box office.
Byline: A fearless, globe-trotting, terrorist-battling secret agent has his life turned upside down when he discovers his wife might be having an affair with a used-car salesman while terrorists smuggle nuclear war heads into the United States.