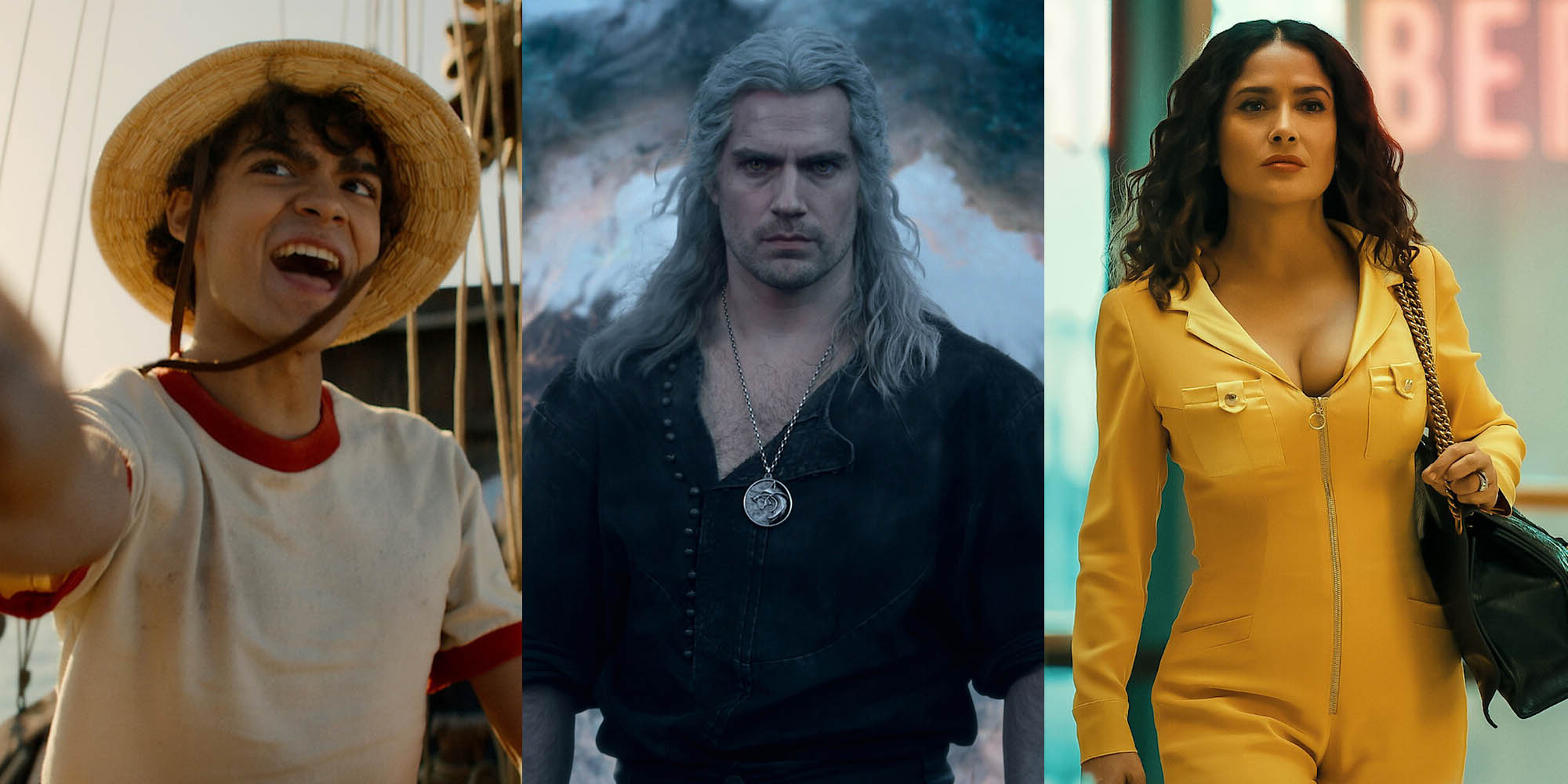 Want to know what the newest Netflix series are in 4k UHD, Dolby Vision HDR, and Dolby Atmos? Netflix is always premiering new shows and new seasons of existing shows, but not all stream in the highest quality on the service. Here's a breakdown of some of our suggested titles, along with an extended list below. Please see a full list of 4k, HDR, and Atmos titles on Netflix.
Black Mirror – Season 6 is one of the most anticipated returning shows on Netflix. The British anthology series created by Charlie Brooker streams in 4k, DV, and Dolby 5.1. Fubar starring Arnold Schwarzenegger (in his first scripted series) as CIA operative Luke Brunner streams in 4k, DV, and Atmos.
Live action series One Piece based on the manga series of the same name streams in 4k, DV, and Atmos. Starz series Outlander starring Caitríona Balfe and Sam Heughan streams in 4k and Dolby 5.1. The Witcher – Season 3 (ranked in our list of Best 4k TV Shows On Netflix) premiered in late June with 8 episodes in 4k, DV, and Atmos. And, Limited Series Who Is Erin Carter? premiered in late August with 7 episodes streaming in 4k, DV, and Atmos.
New Netflix Series In 4k, Dolby Vision, Atmos Sept. 2023
A Perfect Story (Limited Series) – 4k – Dolby Vision – 5.1
Black Mirror (Seasons 1-2 HD, 3-6 UHD) – 4k – Dolby Vision – 5.1
Bloodhounds (8 Episodes) [Korean] – 4k – Dolby Vision – Atmos
Burn the House Down (8 Episodes) [Japanese] – 4k – Dolby Vision – 5.1
Call Me Chihiro (2023)  – 4k – Dolby Vision – 5.1
Celebrity (12 Episodes) [Korean] – 4k – Dolby Vision – 5.1
Delete (8 Episodes) [Thai] – 4k – Dolby Vision – 5.1
Fubar (8 Episodes) – 4k – Dolby Vision – Atmos
Glamorous (10 Episodes) – 4k – Dolby Vision – Atmos
How to Become a Cult Leader (6 Episodes) – 4k – Dolby Vision – 5.1
King of Collectibles: The Golden Touch (6 episodes) – 4k – Dolby Vision – 5.1
Kohrra (6 Episodes) [Punjabi] – 4k – Dolby Vision – 5.1
Live to 100: Secrets of the Blue Zones (Limited Series) – 4k – Dolby Vision – 5.1
McGregor Forever (Limited Series) – 4k – Dolby Vision – Atmos
Muscles & Mayhem: An Unauthorized Story of American Gladiators (Limited Series) – 4k – Dolby Vision – Atmos
Nineteen to Twenty (13 Episodes) [Korean] – 4k – Dolby Vision – 5.1
One Piece (8 Episodes) – 4k – Dolby Vision – Atmos
Our Planet II (8 Episodes) – 4k – Dolby Vision – Atmos
Outlander (5 Seasons) – 4k – 5.1
PainKiller (Limited Series) – 4k – Dolby Vision – Atmos
Ragnarok (3 Seasons) – 4k – Dolby Vision – 5.1
Skull Island (8 Episodes) – HD – Dolby Vision – Atmos
Sleeping Dog (Limited Series) [German] – 4k – Dolby Vision – 5.1
Supa Team 4 (8 Episodes) – 4k – Dolby Vision – 5.1
Survival of the Thickest (8 Episodes)  – 4k – Dolby Vision – Atmos
Sweet Tooth (2 Seasons) – 4k – Dolby Vision – 5.1
TexMex Motors (8 Episodes) – 4k – Dolby Vision – 5.1
The Days (8 Episodes) [Japanese] – 4k – Dolby Vision – 5.1
The Diplomat (1 Season) – 4k – Dolby Vision – Atmos
The King Who Never Was (3 Episodes) – 4k – Dolby Vision – 5.1
The Last Hours of Mario Biondo (3 Episodes) – 4k – Dolby Vision – 5.1
The Playing Card Killer (3 Episodes) – 4k – Dolby Vision – 5.1
The Price of Glory (60 Episodes) – 4k – 5.1
The Surrogacy (24 Episodes) [Spanish] – 4k – 5.1
The Witcher (3 Seasons) – S3 Vol. 2 July 27 – 4k – Dolby Vision – Atmos
Tour de France (8 Episodes) – 4k – Dolby Vision – Atmos
Untold: Swamp Kings (4 Episodes) – 4k – Dolby Vision – 5.1
Who is Erin Carter (Limited Series) – 4k – Dolby Vision – Atmos
Zombieverse (8 Episodes) [Korean] – 4k – Dolby Vision – 5.1
85 South Ghetto Legends (2023) [53m] – 4k – Dolby Vision – 5.1 – Special
Amy Schumer: Emergency Contact [51m] – 4k – Dolby Vision – 5.1 – Special
Tom Segura: Sledgehammer (2023) [1h 1m] – 4l – Dolby Vision – 5.1 – Special
Asterix & Obélix: The Middle Kingdom (2023) [French] – 4k – Dolby Vision – Atmos