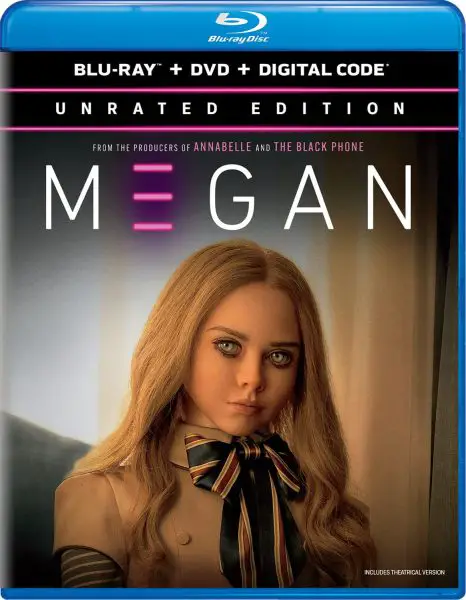 We finally got a confirmed release date for Universal Pictures' M3GAN (2022) on physical media. The film, already available as a digital purchase, will be available on Blu-ray Disc and DVD on March 21, 2023.
M3GAN will compete with other new release Blu-ray titles on that day including Babylon, Plane, and the first season of Star Trek: Strange New Worlds to name a few.
The 2-disc combo edition from Universal/SDS includes both the theatrical and unrated cuts of M3GAN as well as the extras "New Vision of Horror," "Bringing Life to M3GAN," and "Getting Hacked." Those extras are also available with the digital purchase.
On Blu-ray Disc M3GAN is presented in 1080p at 2.39:1 aspect ratio. The English audio is provided in English DTS-HD Master Audio 7.1 with DVS (Descriptive Video Service) 2.0, French DTS Digital Surround, and Spanish Dolby Digital Plus 7.1. Subtitles are provided in English SDH, French, and Spanish.
As of yet, there is no announcement of a 4k Blu-ray edition so to watch M3GAN in 4k you'll have to settle for digital for now. However, the move does stream with Dolby Vision and Dolby Atmos (where available).
M3GAN on Blu-ray Disc is priced $22.95 (List: $24.96) and on DVD $19.98. Buy on Amazon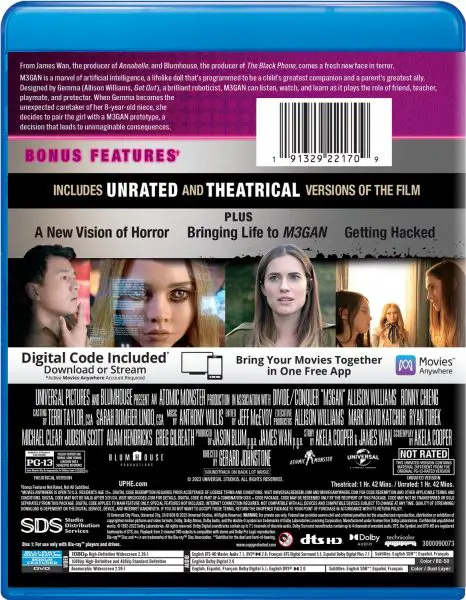 Where to Buy/Rent M3GAN Digital
Amazon Prime Video 4K/HDR LINK
Apple TV 4K/Dolby Vision/Atmos
Google Play 4K/HDR LINK
Microsoft Movies & TV 4K/HDR LINK
Vudu TV 4K/Dolby Vision/Atmos LINK
Directed by Gerard Johnstone (Housebound) with a script by Akela Cooper (Malignant, The Nun 2) based on a story by master of horror James Wan (Malignant, Saw, Insidious and The Conjuring franchises), M3GAN stars Allison Williams (Get Out, Girls) as Gemma, a brilliant roboticist at a toy company who uses artificial intelligence to develop M3GAN, a life-like doll programmed to be a kid's greatest companion and a parent's greatest ally. After unexpectedly gaining custody of her orphaned niece, Gemma enlists the help of the M3GAN prototype – a decision that has unimaginable consequences. The film also stars Ronny Chieng (Shang-Chi and the Legend of the Ten Rings, Crazy Rich Asians).