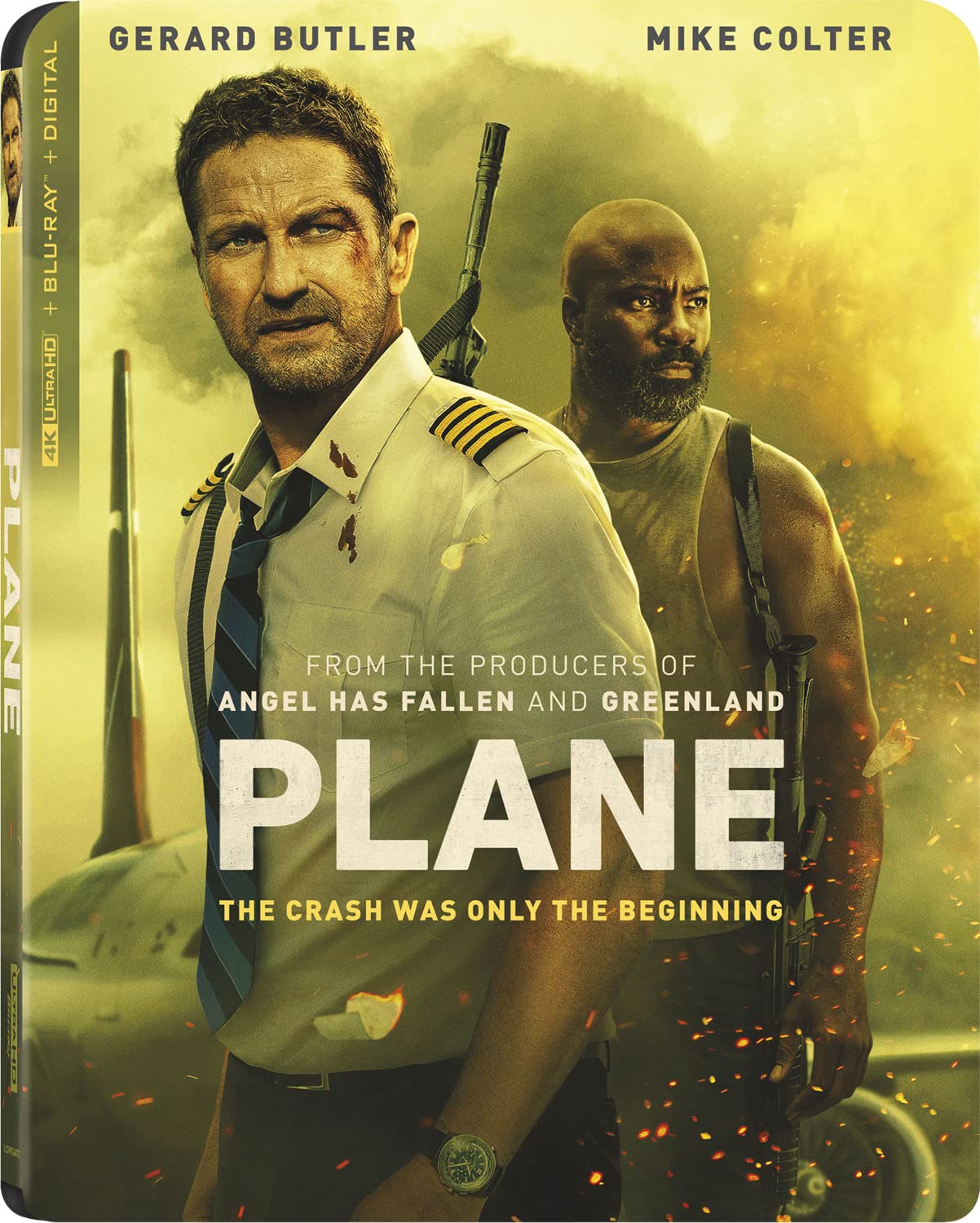 Plane (2023) starring Gerard Butler and Mike Colter has been dated for release on 4k Blu-ray, Blu-ray, Digital, and DVD. We've also got the Blu-ray just released-cover art from Lionsgate for all disc editions.
Plane (2023) will land on Blu-ray, 4k Blu-ray, and DVD on March 28, 2023. The physical media editions follow an early digital release of the movie on Feb. 3, 2023.
The 2-disc 4k Blu-ray edition of Plane includes a Blu-ray and Digital Copy, while the 2-disc Blu-ray edition includes a DVD and Digital Copy.
In 4k (4k Blu-ray & Digital 4k UHD), Plane is presented in 2160p with Dolby Vision HDR. The soundtrack is provided in Dolby Atmos and Dolby 5.1, AAC, AD. Subtitles are provided in English SDH, French (Canada), and Spanish (Latin America).
We're still waiting on bonus material info from the studio, so check back soon for any updates.
Plane is priced $42.99 (4k Blu-ray), $39.99 (Blu-ray) and $29.96 (DVD) on Amazon.
The early Digital SD/HD/UHD release of Plane is $24.99 (Purchase) or $19.99 (Rent) on Amazon.
Studio Description: In the white-knuckle action movie PLANE, pilot Brodie Torrance (Gerard Butler) saves his passengers from a lightning strike by making a risky landing on a war-torn island – only to find that surviving the landing was just the beginning. When most of the passengers are taken hostage by dangerous rebels, the only person Torrance can count on for help is Louis Gaspare (Mike Colter), an accused murderer who was being transported by the FBI. In order to rescue the passengers, Torrance will need Gaspare's help, and will learn there's more to Gaspare than meets the eye.