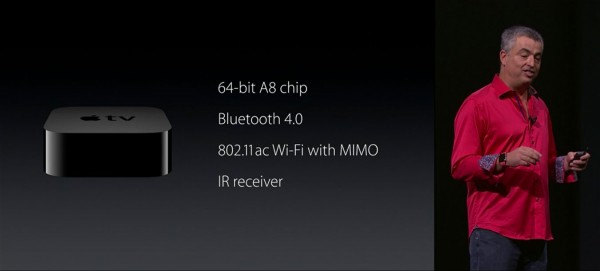 It's our weekly breakdown of tech news related to the entertainment and electronics industries. Of course, Apple stole the show this week with their announcements of the new Apple TV, iPad, and iPhone models, but there was other significant news from DirecTV, Disney, and Dolby.
Apple TV's new remote steals the show
Apple finally revealed what the new Apple TV can do, but neither 4k support nor a new Apple television service were part of the announcement. Instead, Apple showed off the device's new remote that includes voice control and a touch screen for navigation and playing games. As expected, Apple did push gaming on Apple TV (highlighted by presentations of "Crossy Road" and "Beat Sports," as well as an open dev kit. Read more
Apple's new iPad will be a drawing machine
Apple's iPad Pro is 'Huuuggee" (sorry, been watching too much Trump parodies.) But really, it is. The 12.9" diagonal screen size with new Multi‑Touch technology is sensitive to both tilt and pressure for an expanded range of strokes and effects. That, combined with the new $99 Apple Pencil makes this tablet a drawing machine. The iPad Pro also integrates a 3rd-generation A9X chip and 4-speaker audio system that adjusts to viewing angle. Read more
DirecTV's NFL Sunday Ticket on Roku (but in very limited areas)
DirecTV's NFL Sunday Ticket is now available through Roku players and Roku TV devices, but only in a limited amount of locations (and we mean limited), as the new offering is primarily for potential customers who can't get DirecTV because of obstructions or restrictions. Streaming packages start at $49.99 a month for four months, and students may even be able to take advantage of NFLSUNDAYTICKET.TV U. Read More
Sony & Dolby announce Dolby Vision use in 4K Ultra HD
Sony Pictures Home Entertainment and Dolby Laboratories officially announced a partnership to use the end-to-end Dolby Vision format for mastering 4K titles to Ultra HD Blu-ray Disc, and high-dynamic-range (HDR) is included in the specs. Dolby Vision is already supported in the VIZIO Reference Series TVs, and will soon be streaming with select titles such as Man of Steel and The Lego Movie on Vudu. Read more
Disney Movies Anywhere titles link to Amazon & Microsoft
Disney Movies Anywhere (Disney's cloud-based service for watching content anywhere), has now partnered with Amazon Instant Video and Microsoft Movies & TV (formerly Xbox Video) to include already-purchased (or redeemed) Disney titles on their platforms. As an incentive, those who connect the accounts get Monster's Inc. in Digital HD (on select devices) until October 5, 2015. Read more
MLB.com At Bat app supports Ford Sync 3.0
The MLB.com At Bat app for Android and Apple iOS devices now support Ford Sync 3.0 — the car company's newest voice-activated software for hands-free control. In addition, the app for phones has expanded rosters to include all 40 players, and, includes live scoreboard notifications for in-progress no-hitters and perfect games (also available on Apple iPad). Read more
For more news and updates, follow us on Facebook, Twitter, and Google News.