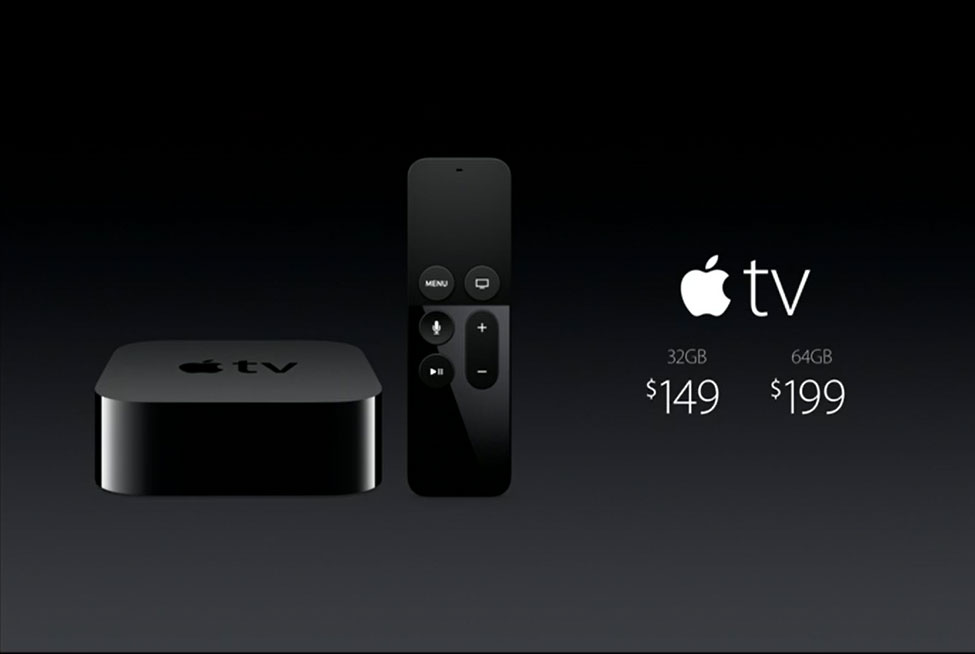 One of the more anticipated announcements from Apple was regarding the new Apple TV. The redesigned media player includes a reworked user interface, 64-bit processing, and a newly designed remote with touch screen and voice control. Apple's iTunes apps have also been redesigned.
But really the focus on the new Apple TV was lifestyle; how the Apple TV enhances your entertainment experience, new video games for Apple TV that can be played with the new remote, and interactive shopping.
Unfortunately, it doesn't appear the new Apple TV will support 4k Ultra HD content, as that would have been highlighted at the event. The new Apple TV will be available in October.
Processor
64-bit A8 chip
Communication
Bluetooth 4.0, 802.11ac Wi-Fi w/MIMO, IR receiver
Ports
HTMI, Ethernet, Power
Remote
Voice & Touch interaction, Bluetooth 4.0 (can also turn on TV and control volume), up to 3 months per charge.
For touch, there is a glass surface at the top of the remote (also works with games).
For voice, Siri will search across multiple content apps and provide results on one screen (for example iTunes, Netflix, HBO, Showtime, and Hulu).
Siri also lets you search for sports scores, weather, movie and TV keyword searching, open applications, pick playlists, and more.
Operating System
Apple's new tvOS is based on iOS but made for the living room. Open to app developers today.
Pricing
$149 (32GB), $199 (64GB)
Apps & Games
A couple games were highlighted that can use the new Apple TV remote. "Crossy Road" can be played using the new Apple TV remote's touch screen (and a new multi-player version announced). Harmonix introduced "Beat Sports" for Apple TV. Major League Baseball's MLB.tv can now stream at 60fps on Apple TV. NHL Game Center Live will be launching in 2016.