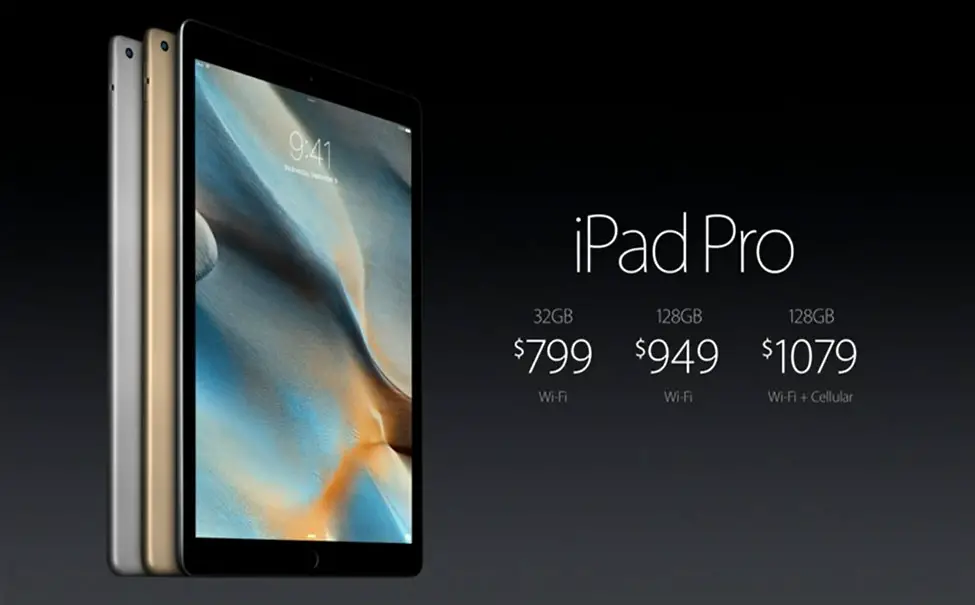 According to Apple CEO Tim Cook, the iPad Pro is "The biggest news in iPad, since the iPad."
From today's Apple Keynote in San Francisco, we learned that the iPad Pro is much bigger than iPad 2 with a 12.9" Retina display, a full size software keyboard, and processing that's 1.8x faster. Let's break down some features:
Screen Size
12.9" diagonal
Processing
Uses the 3rd-gen A9X chip 64-bit chip (1.8x faster than the previous chip). Said to be faster than 80% of portable PCs shipped in the last 12 months
Graphics
Graphics performance has doubled. Appel says iPad Pro is faster in graphics processing than 90% of PCs shipped in the last 12 months
Battery
Rated at 10-hour battery life.
Audio
4-speaker audio system that adjusts to how you are holding the iPad. 3x the volume of the iPad 2.
Multi‑Touch technology
New to iPad sensitive to both tilt and pressure for a wide range of strokes and effects.
Design
6.9 mm thin and 1.57 lbs.
Camera
8 megapixel iSight Camera
Finish
The iPad Pro will be available in Silver, Gold, or Space Gray.
Price
$799 32GB (Wi-Fi), $949 (128GB Wi-Fi), $1079 (128GB Wi-Fi + Cellular)
Smart Keyboard
A new accessory that is smart. It connects via a new Smart Connector (three magnetic connectors on the side of the iPad Pro) that facilitates power and data transmissions. $169 (Available November)
Apple Pencil
Apple's new product that enhances touch with heavier and lighter strokes. The iPad Pro measures for both finger and pencil, and the system scans twice as often when using the pencil. A Lightning connector on the pen itself lets you plug it into the iPad pro Lightning port. $99 (Available November)