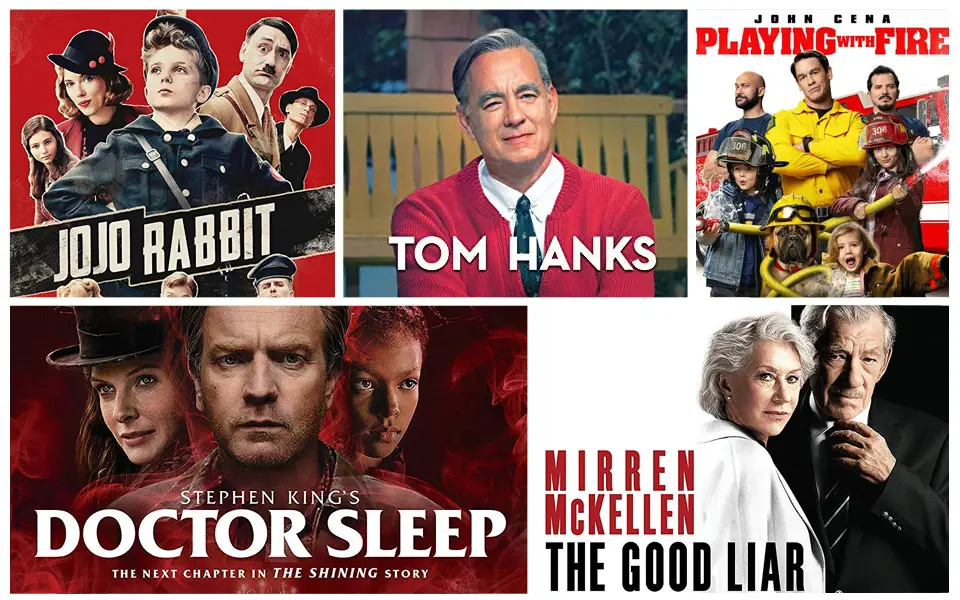 New in digital releases this week is 6-time Oscar-nominated Jojo Rabbit starring Scarlett Johansson, Midway from director Roland Emmerich, and A Beautiful Day in the Neighborhood starring Tom Hanks as Mr. Rogers are among the most popular titles.
On Blu-ray Disc, Doctor Sleep arrives on both Blu-ray and 4k Blu-ray after releasing early to Digital, and each edition includes a Director's Cut of the film with an extra 28 minutes on Blu-ray (read our review of Doctor Sleep). The Good Liar starring Helen Mirren and Ian McKellen releases to a Blu-ray combo with Digital Copy (no DVD included). And, Playing With Fire starring Jon Cena releases to a Blu-ray combo with DVD and Digital Copy.
New Blu-ray & Digital Releases Feb. 4, 2020
Digital
21 Bridges
Ghosthunter
DeadTectives
Blu-ray Disc
Doctor Sleep [Blu-ray & 4k Blu-ray editions]
Doctor Sleep [4k Blu-ray SteelBook]
Boyz n the Hood [4k Blu-ray]
Boyz n the Hood [4k Blu-ray SteelBook]
The House That Jack Built – Director's Cut
Masterpiece: Sanditon
The Nightingale
Waves
Dragonheart: Vengeance
Rabid
Arctic Dogs
Clockers
Crooklyn
Mo' Better Blues
The Way You Look Tonight
The Sand Dune
Burning Kentucky
Keeping Faith Series 2
Evil Ed
Grand Isle
Heartbeeps
Mon Mon Mon Monsters!
Sisu
High Strung: Free Dance
Trauma Center
Kingdom: The Movie
Hiro's Table
The Devi's Machine
Serendipity
Vlad The Impaler
Anime
That Time I Got Reincarnated as a Slime: Season One Part 2
Miss Kobayashi's Dragon Maid: The Complete Series [Blu-ray]
Garo: The Animation – The Complete Series
Magnificent Kotobuki
Isekai Quartet: Season One
Here's a link to all of this week's new Blu-ray releases on Amazon.
There Are 3 Oscar Nominated Films Among New Releases This Week