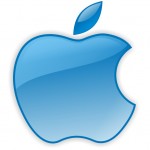 HD Report's Quasi-Live Blogging of Apple's Keynote Event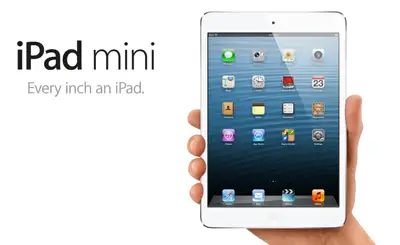 11:19 am (final post): Apple.com overview of iPad Mini.  Apple Store now includes iPad Mini (for pre-order starting 10/26), 13″ Macbook Pro, upgraded Mac Mini and new, thinner iMac.
11:18 am: Apple's site (splash page, etc.) now showing iPad Mini and other new products that were just announced.
11:14 am: Technical difficulties on Apple's stream (not our fault!) and/or end of the Keynote, can't tell which… just getting color bars on the stream. Nope, that appears to be it… Tim Cook cut-off mid-stream.  Apple's site (splash page) appears to be undergoing an overhaul. iPhone 5 items now off the splash page (save for two videos).
11:13 am: Cook is giving props to his teams at Apple that make these products (the best products on Earth, according to Tim Cook).
11:12 am: 2012 year of innovation.  Mountain Lion OS and iOS 6 with new features and seamless integrations.  New iPods, redesigned Nano, thin iPod Touch. New iPhone (does not call it the 5). Refreshed entire notebook line with Retina displays. New iMac.  iPad upgrade (4th gen) and the addition of iPad Mini.  2012 was an incredible year for Apple, says Cook.
11:11 am: Tim Cook takes the stage to wrap up.  iPad Mini: "Very Cool."
11:10 am: The iPad family is now complete.  TV add to run immediately.  Cute add… iPad plays bass line of "Heart and Soul" on a piano app, then Mini chimes in with the chorus on the same app.
11:08 am: Mini will come in different configurations and start at $329.  Available for pre-order 10/26 and ready to ship within a week.
11:08 am: Mini Smart Covers!!
11:07 am: Methinks Steve Jobs would be proud of the iPad Mini.
11:05 am: The iPad Mini is essentially (except for processor speed) a smaller version of iPad making it the bridge device between iPhone and iPad (sans phone, of course).  Perhaps Apple's telling us that phone calls will soon be superfluous as we concentrate on video calls, texting, and other forms of tech-based communication.
11:03 am: Video time for iPad Mini!  Here's Jonathan Ive onscreen talking about the design.
11:01 am: iPad Mini: A5 dual-core chip (a step below new iPad), FaceTime HD frontside camera, 5MP iSight Camera, Ultrafast LTE Wireless and Wi-Fi, Lightening connector (of course). 10 hour battery life.
11:00 am: Apps look better on iPad (either version) than competition's stretched out apps (that are nearly unusable in their scaled-up, adapted form for the "other" platform… ahem! Android).
10:55 am: iPad Mini getting compared to competition.  No contest.
10:54 am: You can hold it in one hand! (er… yay!).  It's 7.2mm thin.  It's going to give Samsung a run for their money.  7.9″ diagonal screen vs. 9.7″ iPad screen.  Same resolution size as iPad, so apps will work on both iPad models.
10:53 am: There it is… significantly smaller than the iPad (it was hidden behind it, heh heh). This is iPad Mini.
10:52 am: Phil Schiller announces iPad Mini
10:50 am: Going over current iPad specs, Phil says the iPad 4th gen. will get updates (A6X chip, etc.)
10:49 am: iPad with Retina Display the fastest selling iPad.  Tim Cook let's Phil back on stage.
10:48 am: iPad taking business market by storm, says Tim Cook. From large to small businesses, iPad is increasingly becoming a part of business users.
10:47 am: New iBooks Author for publishers of e-books.  Publishers can now render content inside pages along with multi-touch widgets that are key for educational use.
10:46 am: Dude, Tim, you're drawing out the inevitable aren't you?
10:43 am: Showing off iPad owners and their love of Apple's tablet.  iPad has been embraced by education (teachers, students use it as a learning tool).  Cook talking about how iPad has become a game-changer in education. iBookstore carrying more textbooks.
10:42 am: More iPads shipped in Q2,12 than PCs.  Web traffic share is 91% for tablets.
10:41 am: 100 million iPads sold (here comes the iPad announcement).
10:37 am (we went down again, sorry).  The 21.5-inch iMac starts at $1,299 with 1 TB of storage and a 2.7GHz Ivy Bridge processor, another model, the 27-inch (begins at $1,799) will offer a a 2.9GHz Ivy Bridge processor with 1 TB of storage. Both are due to ship in December.
10:36 am: The display is top-notch but is not a Retina Display. Lighter computer on the whole, but a powerful computer with an overhaul in processor, etc.  HDD drive or Flash Drive.  Schiller is explaining that there is now a third option… called the Apple Fusion Drive. 128gb of Flash and a 1TB (or 3TB) HDD space combined.  All pre-installed Apple software will be on the Flash side, while you have access to the HDD side for files, folders, etc.  Heavily used applications will be on the Flash drive (automatically switched over depending on use).
10:35 am: Schiller is sooooo technical ;)
10:34 am: Apple kills optical drive in iMacs… bye by discs, hello smaller components, and a thinner iMac is the result.
10:33 am: Showing innards of previous iMac generation.  2mm air gap between glass and display.  Now display is laminated to glass.
10:32 am: 5mm thick… 80% thinner than prior generation.  Friction stir welding used to put the machine together to merge the aluminum and glass.
10:31 am: Lots of applause.  Edge-to-edge glass, very thin, pretty remarkable looking.  Gorgeous display. Sooooo thin you'd think it's a supermodel.
10:30 am: Next generation iMac: REDESIGNED with a thinner panel (same stand).
10:29 am: iMac gets some attention.  #1 Desktop model in US.  Flagship of Mac product line… starting with Bondi Blue iMac (going way back in the WayBack machine, eh, Phil?)
10:27 am: Schiller teases iPad Mini, but moves to Mac Mini.  New features: ports (lots of ports including USB 3).  Bottom cover comes right off and you'll see an upgrade on processors, memory.  It has a 2.5GHz dual-core i5 processor, 4 GB of RAM and 500 GB of storage, with prices starting at $599 (depending on configuration, the price jumps to to $999).  All configurations ship today.
10:26 am: Notebook lineup: Macbook Air, Macbook Pro and Macbook Pro with Retina (13/15 inch).
10:26 am: Preview of the 13″ Macbook Pro advertisement. Peter Coyote narrating about how cool it is with the new Retina Display.
10:25 am: Schiller still going on about 13″ Macbook…. Ships today!
SORRY folks, we lost our connection there… either WordPress sucks or your other is a moron.
10:22 am: 4 million pixels for native photo resolution.
10:21 am: Better brightness, contrast and an improved non-glare screen.
10:20 am: 4x number of pixels of previous generation of Macbook Pros. Image displays twice as many pixels as an average HDTV.
10:17 am: 13″ Macbook Pro time. Talking Retina display… 13″ Macbook Pro is their #1 seller. 13″ Macbook Pro is now .75″ thin, 3.57 lbs (full pound lighter than previous iteration). Very close to MacBook Air in terms of design.  No optical disc reader any longer to increase number of ports.  Retina Display.
10:16 am: Phil's (Phil Schiller) coming on stage.
10:15 am: Moving on… to Mac!  Macs have outgrown the PC market for 6 years straight.  #1 Notebook computer in US, etc. (Cook talking new innovations).
10:15 am: A new version of iBooks announced.  New reading option: continuous scrolling in addition to page flip (audience silent), other new features and sharing (share a quote on FB or Twitter). Update to number of languages iBooks can present.  New version of iBooks available for download via App Store today.
10:14 am: iBooks, iBookstore… Over 1.5 million books have been put in the bookstore.  400 million book downloads since store inception.
10:13 am: Great for App Devs.  Paid out over $6.5 million to App Devs.
10:12 am: 25 billion apps have been downloaded from App Store (total).
10:11 am App Store review.  Sales of both iPhone and iPad apps are growing.
10:10 am iCloud, iMessage (billions of messages sent), Game Center, Shared Photo Streams… the usual suspects are being marched out to show iOS 6's market prowess.
10:10 am: Cook goes over the features of iOS6… either gloating or time-wasting, can't tell which.
10:09 am: 200 million Apple devices running iOS 6 (Cook calls it "phenomenal"
10:08 am: 3 million iPods (all inclusive?) sold. Fantastic (Cook again… loves the word).
10:07 am: New iPods, Nano also a successful (fantastic) start in terms of sales.
10:05 am: People apparently LOVE the iPhone 5… at least the video shows as much.
10:04 am: Video time about the iPhone 5 launch.
10:03 am: First off iPhone 5 … 5 million units sold. Fantastic – according to Tim.
10:02 am: Tim Cook walks on stage "Good Morning!"
10:00 am: Nothing Yet.
Coming up… In the ballroom, Apple's currently playing the kind of hipster music that often finds its way to their commercials.