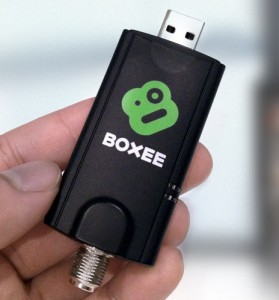 Boxee has starting taking pre-orders a USB dongle that'll allow you to watch live TV over-the-air. The USB-connecting device looks like other DTV tuners such as the Pinnacle PCTV and the Elgato Eye TV, with a male USB connector on one side and female coaxial cable connector on the other. The Boxee product even includes an HD antenna, although we're a bit skeptical about the antenna's ability to capture digital signals amidst any interference.
Getting live television over-the-air is a great way to "cut the cord" and save money on cable and satellite bills. You'll be able to tune-in to ABC, CBS, NBC, FOX and other channels via DTV. The setup is simple (as you can see from Boxee's illustration below) — you just plug the supplied antenna into the USB tuner, and the USB tuner into your Boxee Box. Our guess is you should be able to play around with your own antenna setup, especially if you've got a wall antenna or one installed on your rooftop.
The Boxee TV Tuner will retail for $49 and ship sometime in January, 2012. For more info check out Boxee.tv/live.