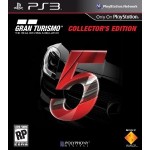 Exclusive for the PlayStation 3, Gran Turismo 5 has now hit shelves in the US. And for the first time the game is playable in stereoscopic 3D, taking video gaming to the next level of immersion. Developers Polyphony Digital have also improved the game in many other ways including real-time car damage, dynamic weather effects, inclusion of some NASCAR models, kart racing, a Course Maker and online community options.
In addition, Gran Turismo 5 brings a lineup of over 1,000 licensed cars and over 20 tracks and 70 variations — race in the city, snow and dirt, classic courses and famous circuits.
Gran Turismo 5 is available in both the Standard and Collector edition for $59.99 and $99.99 respectively. Click here
to purchase.
Additional features include (but not limited to):
Arcade Mode lets players experience the stunning tracks and environments of Gran Turismo 5, including custom tracks created with Course Maker, alone or with a friend in split-screen two-player mode
Career mode, which includes a vast and varied lineup of special race events, including appearances by world-famous professional race car drivers, new and used car dealerships, tuning and body shops to upgrade the performance of players' favorite cars, and more
Newly expanded B-Spec race team management mode puts players in the role of a race team director, where they can manage and coach a stable of AI (artificial intelligence) race car drivers through career events
Point-based Championship Race series and License Tests
Stunning new visual effects include: rain, snow and other weather effects; time transitions where day turns to night; particle effects like tire smoke, dust clouds, and water spray; and new lighting effects including working high beams and flashers, working windshield wipers, and brake lights that light up dust clouds
Gran Turismo TV Video provides access to a library of great motorsport video programming (both HD and SD – all broadcast quality) through PlayStation Network
Photo Mode and Photo Travel allows players to capture great GT moments from race replays and exotic locales, and to share with friends online, including stereoscopic 3-D support for taking stunning 3D screenshots (stereoscopic 3-D TV required)
Automobile and collectible "trading cards" are also available, which are unlocked every time players log into Gran Turismo 5 online, adding new content to the informative and educational Museum feature.  Cards are awarded randomly and can be traded with friends to build their collections
Players can create custom soundtracks from music stored on their XMB to play in-game
PlayStation Network Trophy support