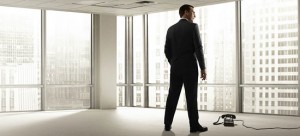 DirecTV and Dish Network customers are anticipating the fourth season of Mad Men which airs July 25 on AMC HD. But subscribers to the satellite services will be stuck with the standard-def versions because the providers have not been able to add the high-definition version of the show. Other AMC original shows broadcast in HD include Breaking Bad, The Walking Dead, Rubicon and The Prisoner.
You can probably blame the companies involved: DirecTV, Dish Network, and Rainbow Media (who owns AMC) for failing to come to a financial agreement to run the network in high-definition. One would think if there is an agreement already in place for the standard-definition feed that an addition of the HD feed would just be a step away. But this is not the case.
DirecTV has recently added other HD networks as well as three 3D channels to their lineup, but AMC HD is not one of them. Dish Network recently launched a new satellite to enable even more HD channels, but also has not come to an agreement with Rainbow Media. Dish was recently forced to drop several Disney HD channels, with Disney saying there never was an agreement in place to distribute the high-def feeds.
The fourth season of Mad Men will premiere July 25 at 10PM | 9C.