We're focusing on Green Zone this week here at HD Report, but there are of course other releases for June 22nd.
Suffice to say, you can never go wrong with Criterion, though sometimes other distributors give their releases just as much love… Consider Warner Bros release of a classic heartbreak story, and Shout! Factory's impressive line of B-movies.
Let's take a look at what's on the bill for this week's street date.
white space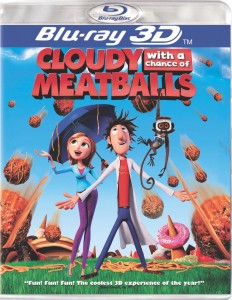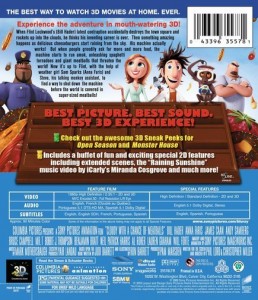 Cloudy with a Chance of Meatballs – 3D
(Columbia/Sony, 2009) was adapted from a popular childrens book and given the 3D treatment (because it's all the rage, don'tcha know) in its theatrical release.
While the movie retains most aspects of the book, it attempts to broaden its general appeal by discarding some elements (the original illustrations, for one) and drastically expanding the slim tale by creating characters (an inventor and weather girl!) and a more intricate plot.
Quite popular with critics and audiences alike, mainly due to the comedic elements, writing and slew of excellent voice acting (from the likes of Bill Hader, Anna Faris, James Cann, Mr. Entertainment (a.k.a. Neil Patrick Harris), Lauren Graham, Bruce Campbell and Mr. T(!)), the movie has already come to Blu-ray without the 3D effect, but as 3D-BD players are being rolled out (and with some non-3D players capable of being upgraded),
Cloudy
is coming at us as one of the first 3D-BD.
The 2D Blu-ray release of
Cloudy
back in January of this year garnered excellent reviews on the strengths of a
highly detailed,
beautifully rendered 1080p/2.35:1 widescreen
image
and an equally gorgeous DTS-HD MA 5.1 soundtrack
that
offered a full-range of dynamic surround (and lots of room for dialogue, sound effects and Mark Mothersbaugh's distinctive music
. The prior Blu-ray release also included quite a few extras including a commentary track with Bill Hader and screenwriter/directors Christopher Miller and Phil Lord along with HD featurettes on the making of the film (A Recipe For Success: The Making Of Cloudy With A Chance Of Meatballs and A Recipe For Success: The Making Of Cloudy With A Chance Of Meatballs), a few extended scenes from the early sketches of production, and a bonus section on the technical aspects of the film (Progression Reels With Introductions By Visual FX Supervisor Rob Bredow). For the kiddie/tween set the disc also included a music video by Miranda Cosgrove (
Raining Sunshine) along with a making-of featurette, and a game called Flint's Food Fight.  All-in-all a solid set rounded out by a digital copy and bonus DVD… but no 3D version for what was essentially a made-for-3D movie.   The 3D Blu-ray edition that comes out for this street date is essentially the same disc encoded with MVC [Multi-view Video Coding] home 3D standard with full 1080p resolution for R/L eyes (note that this release requires a 3D-BD player, a 3D capable display (HDTV, etc.) and special glasses.  Forget the magenta/cyan or other type of familiar anaglyph paper glasses that have previously come with home video 3D releases (see HD Report's Coraline review).  Instead you'll be required to purchase active-shutter polarized glasses for 3D viewing (also known as LC [liquid crystal] shutter glasses, they're sold by companies such as Panasonic and NVidia as well as major HDTV manufacturers now jumping in with 3DHDTVs that offer 120Hz inputs and refresh rates)… that is, if your new 3D-HD bundle doesn't already include a pair or two.  All this can get quite expensive, but Sony is betting on Cloudy being the driving force behind it's own 3D-BD bundle now being sold and, as the first true BD-3D release (beating out Avatar's eventual 3D-BD release) it may do just that for early adopters, especially those with children.  No word yet on how the 3D looks, but the specs, save for 3D are virtually the same as the Blu-ray (including sound) as is the set of features… only a few trailers are made for 3D presentation, the rest is right off the 2D-BD release.  Another thing to note is that this new release of Cloudy includes a 3D-BD disc that can probably be viewed as 2D (if you want… though why would you if you just spent times of cash on all that 3D-BD gear) along with a standard-def version of the film.  The box does not indicate a separate disc, however, so expect a multi-version single disc in this instance.  Whether this new release is something to run out an buy can only be determined by how hot and willing you are to jump into home-3DHD technology which remains, in my humble opinion, a very specialized corner of the home-theater market at this date, and may not have much life beyond the 3D craze.  You takes your chances, you rolls your dice, you spends your money (a lot more money for this BD version)… caveat emptor.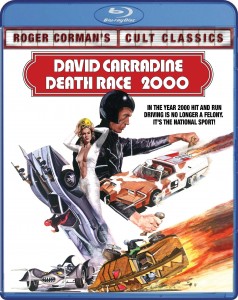 Shout! Factory (and New Horizon Picture Corp.) somehow snagged the rights to release the extensive Roger Corman home video library from Disney recently, and they've wasted no time in releasing some of the titles from the King of the B's!  For those too young, that's a B-picture… which was a way of describing the lesser-half of a double-feature… the A-pic being a higher-budgeted Hollywood movie.  Corman was famous for having a set built and using it to film a few pictures on (no one would notice) and finding up-and-coming young filmmakers and alternative thespians to round out his crew and casts.  For Death Race 2000
(New World Pictures/Shout! Factory, 1975) Corman took a few dollars and made what is arguably one of the better science fiction satires of the 70s, taking advantage of a dystopian/futurist setting to tell a tale of bloodlust, fast cars and a quasi-fascist United States that, due to a military coup born out of economic disaster (not too off base, methinks) where the President has declared a bread-and-circuses road race to be the ultimate expression of patriotism.  This little classic is famous for one simple, savage plot device wherein the Transcontinental Road Race is won not just on finishing first, but also on the number of pedestrians run down:  Women are worth 10 points, teenagers a big 40 points (they're harder to hit apparently), young children are worth 70 points and senior citizens are worth a whopping, inexplicable 100 points… for them, its considered a sporting type of euthanasia, taking pressure off the country's limited resources.  The road racers are a crazed bunch starring some noticeable faces… including the late, great John Carradine as Frankenstein, a man with a mission beyond just winning the race and Sylvester Stallone in an early role as "Machine Gun" Joe Viterbo (one of my all-time favorite fictional names).  Other Corman regulars such as Mary Woronov and the "Real" Don Steele pop in to add to the fun, and fun it is… though it's still not up to the standards of the average Hollywood film, it's got a ton of heart (a big, bloody heart at times, but heart nevertheless).  Corman films are important for just that reason alone… one low-budget guy going up against the Hollywood majors, but often his sets were film schools were some of the best filmmakers living today got their start.  Now note that though Paul Bartel directs (and would go on to helm some true indie-off-beat wonders such as Eating Raoul), it still follows Corman's sensibility of quick, fast, brutal guerrilla filmmaking made for the grindhouse and drive-in.  The Blu-ray offers a clean, colorful looking MPEG-4 AVC encoded, 1080p/1.78:1 widescreen image struck from an inter-positive element that, by many accounts, blows all previous NTSC home video versions off the road, including the recently released DVD.  The Dolby Digital 2.0 sound is stereo and is reported as being quite tinny sounding, lacking depth, but serviceable enough for home theater… note that no subtitle options are offered.  I've noticed that Shout! Factory is becoming a helluva DVD/BD distribution company offering more bang for your buck considering the age of these titles and lack of general appeal (one persons trash is indeed another person's treasure in this case)… they're going balls to the wall in many instances, especially regarding the "Roger Corman Cult Classics" line, and they deserve mucho kudos.  Take a look at the bonus features, then decide for yourself if you can afford to be without this entertaining (and influential) film:
David on Death Race: A brief look back from star David Carradine recorded in 2008

Audio commentary with Roger Corman and Mary Woronov

New audio commentary with assistant director Lewis Teague and editor Tina Hirsch

Playing the Game: Looking Back at "Death Race 2000"
Ready to Wear: In-depth interview costume designer Jane Ruhm on her inventive work for this film and other Roger Corman classics
Designing Dystopia!: A detailed look at the film's futuristic landscapes and now-classic race cars with co-art director B.B. Neel, car designer James Powers and car constructor Dean Jeffries.
Start Your Engine!: How the world of Death Race 2000 came to life, interview with original story creator Ib Melchior
Killer Score: An all-new interview with composer Paul Chihara on the creation of the film's eclectic score, which was also his first feature film composition.

Leonard Maltin interviews Roger Corman about Death Race 2000

Original theatrical trailer

Original theatrical trailer with commentary by filmmaker John Landis, courtesy of trailersfromhell.com

Collectible 12-page booklet

New World trailers
WHITE SPACE
WHITE SPACE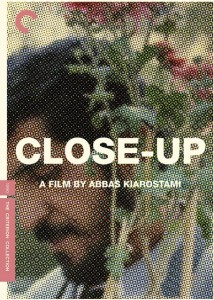 Criterion releases Abbas Kiarostami's Close-Up (Nema-ye Nazdik; Janus Films/Criterion, 1990) and Michelangelo Antonioni's Red Desert
(Il D
eserto Rosso; Rizzoli, Criterion, 1964) this week.
Close-Up is a story about identity and class in contemporary Iran.  Filmed in a quasi-documentary style, the film re-enacts key events from a true story wherein a man impersonates one of Iran's most important filmmakers and dupes them into believing they'll be the stars of his new film (a similar thing happened to Stanley Kubrick and became the basis for the film Colour Me Kubrick, which might make for a good double-feature perhaps).
Anonioni's Red Desert, his first color film, allowed him to create beautiful compositions centered on industrial decay and environmental wastes that would become a blueprint for other films dealing with the contemporary anomie caused by the growth of technology and industry.  Starring his passionate love, Monica Vitti (with Richard Harris as a smitten admirerer), Red Desert presents a vivid cinematic landscape of sound and fury contrasted with the carefree spirit reflective of the early 60's mood.  While the film is influential, I'd stretch that to say it even presages the work of one filmmaker in particular: David Lynch.  Go ahead, compare it with Eraserhead if you dare (despite it being in B&W).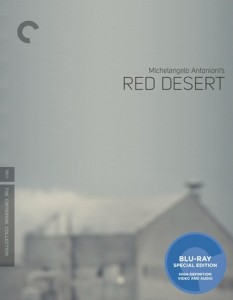 Criterion's site has full tech specs and essays about the films (clips, too!), so hop on over and take a gander, but for the most part, reviewers are quite happy with both BD releases.  Red Desert in particular is said to look amazing considering its age, but then that's the care that Criterion takes with these films, always striving to strike their transfers from the finest and best-preserved elements.  With a MPEG-4 AVC transfer in 1080p/1.85:1 widescreen, reviewers are in love with the level of detail and color timing, though some feel an earlier BFI Blu-ray release represents more accurate hues.  The Italian LPCM-Mono soundtrack is offered only in Italian with English subtitles… but, then, that's the way it should be.  Foreign-language dubbing sucks often, quite frankly, unless you admire it for the cheese aspect poorly dubbed films, even the best dubbing can feel weird considering the lack of sync with the actor's mouths… besides, Italian sounds beautiful, capice. Video critics are also appreciating Criterion's 1.33:1 full-frame AVC transfer of Close-Up though some are saying that 1080p reveals much of the source print's imperfections, many are giving that a pass as a minor quibble.  The same can be said for the LPCM-Mono soundtrack which sounds good enough for home theater despite obvious pops along the way and background hiss.  The dialogue is presented in Farsi with subtitles.  There's quite a few extras for each title, making these worth a look for serious Criterion collectors.
Green Zone (Universal, 2010): See our HD Report Spotlight Review.
WHITE SPACE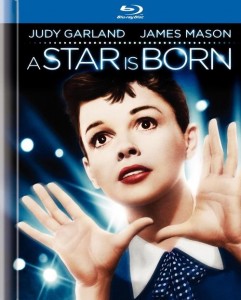 A remake of the 1937 silent film, A Star is Born: Deluxe Special Edition
(Warner Bros., 1954) represents Judy Garland's return to the screen after a 4-year hiatus.  During that time she had suffered a nervous breakdown from the pressure of her stardom and work. That, along with a deep, dark depression that kept her hospitalized after some half-hearted, cry-for-help suicide attempts (not to mention the death of her estranged mother) put her at risk when it came time to cast her in roles for which she was well-suited.  It's a wonder that Garland, still a young woman, kept working at all… but she had just come off years of prolific appearances in MGM musicals and other features and was looking for a fresh start with newest hubby, Sid Luft.  Producing and performing in A Star Is Born allowed her to expand her abilities and do serious dramatic work, though her illnesses came back to haunt her during the troubled production. The original film ran 182 minutes and was critically adored and found popularity with general audiences initially.  Then Warner Bros. fearful of losing profits on a picture with a long running-time, killed this particular golden goose by cutting it down to 154 minutes, losing musical numbers and making mince-meat out of the dramatic pace.  The film didn't do nearly half as well thereafter, but was finally restored to a 176 minute version (with as much "lost" material replaced as possible) by film preservationist Ronald Haver.  It's this version that comes to Blu-ray.  The timeless story of Esther Maine (nee Blodgett) and her rise to fame while her husband, the man who discovered her talent, falls to tragic, alcoholic ruin– and apparently it's a well done set featuring a BD of the of the restored movie in DigiBook format (with detailed 40-page insert) along with a standard-def DVD full of bonus features.  The transfer, a mostly stunning VC-1/1080p encoded disc at 6K resolution that offers a solid digital
restoration for HD, also retains the look of its original CinemaScope presentation by
most accounts for an aspect ratio of 2.55:1 widescreen as well as the flesh tones and hues common to Technicolor films of the era. The color is so vibrant, without bleeds or digital noise, that those in the know say it's one of Warner's most beautiful transfers of their classic films.  Yet some have noticed the

image sometimes looks soft during all but close-ups (which generally reveal a wealth of detail with very good contrast and black levels).  There's also the issue of the restoration itself, which was completed by using some pick-up shots from other films of the era and stills from the production while music plays over (in
effect, creating a kind of connective montage for lost frames and scenes)… some reviewers are unhappy with the way these portions of the film look in HD, but the high-def format does tend to do this with older works where the source material isn't of the best quality, exacerbating visual imperfections and creating a less than satisfactory look.  The sound is also getting considerable mention, as this is a vibrant musical (set against a fairly dark storyline) you'd expect a great DTS-HD MA 5.1 mix, and though this is another case of the powers of cinematic restoration in full effect (Warners and Haver had to cobble together material from multiple sources after the original tracks were nearly destroyed), the home theater feeling is one of crystal clear dialogue, while the musical numbers nearly overwhelm the room with a dynamic quality that uses as much multi-channel effect as possible, though when the music isn't the focus, reviewers have said you can expect less use of rear/surround channels.  All-in-all, it appears Warners has done an excellent job on this set.  This set is so extensive and Judy-centric, that I urge you to go to The Judy Room (an excellent site on all things Judy Garland) for more technical specifications and to see the full set of bonus features on this extensive 2-disc set.  You probably cannot go wrong with this one, it should be sitting right next to other Garland faves (Meet Me in Saint Louis, Easter Parade, and of course, The Wizard of Oz) and it seems well worth the purchase.  Warner Bros and Ronald Haver essentially pulled this one back from the dead– it's one of the key musicals in the Warners canon, one of the last truly great musicals before Hollywood began to shift gears in the 60's and probably the most personal of Garland's roles.  Not to be missed on Blu-ray, folks… go pick a copy up.
WHITE SPACE
Other releases for the street date of June 22, 2010 are as follows:
Bruce Springsteen & The E Street Band: London Calling: Live In Hyde Park

(Sony Music)

Emerson, Lake, & Palmer: Live at Montreaux 1997

(Eagle Rock)

Entourage: The Complete Sixth Season

(HBO)

Hung: The Complete First Season

(HBO)

The Last Station

(Sony Classics)

The Moody Blues: Threshold of a Dream Live at the Isle of Wight Festival

(Eagle Rock)

Remember Me

(Summit)

Riverworld

(Vivendi)

She's Out of My League

(Paramount)

U2: 360°at the Rose Bowl – Super Deluxe Edition

(Interscope)
Here's a link to all new Blu-ray releases for the week of June 22, 2010.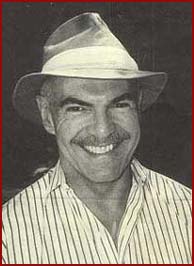 WHITE SPACE