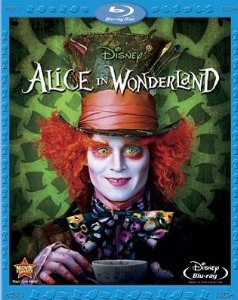 This week we pick over the new Disney Alice in Wonderland and investigate Warner Bros. Clint Eastwood fixation.
WHITE SPACE
So, Disney decided to remake a classic… and sure it's their own property (essentially), but did we really need a CGIcandy-colored update of Lewis Carroll's classic tale of a girl on a wild trip through the looking glass?  And is it any better than the their own animated film from 1951?  Millions of filmgoers seemed to love Tim Burton's trippy take on Alice's adventures, though perhaps the film isn't on par with his best— that would be Ed Wood or Edward Scissorhands though I'd place Beetlejuice and Pee-Wee's Big Adventure in that category, too… Alice in Wonderland (Disney/Buena Vista, 2010) belongs alongside his less laudable fare like Charlie and the Chocolate Factory, and while it's not complete dreck like Planet of  the Apes, it's hardly what we most desire of Burton: an original story told with Burton's gothic stylings and ability to tap into the "other," the outsiders in human life, who sometimes transcend their otherness to become more human than those who are quick to cast them off as curs, malcontents and objects of derision.  Perhaps that public desire is what has turned Burton's uniquely dark sensibility (he can go for the gross-out but still keep us wide-eyed and entertained) into a mundane brand of sorts, available for hire should you want a contemporary edge of sick humor added to  your cinematic mix ala the talents of Gorey, Addams or Gahan Wilson.  We're all a little more accustomed to his grim talent, and so when he goes for broke, or lets his alter-ego Johnny Depp go one step beyond in character, it tends to lack the punch it once did and feels like… well, like Burton is reaching or, in the case of his current spate of Disney projects, like he's pulling the grim giggles off
the shelf, rather than coming up with something new.  So, take Alice for what you will… it's review proof in any case… but much like Charlie and the Chocolate Factory, you'll either dig the CGI trickery constantly onscreen, busy action and Depp's seriously whacked-out performance, or you'll find plenty of fault with Burton and screenwriter/co-producer Linda Woolverton's by-the-numbers approach to the hackneyed "emerging heroine on a quest" storyline wherein a young girl on the cusp of adulthood finds strength (and sexy, shiny armor that goes well with the messed-tressed look this serious Alice sports) in her own abilities, and is suddenly able to cope with a monstrous Jabberwock straight out of Lewis Carroll's other famous nonsensical works… Nowadays, everything needs to be explained, including the backstories and motivations of classic characters…  but for some reason the deeper the backstories go, the shallower the narrative feels.  Instead of using our own imaginations to fill in the blanks of Wonderland/ Underland, it's all explained away for us so that we can passively enjoy 3D effects added in post (this film being one of those notorious for cashing in on the Avatar/3D craze by attempting to achieve what Cameron took years perfecting by converting the 2D image to 3D in a matter of months).  Alice is being released as a 3-Disc Blu-ray Combo Pack (Blu-ray w/DVD & Digital Copy), single disc Blu-ray, and single disc DVD.  The Blu-ray is already getting positive reviews from fans of the movie and BD enthusiasts alike.  They feel it captures the look of the film that many who saw the 2D version in theaters experienced while allowing the film to stand on its own away from the 3D gimmick that many felt the film did not need in the first place.  Some are quite ga-ga over the video quality, saying it's nearly perfect for reference use and to blow away friends who don't yet have a blu-ray player of their own.  The transfer is apparently gorgeous and filmlike with a 16×9 widescreen presentation (1.78:1) in MPEG-4/AVC, 1080P with a robust DTS-HD MA 5.1 mix that makes all the noise and screaming (the characters do a LOT of that) feel intense and elevates the battle scenes and allows the spoken, not screamed, dialogue to blend nicely with Danny Elfman's patented soundtrack bombast (though he's reigned that approach in somewhat for this film).
Disney has lavished each video version with unique features (the following all culled from Disney's corporate site):
DVD:
Finding Alice — It's all things Alice. This featurette includes Tim Burton's vision for the characters, differences from the book and Disney's version of Alice and how she evolves as both a character and actor as she takes an adventure through Wonderland.
The Mad Hatter — Audiences are provided with a deeper look into the world of the Mad Hatter. Check out Johnny Depp's early sketches, make-up, costumes and how they digitally enhanced his eyes.
Effecting Wonderland — A behind-the-scenes piece on the different technologies used to create some of the most beloved characters in the film — Stayne, Tweedledee, Tweedledum, Bandersnatch and the Red Queen.
BLU-RAY:
Everything on the DVD plus:
The Futterwacken Dance — Futterwhat? Check out the making of the timeless dance called the Futterwacken.
The Red Queen — The creation of the Red Queen from start to finish, including early Tim Burton sketches showcasing costume designs, make-up and digital effects.
Time-Lapse: Sculpting the Red Queen — A short time-lapse piece showing Helena Bonham Carter as she gets her make-up done. A three-hour process can be watched in just a few short minutes.
The White Queen — An interview with Anne Hathaway, who plays Wonderland's good queen, about her character's journey throughout the process of the film.
Scoring Wonderland — Composer Danny Elfman and Tim Burton discuss the music for the movie.
Stunts of Wonderland — A featurette highlighting some of the biggest stunts in the film.
Making the Proper Size — An inside look at the visual effects process of growing and shrinking Alice. See how filmmakers used different techniques to stay true to the storyline.
Cakes of Wonderland — Take a trip to "Cake Divas" where the creators of the EAT ME cakes provide viewers with details about how they made the smallest crumb to the largest cake in scale.
Tea Party Props — Tea cups, saucers, cakes and more. Prop master Doug Harlocker gives an overview of all the props used to bring the famous tea party scene together visually.
Digital Copy (Combo-Pack Blu-ray only)
WHITE SPACE
WHITE SPACE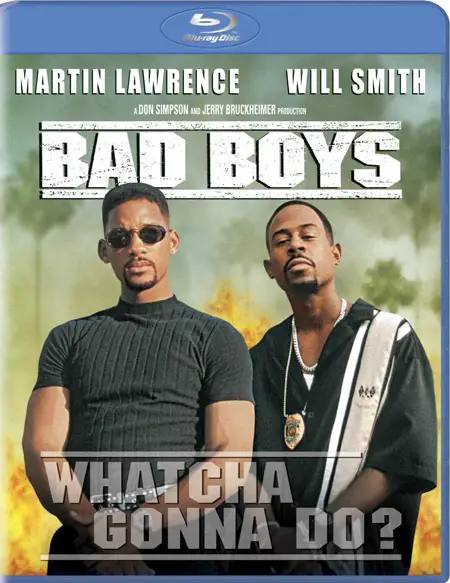 The slick visual style of Michael Bay may have developed during his years shooting music videos in the late 80s and early 90s, but Bay was ready to hone it into something trend-setting with the first Bad Boys (Columbia Pictures/Sony, 1995) film starring that lovable Will Smith and his cohort in crimefighting, Martin Lawrence, as two wise-cracking (and homophobic, nyuck nyuck) narco-cops on the trail of $100 million in heroin that was boosted from the narcotics unit's evidence vault.  Tasked with finding it, they go on a veritable search and destroy mission laced with humorous improvisation (as Bay felt the dialogue of the script was leaden) that shines a light on Smith's comic everyman and Martin's coarse family guy… say what you will about Michael Bay the director (and the film overall, as it's really just a re-tread of the Lethal Weapon movies that made millions for Warner Bros.), but here he gives the actors free reign to create some spark (even Téa Leoni is pretty good here, and Joe "Guido the Killer Pimp" Pantoliano is quite memorable as well) and click with one another.  Bay concentrates on what he does best: total mayhem, including a chase in souped-up roadsters that is as dependent on the soundtrack's heavy-metal guitar riffs as it is on the flash and dazzle of Howard Atherton's cinematography and Christian Wagner's deft editing skills.  The blu-ray is getting so-so reviews as a lackluster release.  Though it's a step up from prior DVD versions (including Superbit) the transfer is being called out for not being on par with the best of recent blu-ray releases.  Perhaps it's due to the age of the master elements used, or perhaps the studio put less thought into it than it should (or perhaps they just didn't wash all the age away with DNR methods), but it might not be worth the buy if you're don't already adore the movie.  The AVC-MPEG4 1080P encoded transfer offers a 1.85:1 widescreen ratio with a DTS-HD MA 5.1 soundtrack that is, according to pre-release reviews, very good… with clear dialogue tracks and adept use of surround channels that give you the feeling of being in the middle of the action without losing subtle details in foley work or ambiance, though some feel the big explosions and gunfire lack power.  Along with Sony's movieIQ+sync (like having IMDB and Wikipedia at your fingertips) and BD-Live (not much there there as usual), you get a film-length commentary by Michael Bay on all the production details, as well as a nearly half-hour documentary called "Putting the Boom & Bang in the Bad Boys" which is just what you'd expect from a movie featuring guns and explosions)… what this Blu-ray lacks is the DVD Special Edition's multi-angle special-effects feature called "Damage Control" that can be used while watching the film, which is just plain bizarre considering that's one of the reasons we buy blu-ray… for insightful features that immerse us in the making of the films we love.  Blu-ray is made for multi-angle onscreen use, but this feature has been left off the BD release of Bad Boys, as was the DVD's separate music track.  The Blu-ray gives three hip-hop videos featuring 69 Boyze, Diana King and Warren G, but that's about it… so go figure… is this one worth owning if you already own a decent DVD copy that can be upscaled to 1080?  Probably not.
WHITE SPACE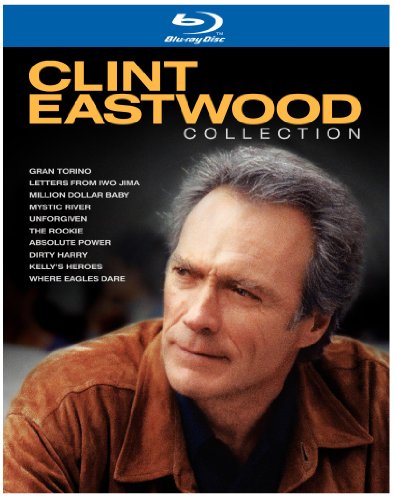 Leave it to Warner Brothers to repackage Clint Eastwood's acting and directing career any which way it can (this time to coincide with his 80th birthday).  Like Apple during the early 90s (or Detroit car makers), Warners seems intent on creating consumer confusion with too much of the product packaged and repackaged until you can't tell what you own is current or not.  Much of the BD's in these newly packaged collections reflect different original release dates (in the way that, Clint Eastwood: 35 Years/35 Films, was released on DVD a few months ago) and are spruced up with new keepsake artwork, but little else.  Of the Clint Eastwood Collection only the lackluster Eastwood directorial effort The Rookie, the tepidly directed Absolute Power, the ensemble guys-on-a-mission movie Kelly's Heroes, and WW-II actioneer Where Eagles Dare are new releases in the BD format… the rest of the set features old favorites like Dirty Harry, the masterpiece that is Unforgiven along with Eastwood's latter-day directorial on full display in Gran Torino, Letters from Iwo Jima, Million Dollar Baby, and Mystic River (all are available on Blu-ray separately as of June 1st). Note that Warner's is also releasing Kelly's Heroes and Where Eagles Dare as a two-disc "Action Double Feature" (with vintage featurette for Eagles and a trailer for Kelly's) outside of the Collection.
The Essential Eastwood: Director's Collection includes Letters from Iwo Jima, Million Dollar Baby, Mystic River, and Unforgiven. All are excellent, complex films by an older, wiser Eastwood… each reflecting on a violent world with violent consequences, and the misunderstandings that fuel violence and renew old hatreds.  You'd be hard pressed to get a Regeanesque kick out of these à la the Dirty Harry series (already released as a set on Blu-ray some time ago), but they are essential in what they say about the man who directed them and his view of how the world operates, as well as the despairing events that the characters in these films must come to terms with given their capacity to do good, the bad or the ugly.  These are indeed must-own movies, particularly Unforgiven a real masterpiece of post-modernism in how it portrays the hard truths of justice in the legendary Old West… a place more akin to Hollywood's glorious myth-making prowess than the often bit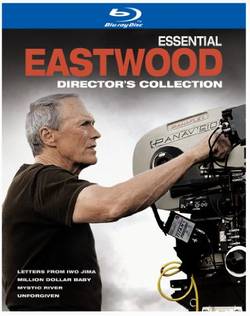 ter reality of westward expansion… chaos searching for order.  Mystic River, a tragic drama where the horror of a grim past catches up with old friends… deceit and murder result and Eastwood masterfully directs with a confidence that is infectious amongst the terrific cast including rich, emotionally devastating performances from Tim Robbins (a hauntingly sad figure), Laura Linney, Marcia Gay Harden, Kevin Bacon and a brilliant Sean Penn in a performance that brims with anger, disillusionment and frustration.
Those with DVD players still on the shelf can also get in on the Essential Eastwood: Action Collection which offers Firefox, Heartbreak Ridge, Kelly's Heroes and Where Eagles Dare.  This one may be offered for Blu-ray at some point, but for now is SD only.
Exhaustive must be the order of the day at Warner Home Video, because they're also packaging the classic Eastwood spaghetti Western of director Sergio Leone with the The Man with No Name Trilogy (MGM) A Fistful of Dollars, For a Few Dollars More new to Blu-ray, and The Good, the Bad and the Ugly, a release from last year, completing the set. 
If not yet owned, this is a great way to catch up and have in your library some classic Westerns from a master of composition, color and action.  Leone's films may owe much to the classic Western's of Hollywood's own glory days, but he recasts them as operatic tragedies with characters that range from self-serving nihilists to self-righteous psychopaths… and heroes of dubious nature who may only be in the game for themselves no matter how much they are perceived as being on anyone's side.  Leone's first film owes its narrative angle to Kurosawa, but he really takes the Eastern/Western approach lightly in order to focus a ballet of down and dirty violence that presaged the more vividly graphic work of Sam Peckinpah in The Wild Bunch.  Leone has a stylistic eye for grandly staged mies-en-scène, and his use of foreground framing with deep focus, sweaty closeups of darting eyes and twitching hands only add to the intensity of the gunfights and stand-offs prevalent in his work, and often parodied to this day.  These titles should be in everyone's video library… I don't see how you can resist them even for mere entertainment purposes.
Video and audio quality may vary from set to set and from disc to disc… at publication time we did not have all the specs. So at some point, given our meager staff, we'll attempt to review these as HD Report spotlight discs, and add more technical detail and opinion.
Suffice to say, these are all high-def, 1080p (aspect ratios vary) and, in most every case, DTS-HD MA 5.1 audio mixes.  There are also, unique to each disc, a trove of special features that we do hope to detail in individual reviews.  Short of my usual buyer beware for double-dips and "special" editions, but I'd say these are probably safe bets for your hi-def library… and reasonably priced, too. Warners often treats major titles with loving care, and Clint's Malpaso Productions has been part-and-parcel on the Warners' lot for as far back as he's had the power to call his own shots, so I'd say these Blu-ray sets are probably worth the purchase for fans of the actor/director as retrospectives of legendary career.

WHITE SPACE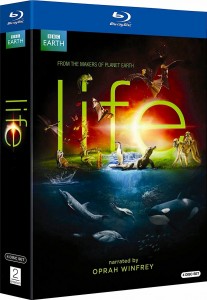 The BBC/Discovery presentation of the nature documentary Life [U.K. & U.S. Versions) gets its Blu-ray release this week.  Not nearly as good as Planet Earth (in my humble opinion, mind you), an earlier effort by the BBC's Natural History division, maybe because bitchin' cool HD video footage of animals doing their thing is becoming old hat, or I'm just a cranky bastard.  The BBC has also produced Life On Earth and Blue Planet, and they generally have a great track record for intelligent, well-produced fare that enlightens and awes the viewer with never-before-seen footage of creatures great and small.  Regardless, I remember being awed by Planet Earth and recently underwhelmed by Life even though it has got the guts to explore the science of Charles Darwin's theories in a day and age where people are still prone to superstition and old-tribal parables rather than verifiable evidence that can be tested and re-tested to explain the origins, but not the meaning of, biological life.  As for the versions on Blu-ray coming out this week, both the U.K. version featuring acclaimed naturalist David Attenborough or the U.S. version featuring narration by Oprah! can be played on US region BD players.  My choice is for the Attenborough disc, since I prefer my nature documentaries to be narrated by someone with real, serious knowledge of what's being presented rather than someone who is just reading back V.O. dialogue in an well-known elocutionary speech pattern that can border on irritating (unless you truly dig Oprah's! family-oriented declarations of "baby" and "mommy" animals which make nature's grand variations seem rather shallow and infantile).  Still, there's plenty of ridiculously cool stuff on view here with amazing sequences of cheetahs seemingly strategizing their take down of an ostrich, dolphins on the hunt(!) in a fashion that belies the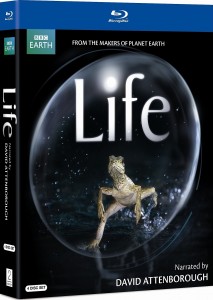 friendly, smiling anthropomorphized personalities humans have imposed on them, the sickening awesomeness that is the Komodo dragon (a patiently lethal and quite disgusting predator that is at its gruesome best when slowly gaining the upper-hand on a water buffalo), a "jesus-lizard" with a devil-may-care attitude toward physics, baboons battling it out for dominance and procreation rights, and a unique look at the migration habits of elephants and reindeer using a camera developed specially for the Life series.  The discs offer a 1080i (VC-1) / 1.77:1 widescreen image with a lossy DTS-HD High-resolution 5.1 mix that most reviewers still find impressive and wonderful to watch and hear.  But, while the BD releases should offer excellent video and sound, the interlaced image and lossy sound might disappointed some videophiles.  In general consumers won't even notice the difference in quality, which would be marginal in any case, but for HD fans, can be the difference between buying and renting.  It should be noted that the US version allows for the Oprah! to be silenced with only the score left to fill the room, a nice feature and one that might make for pretty HD art to display should the narration fail to provide fulfillment.  The set provides hours of entertainment: the ten full episodes along with video featurettes on each disc that offer insight into the making of these visually amazing documentaries… the last disc in the set also provides deleted sequences deemed too intense for family viewing or just too long for the initial cable broadcast.
Life includes each full episode across four Blu-ray discs (with making-of features narrated by David Attenborough):
Disc 1:
The Challenges of Life
Reptiles and Amphibians
Mammals
Disc 2:
Disc 3:
Hunters and Hunted
Creatures of the Deep
Disc 4:
Primates (disc also includes deleted scenes)
WHITE SPACE
Other Blu-ray releases this week include:
Saints Road to XLIV: Collector's Edition (Warner Brothers)
The Stranger (Anchor Bay, 2010)
Undisputed III: Redemption (New Line Cinema)
Wild Things: Foursome (Stage 6/Sony, 2010)
War of the Worlds (Paramount/Dreamworks, 2005)
The Wolfman (Universal, 2010)
WHITE SPACE
Get pricing on all new Blu-ray releases for June 1, 2010.
WHITE SPACE