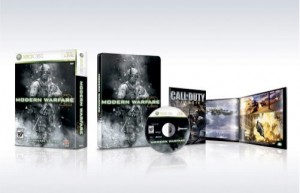 The much desired Call of Duty: Modern Warfare 2 Hardened Edition for Xbox 360 is currently priced the same as the Standard Edition at $59.90 on Amazon.com
. Playstation 3 owners are drooling at this price, as the Sony version is still holding strong at $79.99.
The Hardened Edition of Modern Warfare 2 includes a steel book with metallic finish, art book, game manual and token to download the original 'Call of Duty.' (See pics below.)
Multiplayer modes include the every man for himself action of Free-for All, the classic team-based fun of Capture the Flag and the tactical, team-oriented action of Search and Destroy.
Call of Duty: Modern Warfare 2, developed by Infinity Ward and published by Activision, was officially released worldwide on November 10, 2009 and became one of the best-selling games of all time. Check out the reduced pricing.