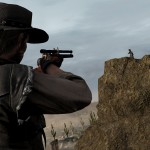 The latest Rockstar game Red Dead Redemption has been referred to as the western Grand Theft Auto. The sandbox style action-adventure game sets you in the year 1911 as John Marston, a retired outlaw who is forced by the government to be a hired assassin. As well as single-player mode, the game allows multiplay (up to 16 players per session) which begins with a Mexican standoff.
Cheats for Red Dead Redemption can be activated at any point in the game. However, if you are in a cheat mode you will not be able to save the game or earn trophies. You can however always get back to your originally saved progress and re-attempt the game without help from cheat codes.
Red Dead Redemption is available for both Xbox 360 and PS3 and plays at 720p video resolution. The game was released in North America on May 18, 2010 and is now available
from retailers. The game is rated "M" (Mature 17+) by the ESRB (Entertainment Software Rating Board).
Here are the cheat codes for PS3
Here are the cheat codes for Xbox 360