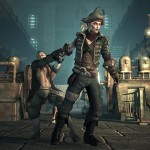 When the box art for Fable III leaked online last week, gamers quickly noticed the "Only on Xbox 360 & Windows" stamp that apparently revealed the PC version of the game before its official debut. Microsoft confirmed the release today, in addition to announcing a 360-exclusive Limited Collector's Edition.
The collector's edition, which retails for $79.99, features playing cards and a guild seal coin as well as in-game bonuses including a new Boxer dog breed, unique outfit for the male and female hero, a new quest, and a new location. Some of the Limited Edition content will be available for purchase by PC gamers, but specifics are unknown at this time. Fable III is also supporting Microsoft's motion-sensing Project Natal when it's released this fall.
The original Fable received ports to both the PC and Mac. 2008's Fable II was for the Xbox 360 only.
Fable III hits stores this holiday season. All editions are available for pre-order
at Amazon.