WHITE SPACE
This week's picks offers one absolutely must-have disc for your hi-def library, three if you're a really keen cineaste with a yen for the experimental and if you don't mind a little digital dusting (aka DNR) marring an otherwise classic epic.  The rest of the bunch are a mixed batch of titles you're probably better off renting.
WHITE SPACE
WHITE SPACE
Experimental film may not be everyone's cup of tea… we each come to cinema with our own expectations and conditioning and usually prefer movies to be narrative stories dominated by the development of identifiable characters, usually played by stars we can imprint upon.  Yet, much of what we see in mainstream film is inspired and informed by years of experimental filmmakers creating works rarely seen by general audiences.  The short, handmade films of Stan Brakehage, in particular, can be placed alongside some of the best of avant garde art and, in particular, its more abstract movements… with Brakhage standing tall among postmodernist giants such as John Cage, Jasper Johns, William S Burroughs and other cutting-edge pioneers.  This week Criterion releases By Brakhage: An Anthology, Volumes One and Two on Blu-ray, featuring some of his most important works to break through into the public consciousness, and some that were rarely seen outside of film schools and avant garde collections.  Criterion's care with this set once again epitomizes why this specialty video distribution company is essential, especially as the primary source for seeing cinematic efforts far outside of the mainstream.  This BD set, a combination of two DVD volumes previously released by Criterion, has been remastered for high-definition though, because Brakhage filmed primarily in 16mm and super-8/8mm it can be difficult to ascertain HD detail and most of these short films are silent efforts with a few monaural tracks presented in an uncompressed format.  Nevertheless, these two volumes, featuring probably be the best transfers you're likely to see of Brakhage's work, offer 56 shorts, some of which (like the primary work of his varied career, Dog Star Man) are installments of a larger work filmed over a span of time and presented as complete in this set… a complete list of titles in this anthology as well as the significant special features can be found on Criterion's site. Brakhage's works are startlingly poetic at times, and shorts like the graphically clinical ode to childbirth, Window Water Baby Moving, are emotionally moving at times, while others such as Mothlight are vividly expressive works of art that are open to interpretation and defy easy explanation.  If not yet owned on DVD, and you enjoy the film school aspects of Criterion's collection, then this set is definitely worth purchasing for your hi-def library.

WHITE SPACE
Blue Underground is releasing two Italian produced cult films that should make genre fans quite happy.  Lucio Fulci's Italian gore classic, City of the Living Dead, comes to Blu-ray featuring quite a few BD exclusive extras and a video transfer from the camera negative that should offer a much-needed upgraded in 1080p / 1.85:1 widescreen, and an audio mix in DTS-HD 7.1 (and DD 5.1 EX) that should make the overdubbed soundtrack a much richer experience than on previous DVD releases.  Fulci is a master of grim atmosphere and the juicy red moments, but I find that the superior The Beyond/Gates of Hell easily outranks this outing.   Blue Underground has also given a nice overhaul to Sergio Corbucci's original Django, the violent spaghetti-western featuring Franco Nero in a title role that would go on to spawn a host of crappy imitators, and though Sergio Leone's output tends to overshadow this flick, it's definitely worth a look for grindhouse fans.  The BD features a 1080p / 1.66:1 widescreen image with a DTS MA Mono soundtrack featuring more overdubbed Italian acting.  The extras for each include:
City of the Living Dead
The Making of CITY OF THE LIVING DEAD – Interviews with Star Catriona MacColl, Co-Star Michele Soavi, Production Designer Massimo Antonello Geleng, Assistant Makeup Effects Artist Rosario Prestopino, Special Effects Artist Gino De Rossi, Cinematographer Sergio Salvati, and Camera Operator Roberto Forges Davanzati
Acting Among the Living Dead – Interview with Star Catriona MacColl
Entering the Gates of Hell – Interview with Star Giovanni Lombardo Radice
Memories of the Maestro – The cast and crew reminisce about working with Lucio Fulci
Marketing of the Living Dead – Poster & Still Gallery
English Trailer
Italian Trailer
Radio Spots/Still Gallery
Django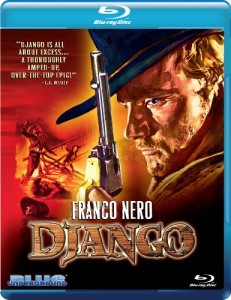 Django: The One And Only – Interviews with Star Franco Nero and Assistant Director Ruggero Deodato
The Last Pistolero – Starring Franco Nero
Western, Italian Style – A 1968 documentary about the Spaghetti Western phenomenon containing interviews with Directors Enzo G. Castellari, Sergio Sollima and Sergio Corbucci
International Trailer
Italian Trailer
Franco Nero Intro
WHITE SPACE
Not to be left out, Troma is releasing some of its best schlock to Blu-ray this week including the cleverly titled Class of Nuke 'Em High, the vengeful high school flick Pep Squad and the rotten to the core Surf Nazis Must Die.  Additionally, Troma will be releasing Tromeo & Juliet (unrated Director's Cut) and Scottish horror flick that they're only distributing called Dark Nature.  Each of these films reflects the Lloyd Kaufman/Troma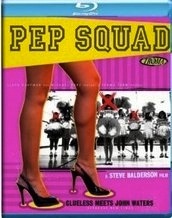 aesthetic that's just a notch– well, a few notches –below the type of stuff Roger Corman churned out in the 70s, with lots of jiggling boobs n' splashing blood (and pus, and crap and green stuff… Tromaville is awash in the stuff).  No budget features that meander around with little but a threadbare plot and some eager actors (though "people performing for the camera" might be more apt than "actor") are the usually bill of fare, though occasionally Troma manages to fart out a something that could actually be called a film (The Toxic Avenger still stands as one of their best tongue-in-cheek efforts, and Kaufman nearly went art-house with Tromeo & Juliet).  These are perhaps
best rented by all but the least discerning movie lovers, and the Blu-ray discs will certainly look a bit better perhaps, but don't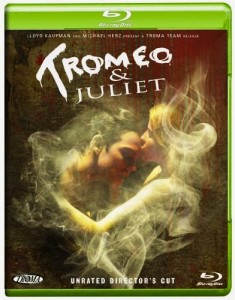 count on them elevating the material…  For each disc you'll get AVC transfers in 1080p (aspect ratios vary) though for sound it's a mixed back with most of the discs featuring 2.0 stereo sound (at publishing time, only a few discs had detailed specs).  The features however, are plentiful on each disc, and you'll find lots of deleted scenes, cast interviews, commentaries with Lloyd Kaufman and his various directors/hired hands, and a host of other goodies including some fan fave moments (these films do have plenty of fans).  So, purchase if you must, but these films are better off rented from Redbox whilst staggering home after a few too many beers.
WHITE SPACE
WHITE SPACE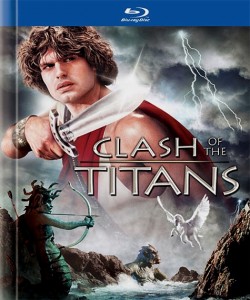 With a Digibook-styled case and features that include a few odes to special effects wizard, Ray Harryhausen, Clash of the Titans (MGM/Warner Bros., 1981) is impressive if you want a blast from the past, or you revel in old-school special effects long before the days of CGIcandy.  Beyond that, it's a quite entertaining romp through Greek mythology, but its also corny and hoary, with live action acting that is just okay considering the caliber of the talent that found its way into the film such as Maggie Smith, Sian Phillips, Claire Bloom (Sir Laurence Olivier just seems like he's hanging around Olympus mumbling things, but by then he was often sick and forgetful during that time, and this was among his last roles)… and then there's Burgess Meredith who seems to be relishing the role, and Harry Hamlin also gives it a go long before he made his way to L.A. Law.  Nevertheless, it's not the acting that is the film's reason for being… Nope.  This film exists to showcase Harryhausen's stop-motion animation techniques… a style of movie magic that links directly back to Willis O'Brien's work on King Kong (1933) and which Harryhausen practiced as a true artist, bringing life to lifeless armatures and skeletal models (never puppets… no no!) and integrating them with live-action footage to make it appear nearly seamless.  In light of the recent remake, I'd stick with this one's handmade quality and passion for the animation (actually Harryhausen called his technique "dynamation," as it provided better integration with the live action scenes). There are some standout effects sequences, including the Medusa hunting scene and Perseus's attempt to capture and bond with Pegasus… and there is, of course, the Kraken… though pound for pound, I think Harryhausen's Medusa model is ten times scarier.  As a kid in the 80's I must admit, I loved this kind of stuff and it was just the thing to turn a young mind toward filmmaking… attempting to see if stop-motion worked on household objects while shooting with a Super-8 camera.  This movie had that kind of effect, and though it may not hold up as well today, at least it has got its heart in the right place.  The single disc Blu-ray from Warner Home Video is a nice package that could have offered a bit more in terms of historical background on stop-motion and perhaps more from the remaining cast and, well, just about anything more on Ray Harryhausen, but it's hard to complain when we're given production stills, character biographies (and some crap from the new remake, but I'm pretty sure that's what motivated Warner's to release the 80s version of Clash in a remastered, high-def format rather than just dumping it without much fanfare).  Though some are complaining over the washed out, grainy look of the film, it appears to some that the remastering captures excellent details and natural color, but that also serves to make the effects work appear even older than it should in some scenes such as those that use rear screen projection to achieve Harryhausen's dynamation technique.  Those scenes don't come off all too well, but then they always required a bit more suspension of disbelief even back in the day.  The consensus is that the VC-1 encoded, 1080p / 1.77:1 (original aspect of 1.85:1) transfer looks as good as it can considering the age of the movie, and that the audio quality is pretty good in DTS-HD Master Audio 2.0 though just about everything will be coming through the front channels without much of a surround effect on the rear and no LFE to be heard.  Considering that, and the fact that there are only two extras ("A Conversation with Ray Harryhausen" and a "Myths and Monsters Gallery" comprise the lot), the price is pretty steep for this older title.  Not to mention that throughout the disc and packaging, Warners is pushing the remake upon us with lengthy trailers that can't be avoided and production stills among those for the older film within the packaging.  I'd say buy it when the price goes down… 'til then, the Gods say this is most definitely worth the rental.
WHITE SPACE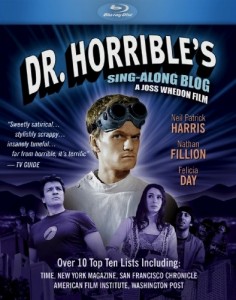 For those that cannot get enough of Mr. Entertainment himself, Neil Patrick Harris, there's the Blu-ray release of Dr. Horrible's Sing-Along Blog, that webisodic miniseries that grew out of the 2007-08 Writer's Strike in Hollywood when all of a sudden some very creative people found a lot of time on their hands.  Avoiding union issues I'm a-guessin', supergeek Joss Whedon (of Buffy, The Vampire Slayer fame) along with his brothers Zach and Jed, and Maurissa Tancharoen (Mrs. Jed), decided to strike out on their own (so to speak) and create something Hollywood lawyers couldn't touch while maintaining their creative energies.  The result is a musical comedy that borders on tragedy at times with Harris starring as super-villain, Dr. Horrible (aka Billy) who regularly posts a video blog of his nefarious activities and schemes, all the while reading fan email and coping with his lack of inner-confidence when it comes to Penny (geek girl Felicia Day), the girl he really likes who frequents the same laundromat he does.  Wanting to join the Evil League of Evil just as badly as he wants to hold Penny's hand, Dr. Horrible is torn between staging evil acts (of evil) and wanting to woo Penny.  Into this conundrum steps arrogant superhero, Captain Hammer (Nathan Fillion, who's always a straight-faced riot), to foil Dr. Horrible's plans while attempting to bed Penny.  Penny, meanwhile, is a homeless advocate who begins yearning for Captain Hammer while denying Dr. Horrible's own shy attempts at getting to know her.  In the end, Horrible and Hammer make choices that redefine their personas and put Penny in jeopardy.  It's a laff-out-loud kinda geeky fun that isn't afraid to be completely whacked out with songs that go beyond mere parody of musical theater and shine a light on the character's motivations, hopes and fears.  Fully produced by the Whedons and their actor friends, Dr. Horrible's Sing-Along Blog was an inspired work by all involved and their passion shows in the performances and filmmaking.  Whereas a guy like Lloyd Kaufman might take $200,000 and make a piece of cinematic shit (albeit an entertaining one), the crew of Dr. Horrible take that same amount and make a pretty damn satisfying movie in three acts (the webisodes were originally distributed via Hulu and iTunes, highlighting the power of DIY filmmaking and alternative distribution).  The Blu-ray might actually make this series of mini-films look no better (and perhaps worse) than it did online… considering the budget, and the filmmaking restrictions, what looked pretty good on a computer screen might look a little degraded and blown out via the high-def format.  The audio offered is DD 5.1, with no HD sound, and that's kinda sad considering sound is of the essence for a musical.  Still, this is a richly entertaining work that features some great, young performers with a standout turn by Harris in the lead role, proving his very real talent is pretty much limitless… he can sing, he can dance, he can act… young Doogie has the makings to become a performer on the level of a Jimmy Cagney if he wants to.   Is this worth the buy?  Well, it was free (and can still be found for free in three segments) online, but here you'll get some extras including a very funny commentary track that has less to do with the film than it does with the cast and crew's reaction to being out of work during the strike (it's called "Commentary! The Musical," with 42 minutes of new songs to sing-along with), a real commentary specific to the work at hand, and making of featurettes with some fan videos.  You won't get those for free, so consider purchasing this as a very unique addition to your high-def library, though less for the HD quality than the quality of the writing, talent and gumption involved.
WHITE SPACE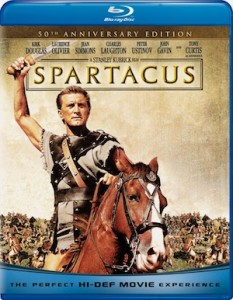 There's already some controversy over the Spartacus (50th Anniversary Edition) (Universal, 1960) Blu-ray disc, as if the legendary film didn't have enough of a rough-and-tumble production history, video purists are finding fault with the Blu-ray's transfer with colors that seem overly warm (red/yellow hues in particular) and a 1080p image that seems too soft with apparent (but to some, minor) DNR that wipes away not only the character of the film stock, but some of the detail in faces and objects. Spartacus was and is a glorious epic that for 1960 was a little ahead of its time, but only a little… it still has the air of Hollywood costume epic typical for its era in that the acting varies between method acting and theatrical performance better suited to the boards and the action is always stylized enough to be violently pretty… these are, after all, actors of some distinction and its clear they want to look good according to the standards of the time.  A film like Ridley Scott's Gladiator, while mired in the same costume drama narrative arc, is unlike the costume epics of yore due to its gritty, subdued realism.  No matter how stylized Scott's film looks at times, it never wavers in the type of realism… from make-up wounds and dirt ground into the pores of the actor's skin, to the more restrained acting styles and yes, the costumes themselves, looking less like they came from the wardrobe department on the lot than actual fabrics from the past.  That is not to say that Spartacus is a stuffy, silly look at the tag-end of the Roman Republic, but rather that it acts its age, and for its time was quite daring, pushing the envelope on ambitious filmmaking courtesy of Stanley Kubrick's painterly compositions, a script dripping with socio-political significance by blacklisted Dalton Trumbo (working under a pseudonym) [disputed item, see comments section below] and, of course, Kirk Douglas's dynamic performance (though only Peter Ustinov would go on to win Oscar gold as the wily slave-trader, Lentulus Batiatus, the acting is, across the board, marvelous even with Tony Curtis's Bronx leaks into his readings).  Still, Spartacus is famous for a troubled production history that somehow resulted in a film whose stature has only grown over time, both critically and artistically.  Kirk Douglas clashed with initial director Anthony Mann, upon hiring Stanley Kubrick the yet to be famous and quite young prodigy promptly had fired cinematographer Russell Metty (who won an Oscar for his work here, though that work was largely lensed by Kubrick himself) and Trumbo and Kubrick sparred over the film's meaning.  All that aside, the movie is wonderfully entertaining with a well told story, terrific performances, and remarkably violent action that moves the story forward while allowing for dramatic representations of Roman battle formations against slave armies, shots of endless crucifixes along the Appian Way (that, in a darkly comic thought reminds me of telephone poles strung up with a kind of organic communications system… "I am Spartacus… pass it on.").  As stated, many think the Blu-ray is lacking, going so far as to say that the true reference disc for this title remains the Criterion SD version with its Robert Harris supervised transfer (which also has extras this BD release can't possibly match).  The MPEG-4 AVC / 1080p 2.20:1 widescreen image (original theatrical ratio of 2.35:1 / 70mm print blown up from 35mm stock) is paired with a lossless DTS-HD Master Audio 5.1 mix that offers good front channel intimacy with dialogue laden scenes while giving the surround channels plenty to do during battle sequences, and allowing Alex North's memorable score to move the room without muddying the rest of the aural details.  Be sure to read the reviews on the Blu-ray before deciding that this is the definitive version of Spartacus for your home library… Criterion editions are always recommended, but they do not have the license for the Blu-ray version, and the extra features are quite sparse (they include deleted scenes, archival interviews with Jean Simmons and Peter Ustinov, production/set footage, vintage newsreel footage of the actors and film premiers, image galleries of costumes, storyboards and other production art, and a theatrical trailer.
WHITE SPACE
Criterion saves the day yet again with their Blu-ray release of the landmark Western, Stagecoach (1939) directed by John Ford in his first Western of the sound era, it also marked his first use of both John Wayne as a star and the Monument Valley as his preferred location. Stagecoach is many things… iconic, legendary, highly influential for so many filmmakers it might have well been considered a filmmaking how-to manual (Orson Wells studied it often prior to and during the filming of Citizen Kane).  Ford lets the actors have fun with the stock characters who are easy to remember and root for.  John Wayne is charismatic and beloved by the camera as The Ringo Kid, a signature role that opened many doors for him in Hollywood, and cemented his latter collaborations with director and friend, Ford.  The rest of the cast is just as terrific, with lovely Claire Trevor as a prostitute being ridden out of town and a slew of character actors like Andy Devine and John Carradine along for the dangerous ride through Apache Territory.  Claire Trevor gets star billing, but it's John Wayne who gets the ultimate cinematic entrance as the Ringo Kid  stands tall against a camera that quickly dollies in to embrace his serious, yet startled, mug… In the way he twirls the Winchester by the lever and drawls to the oncoming stagecoach to hold up, Wayne takes command of the moment and the screen… it's a star making introduction, and the way Wayne nearly sneers as he says hello to Curly versus the openly friendly greeting he gives to Buck, the stagecoach driver, promises an actor who'll be more than just another onscreen cowboy.  Criterion's Blu-ray does the absolute best it can with battered and bruised source material that's over 70-years-old, but somehow they found a 1942 nitrate duplicate negative (the original negative long thought lost) and struck a 35mm fine grain positive as well as the Blu-ray transfer. According to early reviews the MPEG-4 AVC, 1080p / 1.37:1 widescreen image reveals very good detail in glorious black and white (with lots of grey tones and deep blacks and generally good contrast)… there are of course pops and scratches that can't be cleaned up without tarnishing the images Ford strove to capture, but overall folks are saying that Criterion presents excellent transfer of Ford's classic Western, a film that is miles removed from the short-reeled oaters that Hollywood had turned out during the silent era and a true cinematic milestone.  The LCMP monaural track offers clear dialogue that only fluctuates at times with audio flutter and hiss.  There are plenty of Criterion exclusive extras here, and you can get a full run-down of these special features via Criterion's Stagecoach site.  This one, folks, is definitely worth owning and a must for any home video library… though it's not considered reference quality according to the standards of our own HD video era, it's still a masterful transfer by the best in the video distribution business.
WHITE SPACE
Other Blu-ray releases this week include:
Babysitter Wanted (Big Screen)
Dear John (Sony)
Fullmetal Alchemist: Part 1 (FUNimation)
It Waits (Starz/Anchor Bay)
Merlin and the Book of Beasts (Starz/Anchor Bay)
Possession (2009) (20th Century Fox)
The Road (Sony)
The Shortcut (Starz/Anchor Bay)
True Blood: The Complete Second Season (HBO)
Tupac: Live at the House of Blues (Eagle Rock)
Get pricing on all new Blu-ray releases for May 18, 2010.
WHITE SPACE
WHITE SPACE