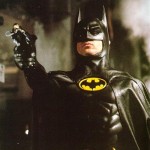 HDNet is running a mini marathon of Batman films starting today at 5:00 PM. If you're a big fan of Michael Keaton's portrayal of Batman you can catch up with how The Dark Knight looked 90's style (pre Batman and Robin) in Batman (1989), Batman Returns (1992) and Batman Forever (1995). Of course the movies are presented in high-definition and widescreen format (everything on HDNet is) making this is a great way to relive the movies in their native format.
In Batman, Michael Keaton plays opposite Jack Nicholson as the Joker who set the bar awfully high for successor Heath Ledger (The Dark Knight -2008). Kim Basinger and Billy Dee Williams also highlight the cast in Batman, as Vicki Vale and Harvey Dent respectively.
In Batman Returns Keaton is supported by another all-star cast including Danny DeVito (the Penguin), Michelle Pfeiffer (Catwoman) and Christopher Walken (Max Shreck), but that would be his last stint as the superhero much to the disappointment of fans.
In Batman Forever Val Kilmer also played a great Bruce Wayne opposite Jim Carrey as the Riddler and Tommy Lee Jones as Two Face [Harvey Dent]. Nicole Kidman appears as Dr. Chase Meridian and Chris O'Donnell as Robin. The film is not a favorite of Batman fans but certainly didn't hit rock bottom as did the 1997 follow up Batman & Robin.
Here's HDNet's schedule for Friday, May 14:
Batman (1989)
Start Time  05:00 PM
Batman Returns (1992)
Start Time 07:15 PM
Batman Forever (1995)
Start Time  09:30 PM
Rebroadcasts:
Batman
Start Time  11:35 PM
Batman Returns
01:45 AM