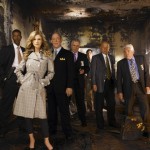 FiOS TV subscribers will be able to get Time Warner's Turner networks programming on their PCs in June, and in the near future on their mobile devices. Shows such as "The Closer," "Southland," "Leverage," Lopez Tonight" will be available 24 hours after they premiere on broadcast television — a time-delay common for prime-time content offered on demand.
The service is offered at no extra charge to Verizon FiOS TV customers, which also allows remote scheduling and pay-per-viewing online. Verizon says the quality offered to your PC will be HD, although no format specifications were given.
Verizon says they are also working on making deals with FOX News, CBS, MTV Networks, Hallmark Channel, Smithsonian Channel, and the Tennis Channel to provide the same access to customers.
Time Warner Inc. Chairman and CEO Jeff Bewkes said, "In less than a year, we've been able to launch our vision of delivering TV Everywhere to nearly 20 million customers nationwide."
FiOS customers will be able to access the Turner shows at either www.verizon.com/fiostvonline or through the TNT and TBS websites which are soon to launch.