Here's a list of the Blu-ray releases for today along with a few suggestions for your high-def collection: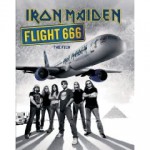 Iron Maiden "Flight 666"
Maiden's latest concert release "Flight 666" finally get its Blu-ray release, one month after the standard DVD hit the streets on June 9. The concert documents the "Somewhere Back in time World Tour" with both off-stage and on-stage footage. Highlights include vocalist Bruce Dickinson piloting the tour's Boeing 757, appropriately named "Ed Force One." Specs: 1080p Resolution, 1.66:1 Aspect Ratio, 216 Minutes.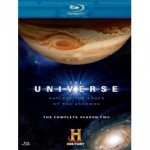 The Universe: The Complete Season Two (History Channel)
The History Channel has released this four-disc set on Blu-ray which runs for a total of 846 minutes. Directed by Douglas Cohen (II), 'The Universe' is a documentary which studies the 13.7 billion year old universe and highlights its fascinating history. 18 episodes from the second season will boggle your mind with references to "pulsar planets" and "hot Jupiters." Specs: 1080p Resolution, 1.33:1 Aspect Ratio, PCM Stereo, 846 minutes.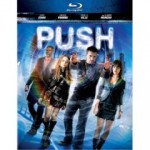 Push
Covert government program known as "The Division" is genetically altering humans into psychic weapons. Dakota Fanning and Chris Evans play the children of parents who were manipulated by "The Division" and who have psychic powers of their own. The film is hard to follow and full of holes but has lots of "Wow" quality for your HDTV. Specs: 1080p Resolution, 2.40:1 Aspect Ratio, DTS Surround Sound, 111 minutes.
Other titles released today on Blu-ray include:
Knowing
(Summit Entertainment)
The "Unborn (Universal Studios)
Grumpy Old Men (Warner Home Video)
Night Train (National Entertainment Media)
The Deep
(Sony Pictures)
Quincy Jones' 75th Birthday Celebration-Live at Mo
(Currently not available from Amazon stock)
Legends & Lyrics, Vol. 1
(Kris Kristofferson, Patty Griffin, Randy Owen, and Jonathan Singleton)
Legends & Lyrics Vol. 2
(Kenny Loggins, Richard Marx, 3 Doors Down, and Nathen Lee)
Girls Gone Wild: Hottest Texas Coeds
(Mantra Films)
Here's a complete list
of today's Blu-ray releases available on Amazon.com.