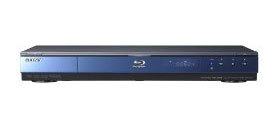 If you are looking for a deal on a Sony brand Blu-ray player you may want to check out the outlet store at SonyStyle.com. Two of Sony's most successful BD players, the BDP-S350 and BDP-S300 are both available as refurbished units. We took at look at the specs to compare the two models and what you can get for your money.
Video:
Both BD players offer full HD 1080/60p and 24p True Cinema Video Output (if you have a 24p-capable HDTV). Since Blu-ray movies are mastered at 24 frames per second, playing them on a 24p HDTV just makes sense in maintaining the original high quality. If your HDTV isn't 24p capable, the players will output 60 frames per second.
Audio:
The BDP-S350 is superior to the BDP-S300 in that it offers Dolby TrueHD Decoding and Dolby TrueHD bitstream out through HDMI (V1.3), while the BDP-S300 only offers Dolby Digital Stream. Dts Decoding and dts Ouput are also available although the BDP-S350 also provides DTS-HD bitstream out throughHDMI (V1.3).
However, both models offer Dolby Digital plus to get up to 7.1 channels of audio, and Dolby Digital (Decoding). Both models also offer Uncompressed Multi Channel Linear PCM Output that offers up to 7.1 channels.
Interactivity:
The BDP-S350 has a built-in ethernet port and is BD-Live Ready meaning you just need the firmware update. BD-Live (also known as Profile 2.0) allows interactivity for updates, chatting, downloading trailers etc.
Size:
The BDP-S350 is a lot lighter than the BDP-S300 at 6 3/8 lbs. rather than 10 lbs. Dimensions also give the S350 an advantage (if you consider it an advantage) at 17 x 8 3/4 x 2 3/8 inches rather than 16 15/16 x 3 1/8 x 14 13/16 inches.
Pricing:
The BDP-S350 is currently priced at $249 (Originally $399) while the BDP-S300 is discount priced at $149 (Originally $339). SonyStyle also offers a replacement plan for the refurbished players at a reasonable price. A 2-year plan is available for $19.99 and a 3-year plan goes for $29.99.
Here are some detailed specs on both models:
BDP-S350 Blu-ray Disc Player
• Dolby® : Yes, & Dolby® TrueHD bitstream out over HDMI™ (V1.3)"
• Dolby® Digital plus Decoding : Yes
• Dolby® True HD bitstream output : Yes
• Dolby® TrueHD Decoding : Yes
• LPCM : Yes (multi-channel decoding): Yes (HDMI™ bitstream out)
• dts® Decoding : Yes
• dts® HD bitstream output : Yes
• dts® Output : Yes, & /DTS®-HD bitstream out over HDMI™ (V1.3)"
• Analog Audio Output(s) : 2 Channel: 1 (Rear)
• Coaxial Audio Digital Output(s) : 1 (Rear)
• Component Video (Y/Pb/Pr) Output(s) : (Y/Pb/Pr) OUtput(s): 1 (Rear)
• Composite Video Output(s) : 1 (Rear)
• HDMI™ Connection Output(s) : 1 (Rear)
• Optical Audio Output(s) : 1 (Rear)
• S-Video Output(s) : 1 (Rear)
BDP-S300 Blu-ray Disc Player
• Menu Options : Pop-up
• Dolby® : Dolby® Digital (Decoding); Yes (HDMI™ bitstream out)
• Dolby® Digital plus Decoding : Yes
• Dolby® TrueHD Decoding : No (Dolby® Digital Stream Only)
• LPCM : Yes (multi channel decoding); Yes (HDMI™ bitstream out)
• MP3 Playback : Yes (Content must be in DVD+R/+RW/-R/-RW format.)
• dts® Decoding : Yes
• dts® Output : Yes
• Analog Audio Output(s) : 2 Channel; 1 (Rear)
• Coaxial Audio Digital Output(s) : 1 (Rear)
• Component Video (Y/Pb/Pr) Output(s) : 1 (Rear)
• Composite Video Output(s) : 1 (Rear)
• HDMI™ Connection Output(s) : 1 (Rear)
• IR Input(s) : No
• Optical Audio Output(s) : 1 (Rear)
• PCM Output(s) : Linear PCM Decoding; Linear PCM out via HDMI™ bitstream
• S-Video Output(s) : 1 (Rear)
• Analog-to-Digital Converter : 192KHz/24bit